Standout Electric Fireplaces...
Truly Electrifying!
Electric fireplaces have come a long way from their humble beginnings. Many of today's models are so realistic that -- unless you look very
closely -- it is often difficult to tell them apart from the "real deal!"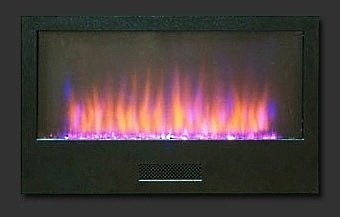 Early electric fireplaces were as unrealistic in appearance as their common name, fake fireplaces, very appropriately described them. Ugly metal boxes with noisy fans, they were an extremely poor imitation of a real fire.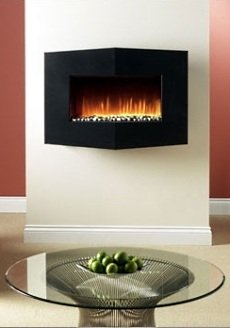 To  achieve  the  much more realistic looking "flames"  found in many of to-
day's models,  manufacturers are uti-
lizing the latest technologies. Though the  precise  applications  vary  from
one  manufacturer  to  another,  the
most  realistic  models combine a ser-
ies  of  light bulbs with reflective sur-
faces in a variety of ways to achieve the desired effect.    On some of the better  models, the flames can be ad-
justed  from  a  romantic  flicker to a roaring  blaze with the turn of a knob. For  even  more  authenticity,  some incorporate real wood logs instead of the usual cement or ceramic log sets.
In  addition  to very realistic "flames," the  sounds  of  a crackling wood fire that  many  models emit are also very convincing.  And unlike a "convention-
al" fireplace,  an electric model  can  be  operated  independently  of  its heating element.     In other words,  the heating  control  can  be  turned off so that you can enjoy the sights and sounds  of a fire all year long -- without the heat -- even on the warmest of days!
The heating element,  itself, is simply a series of metal coils that produces heat when electricity is applied,  i.e., when the unit is plugged into a stan-
dard 120 volt electrical outlet and the heating control is turned on.   A fan or  blower then directs the heat  --  generally 4,500 to 5,000 BTUs -- into the room.   For added convenience, a thermostatic control and multispeed blower  are available on some models, as is a hand-held remote control de-
vice.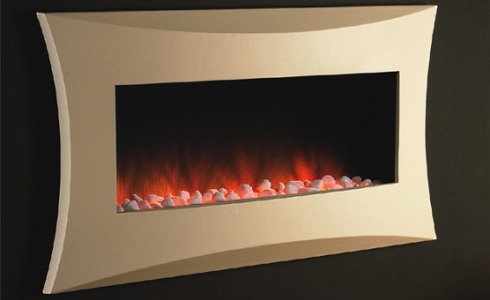 As  with  other  fireplace  types,  electric  units  can  be  incorporated  in surrounds made from a variety of materials in a wide range of styles.  The traditional  designs  pictured below are made from faux,  or  manufactured stone, and have a rustic and casual look . . . . .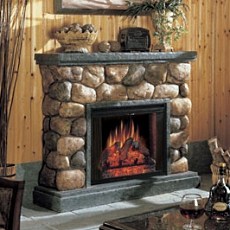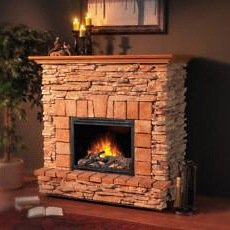 . . . . while the following cast marble designs impart a more formal and ele-
gant traditional look.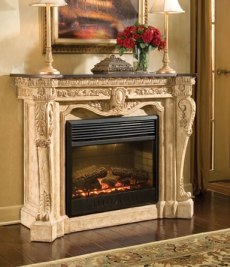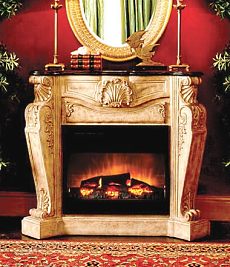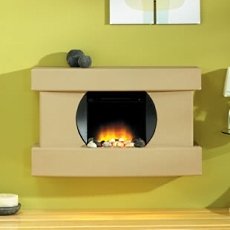 Not to be left out,  the contemporary design  pictured  at  right  is  made in England and boasts a unique surround with a Cotswold stone finish.
More Electric Fireplaces
A  wide variety of woods and finishes in a vast array of styles is also avail-
able to "frame" an electric fireplace.     The  traditional  examples  pictured below  are  but a small sampling of wood fireplace mantel designs currently available . . . . . . . . .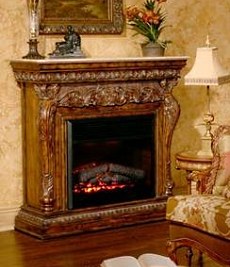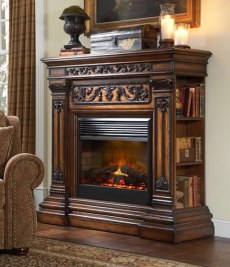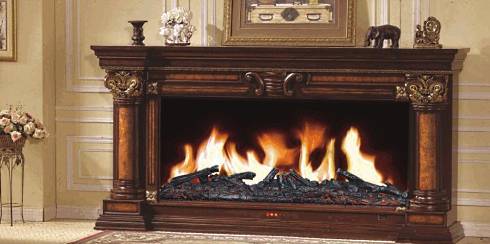 . . . . . as are the following transitional,  or more contemporary,  wall-hung designs.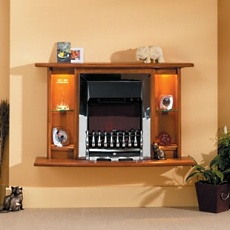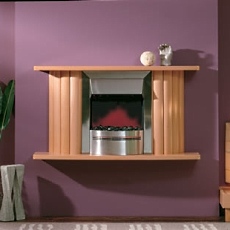 For a sleek contemporary look,  metal is often used as a surround material. The  striking  examples  pictured below are some of the latest electric fire-
place designs available today.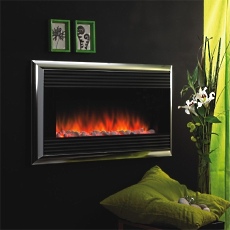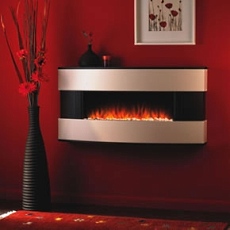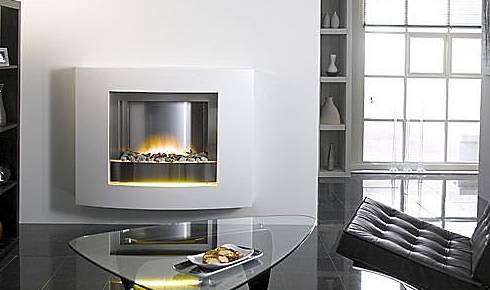 Electric fireplaces are also available as  inserts  for existing fireplaces, as well as new installations. Especially useful in an older fireplace in need of repair or otherwise unsafe to operate a wood burning fire in . . . or simply as a convenient alternative to building a real wood fire . . . they  can  be adapted  to  a  vast  array of styles ranging from very traditional to ultra contemporary, as shown in the following examples.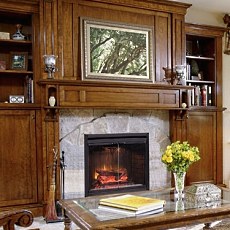 Please check back often or subscribe to our RSS feed,  as  we  fre- quently add new designs for electric models to our site.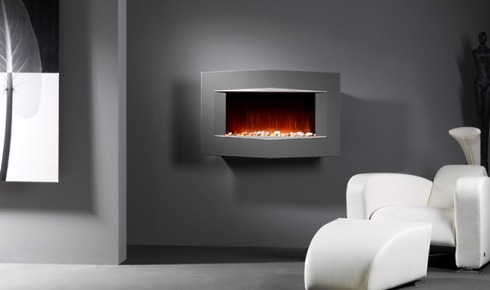 YOU MAY ALSO LIKE:





Contemporary Electric Fireplaces -
Stylish & Convenient!


Back to Standout Fireplace Designs Home Page
Didn't find what you were looking for?
Use this search feature to find it.
LIKE THIS PAGE?