Warm Up to Wood




Fireplace Mantels!
The warmth of wood fireplace mantels -- with or without a blazing fire -- is undeniable. Rich, finely grained and beautifully finished hardwoods such as mahogany and cherry lend warmth and elegance to any room they adorn!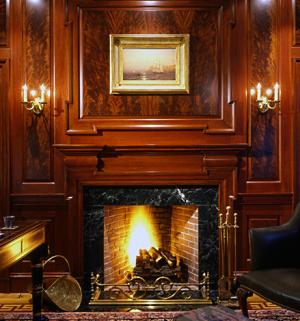 Design above: Woodmeister Master Builders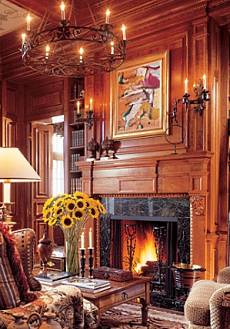 Pictured at right is a stunning cherry-paneled library  and  fireplace mantel with a dark marble hearth and firebox surround.    Designed  by  New  York-
based architect Boris Baranovich and interior  designer  Penny  Drue  Baird,
the  elegant  French - inspired  home housing this room is located in an up-
scale New Jersey suburb.  Despite its size  and  elegance, the library has a warm and cozy feel to it.
Photo Credit (right): Durston Saylor
Other types of wood typically used to make fireplace mantels include oak, ash, maple and birch, as well as softwoods such as pine and fir.   More exotic species like rosewood, wenge (below left), teak,  and  walnut (below right) are sometimes used,  as well,  particularly in contemporary fireplace design, as shown below.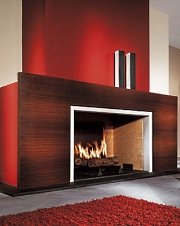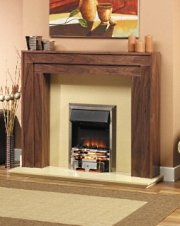 Please Click Here for a Comprehensive
Listing of Softwoods & Hardwoods
In  addition to the wide variety of hard and softwoods used to craft wood fireplace mantels today,  an even greater array of finishes is now available to help you get the exact look you are seeking.  Wood stains come  in countless tones and hues, and can even be mixed to  match the  existing finish of your room, if necessary.     Another popular choice is a painted or enameled finish.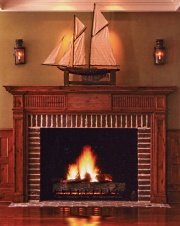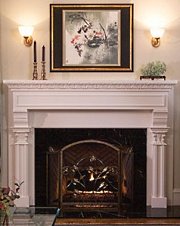 Fireplace mantle designs pictured above by Pinecrest. Click here
to see more finely crafted wood fireplace mantels from Pinecrest.
By combining various mantel styles, wood types, and finishing options, you have an infinite number of choices available to you to get the look and feel you want.     It may seem overwhelming at first,  but  by following  a  few basic guidelines, you will get the look you're aiming for . . . . from casual to formal . . . . . traditional to contemporary.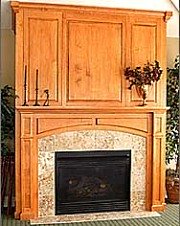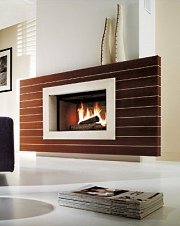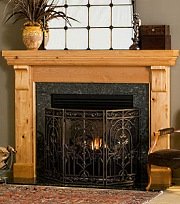 For example, if you want a laid-back and ca-
sual look, a simple pine mantel finished with
a lightly colored stain will work very well, as shown at right.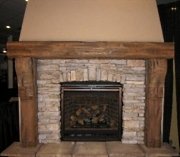 For a more rustic and aged look, a darker
stain on a hand distressed timber mantel
may be a good solution.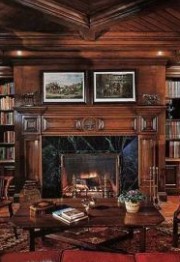 On the other hand,  if you're after a more formal look, an oak mantel with traditional detailing finished in a deep,  richly colored
stain will accomplish that objective.
More Wood Fireplace Mantels
Depending upon the type and texture of the material  used  around the firebox opening, a variety of different looks from  casual  to  formal can be achieved with a painted finish, as well.    For a casual look, a roughly textured stone surround works well, as shown below (left). The polished marble surround lends a more formal look to the painted  mantel  on  the right.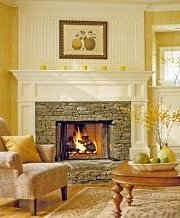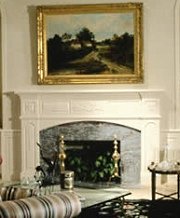 Another finishing option for your wood fireplace mantel is a faux finish.  A highly skilled artisan can duplicate the look of nearly any material you want so that it is virtually indistinguishable from the real thing. Finishes can range from burled walnut and quarter sawn oak to limestone  and  onyx  -- even metals like pewter,  copper and bronze. The two mantels below are finished to look like different types of marble.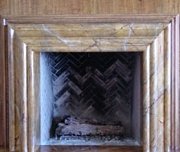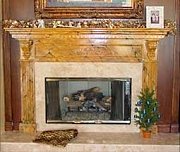 Some mantels are crafted from a combination of different types of wood . . . . . . . or even a combination of wood and other materials such as metal or stone, for a richly contrasting effect.  The carved mahogany mantel (below left) comes with a black fossil stone top and silver highlights.    The  lighter stained pine columns on the mahogany mantel (below right) contrast nicely with the deep mahogany finish on the rest of the mantel.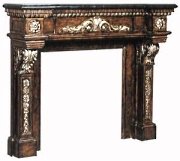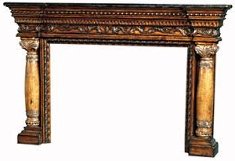 The contemporary mantels below are also each made from multiple types of wood.  The mantel on the left is made from maple and a dark tropical wood called wenge. On the right is a light oak mantel highlighted with walnut.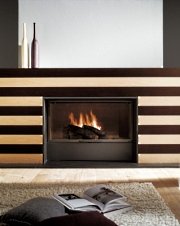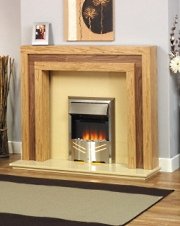 Please check back often or subscribe to our  RSS feed,  as   we  fre- quently add new photos of wood fireplace mantels to our site.
YOU MAY ALSO LIKE:





The Custom Wood Fireplace Hearth -
Truly Heart(h)-Warming!







The Art Nouveau Fireplace -
Artistry In Wood!



Fireplace Surround Designs -
Period Perfection!





Fireplaces Mantles & Magnificence -
Masterworks In Wood!





Wood Fireplaces Pictures -
Lofty Ideas!





Wood Fireplace Mantels -
Rustic To Country Casual!





Wood Fireplace Surround Design -
MORE Country Casual Mantels!





The Wood Fireplace Surround -
Understated To Magnificent!





Fireplace Mantels Wood -
Extraordinary Custom Designs!





The Wood Fireplace Mantle -
More Extraordinary Custom Designs!


Return to Fireplace Mantel Designs
Return to Fireplace Mantel Shelves
Return to Standout Fireplace Designs Home Page
Didn't find what you were looking for?
Use this search feature to find it.
LIKE THIS PAGE?