River Rock Fireplace Pictures...
Real Rock Stars!
The river rock fireplace pictures featured here are a collection of some of the most striking stone fireplace designs we have found to date.  Though all are crafted from river rock, or a combination of river rock and fieldstone, each fireplace design is distinctive and unlike any other!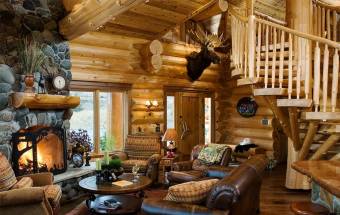 Encompassing a wide range  of  sizes and styles, the striking stone hearths that  follow are the work of a diverse but creative group of architects,  de-
signers and builders.
The soaring floor-to-ceiling design pictured below was created by Summit Handcrafted Log Homes. Note the large, beautifully finished log corbels, or brackets, used to support the wood mantel shelf.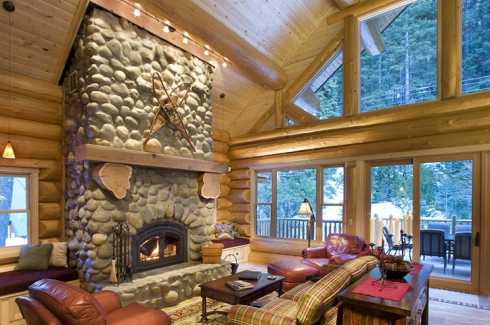 More Wood Fireplace Mantel Shelves


The two river rock fireplace pictures that follow provide a sampling of the palette of colors available in river rocks. For added visual interest, the de-
sign  on  the  right  incorporates small flat stones with rounded edges be-
tween  the  larger  round stones, as well as a vertically oriented row that frames the top of the firebox opening.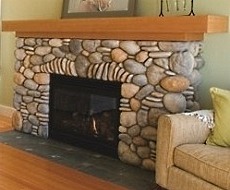 Similarly,  the  top  of the slightly arched firebox opening in the design pic-
tured below,  left, by Custom Log Homes, is framed with vertically oriented stones that are oblong in shape. The rugged design on the right uses larger stones that are randomly positioned.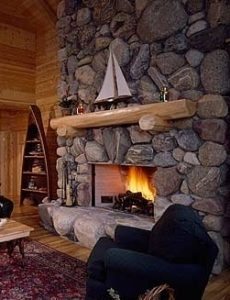 The large, striking design pictured below,  left,  is by Custom Mountain Ar-
chitects  and  features beautiful stone work that extends along the length of the fireplace wall.    The firebox of the unique stone masonry design be-
low,  right,  is lined with firebrick in an elegant herringbone pattern.    Sur-
rounding the opening are small stones in varying sizes, compactly arranged.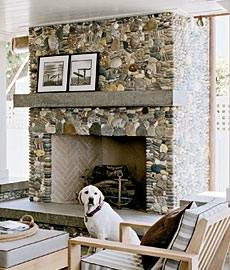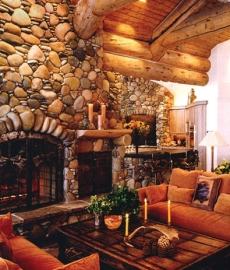 More Stone Masonry Fireplace Designs
More River Rock Fireplace Pictures
The beautifully crafted river rock and fieldstone fireplace on the  left,  be-
low, was designed by architect Robert A. M. Stern.  Note the graceful arc of the fireplace facing. The striking -- albeit highly unique -- kiva-inspired design  on  the  right  features  randomly positioned river rocks around an arched firebox.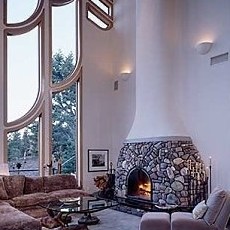 Oozing nostalgic ambiance and charm is the rustic stone surround pictured below, left, for a small mountain fishing cabin designed by Miller Architects. On  the  right,  below,  is  a  monumental river rock fireplace design by Log Cabin Homes.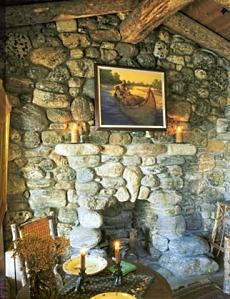 See More Pictures of the Cozy Mountain Fishing Cabin by Miller
Architects at our sister site, Standout-Cabin-Designs.com

More Monumental Stone Fireplace Designs


The  two  river rock fireplace pictures that follow feature designs that also extend from floor to ceiling. Each of the soaring designs provides a striking focal point for the interior living area of the log home it anchors.
And once again, the images at right and below provide a sampling of the rainbow of  hues  available  in  river rocks . . . from tan and brown earth tones (right) . . . . .
. . . to an "Easter egg" collection of pastel colors, as shown in the design below from Log Cabin Homes!
Please check back often or subscribe to our RSS feed,  as  we  fre- quently add new river rock fireplace pictures to our site.
YOU MAY ALSO LIKE:





More River Rock Fireplace Pictures -
All Time Favorites!





Standout River Stone Fireplace Designs -
A River Stone Fireplace Rocks!





The River Rock Fireplace Surround -
Soaring Skyward!




Standout Riverstone Fireplaces -
Cozy Cabin Hearths!




Standout River Rock Fireplaces -
Cottage Cuties!
Back to Stone Fireplace Designs Guide
Back to Standout Fireplace Designs Home Page
Didn't find what you were looking for?
Use this search feature to find it.
LIKE THIS PAGE?