Standout Christmas Fireplaces...
Colonial to Classical!
The Christmas fireplaces featured here showcase a wide array of both architectural AND decorating styles.  From simple but elegant Colonial designs with wood mantels . . . to sumptuous Victorian hearths . . . to elaborate, Classically-inspired marble surrounds . . . the holiday deco-
rations are equally diverse and range from relatively restrained to fabulously festive!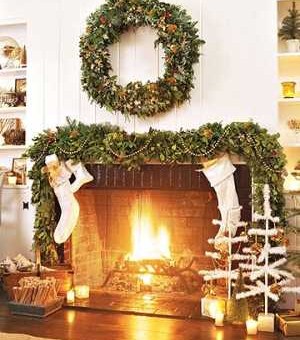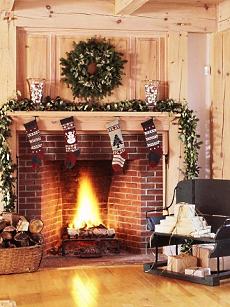 Each of the Colonial Christmas fire-
places that follow has a distinctive   look and feel.   The Colonial design pictured  at  left  features an ever-
green  garland  and  wreath  embel-
lished with baby's breath and euca-
lyptus.     Homespun stockings add nostalgic charm to this cozy  coun-
try hearth.
A garland made of evergreen boughs drapes the mantel top in  the  Christ-
mas fireplace design pictured below, left.    White stockings hang from the mantel and complement the white birch logs stacked in the firebox. Above the  mantel shelf,  a  wreath adorned with glass Christmas tree ornaments echos  the  color  scheme of the throw on the chair flanking the right side
of the fireplace.
Simplicity  is  the key to the success of the Colonial design pictured below, right.     Swags  of  nuts and ribbon hang from the mantel shelf,  which  is topped with early American artwork and simple iron candle holders.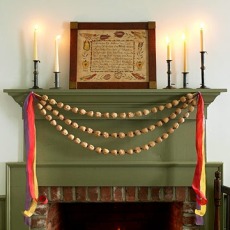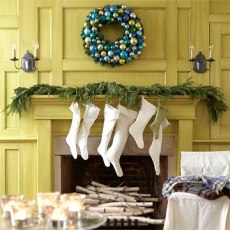 An elaborate crimson and evergreen garland dramatically frames the Colo-
nial fireplace surround pictured below. Capping it off is a beautiful painting in an ornate gilded frame.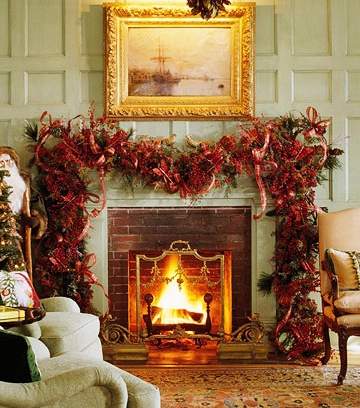 The Victorian-era Christmas fireplaces  that  follow  are,  in  true  Victorian fashion, sumptuously decorated.     The marble mantel pictured below, left,
is elegantly draped with an evergreen and scarlet ribbon garland, accented with tiny white lights.   Flanking the gilded frame portrait above the mantel are two urns with an elaborate double-tiered holiday arrangement.
Pictured below,  right,  is a cast iron mantel with tiled panels that flank the firebox opening.   Just above the pair of darkly colored Christmas stockings hanging  from  the  mantel  shelf  is  a  festive  arrangement  of  evergreen boughs and brilliant glass ornaments.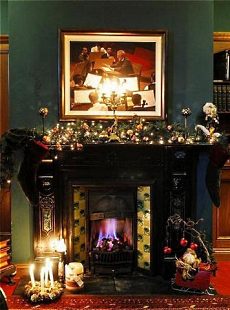 The mantel shelf of the Arts and Crafts tile fireplace that follows features a snowy winter scene with a forest of miniature pine trees.     Cotton  "snow flakes" dangle from the edge of the mantel.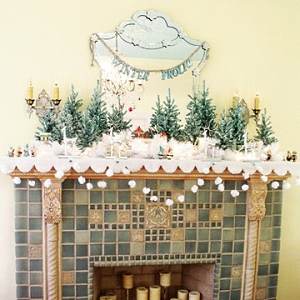 See More Arts and Crafts Tile Fireplace Designs



The photo from Roger Wade Studio that follows features a Spanish-inspired fireplace design.      A large evergreen wreath and clusters of other natural vegetation hang above the fireplace. Also hanging on the wall to the left of the fireplace are three Southwest Style stockings.
See More Spanish Style Fireplace Designs

See Southwest Style Kiva Fireplace Designs
Formal Christmas Fireplaces
The  formal fireplace design pictured below features a large evergreen gar- land  that swags below the mantel shelf and drapes down each side of the fireplace surround. Infused with contrasting shades of greenery from other plant types,  the garland also boasts an assortment of earthy bronze, gold and green glass ornaments, as well as gold ribbon.     A wreath hangs from the mirror above the mantel, while white poinsettias rest on the hearth be- low.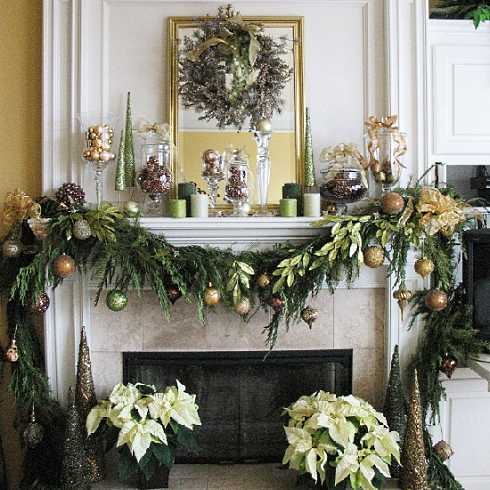 The elaborate wood-paneled fireplace surround with heavy crown moldings, pictured below, is a real stunner . . . . . including the beautiful tiles around the firebox opening. A massive garland, festooned with ribbons and colorful glass  tree  ornaments,  makes  a grand and dramatic holiday design state-
ment!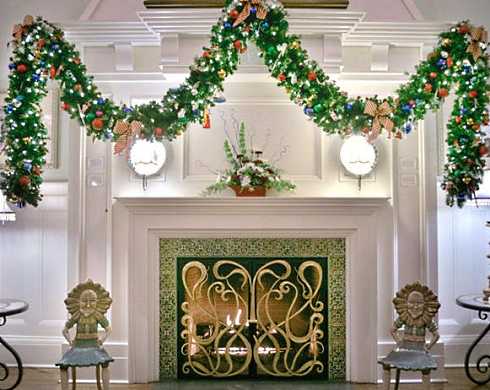 Photo Credit: Barry Wallis

See More Elaborate Wood Fireplace Surrounds!

See More Beautiful Tile Fireplace Surrounds!



The exuberant marble fireplace mantel and  overmantel  mirror  frame  pic-
tured below, left, features exquisite baroque carvings.  Housed in the Ritz Hotel in London, England,  its equally exuberant red and gold holiday floral arrangement is by London-based Paul Thomas Flowers.
Though a bit more restrained in both architectural style and holiday decor, the beautiful marble Christmas fireplace pictured below, right, is very strik-
ing, nevertheless. A gilded antique frame resting on top of the mantel pro-
vides  a  fitting  backdrop -- and color contrast -- to the tall white flower arrangements  flanking  it,  as  well as the snowy white stockings hanging from the mantel shelf.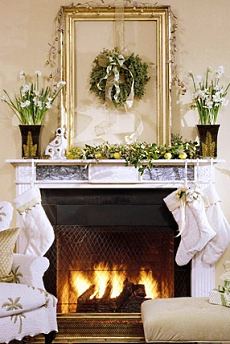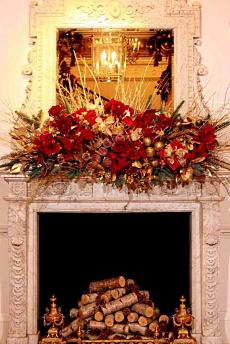 And finally,  the Classically-inspired or Neoclassical stone fireplace surround that follows features a lush and colorful holiday arrangement.    Created by one of the outstanding floral designers working in the United States today, a festooned garland of flowers, fruits and candies in vibrant, contrasting colors makes a uniquely stunning holiday decoration!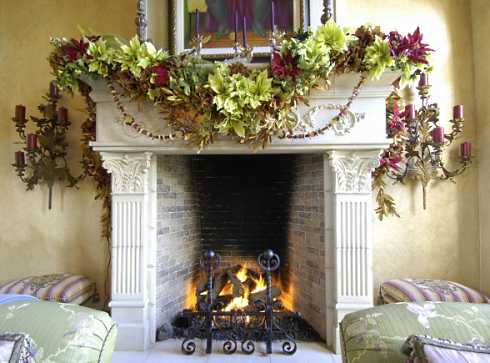 See More Stunning Christmas Fireplaces
by this Extraordinary Floral Designer!

Please check back often or subscribe to our  RSS feed,  as   we   fre- quently add new images of Christmas fireplaces to our site during the holiday season.

YOU MAY ALSO LIKE:





More Christmas Fireplaces -
Spruce Up Your Stone Surround!





Holiday Fireplace Photos -
A Gilded Age Christmas!





Christmas Tree And Fireplace
Photos...Cozy & Colorful!





Extraordinary Christmas Hearth
Designs...Chic And Unique!





Christmas Decorating Fireplace
Ideas...NATURALLY!
Back to Fireplace Mantel Designs
Back to Standout Fireplace Designs Home Page
Didn't find what you were looking for?
Use this search feature to find it.
LIKE THIS PAGE?