The Arts and Crafts Fireplace...
A Finely Crafted Fire Space!
An Arts and Crafts fireplace revives the simple elegance, honesty of materials, and quality workmanship espoused by the Arts and Crafts Movement. Its idealism, beauty and simplicity have a ring of truth that
is as relevant and inspiring today as it was more than a century ago!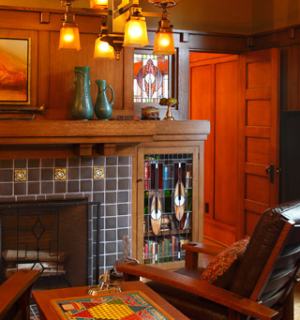 Photo above via Arts & Crafts Homes

The Arts and Crafts Movement began in Britain more than 150 years ago and subsequently spread to Canada, Australia and America.   The Move-
ment's reformist ideals were simulta- neously echoed all across Europe, albeit under a variety of different
names . . . . . Art Nouveau in France and Belgium, Jugendstil  in Germany, and Secession in Austria. Though the themes were similar, the designs were distinctly different from one country to another  based on local materials, craftsmen, and national tradition. In its own  unique way, this was also true  in  America,  as  a  mixture  of European styles coupled with Ameri-
can  vernacular styles and local ma-
terials  eventually led to innovative designs that were very much Ameri-
can.


Please click here for a detailed history of the Arts and Crafts Movement.
A reaction to Victorian excess,  the Movement sought to return to a simpler, more utilitarian style that emphasized originality and handcrafted quality that was in tune with nature,  rather than machine-made quan- tity for economy and profit.   In Europe -- particularly in Britain -- pro- ponents of the Arts and Crafts Movement looked to the past for inspiration and borrowed design elements from the Middle Ages. The medieval motif in the two brightly-colored tiles flanking the firebox below is typical of the style.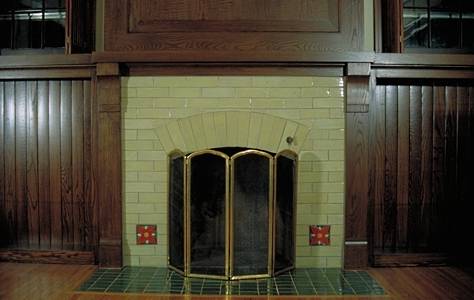 Design above by David Heide Design; Tile by Clay Squared
The splayed legs and handcrafted detailing shown in the following examples are also typical of the style.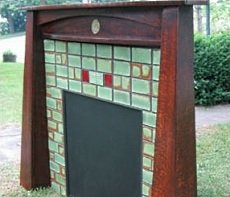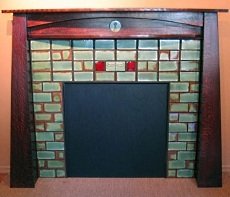 Mantel and tiles pictured above by Mission Guild Studio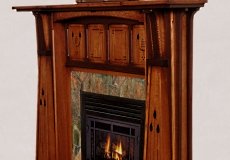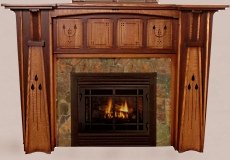 Design pictured above by Red Poppy Studios
(quarter sawn white oak and walnut)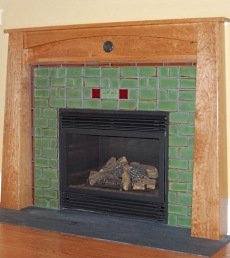 Above Left: Oak surround from Wisdom Fireplaces (UK)

Above Right: Cherry mantel by Mission Guild Studio

More Arts and Crafts Fireplace Designs
Charles Rennie Mackintosh (1868-1928), a Scottish architect and designer, was a leading proponent of the Movement in Britain.   The Mackintosh-inspired design with built-in shelving pictured below shows that an Arts and Crafts fireplace can be both functional and decorative.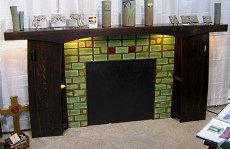 Mantel and tiles pictured above by Mission Guild Studio
The  following two designs are interesting and creative present-day interpretations of the style.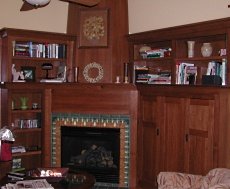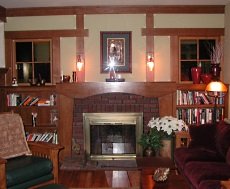 Three of the designs pictured below are faced with reproduction Arts and Crafts ceramic tiles.  The fourth design (bottom row at right) has a surround with large natural stone tiles.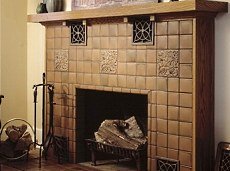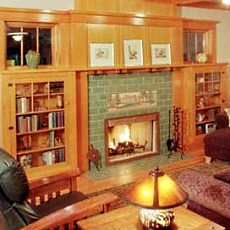 More Arts & Crafts Fireplace Tile Designs
Another relatively common feature of authentic Arts and Crafts fireplace design is a copper hood or canopy, such as the exquisitely crafted example pictured below, left. A wide range of beautifully designed and crafted fire screens (below right) are also available to complement an Arts and Crafts hearth.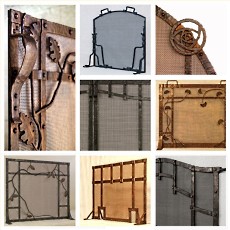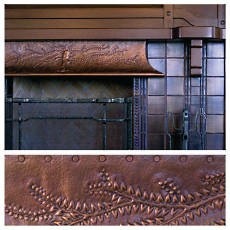 Above Left: Fireplace hood by Archive Designs
Above Right: Fire screens by Archive Designs
Please check back often or subscribe to our RSS feed,  as we fre- quently add new designs for Arts and Crafts fireplaces to our site.
YOU MAY ALSO LIKE:
Back to Fireplace Mantel Designs
Back to Standout Fireplace Designs Home Page
Didn't find what you were looking for?
Use this search feature to find it.

LIKE THIS PAGE?