Fireplace Surround Designs...
Period Perfection!
The fireplace surround designs featured here are among THE finest classically-inspired designs crafted from wood in the United States in recent years.   Beautifully designed and superbly executed, they all
come from the genius of a single architectural firm!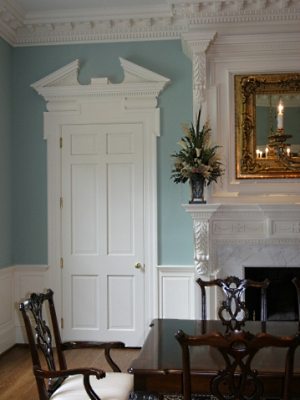 Founded in 1991 in Atlanta, Georgia,  Harrison Design Associates has been creating extraordinary homes and interiors deeply rooted in  classicism  for more than two decades.  With a team of more than 60 architects, design-
ers, landscape architects and interior designers,  the  firm  has  expanded beyond  its  Atlanta  location  to  include offices in Beverly Hills and Santa Barbara, California, St. Simons Island, Georgia, New York,  Washington DC, and Shanghai, China.
Pictured  at  left  and below is an out-
standing example of the firm's work. A richly detailed  Georgian Style   design, the   fireplace  surround  is  the  focal point of a magnificent dining room!
Typical of Georgian styling, it  is  sym-
metrically arranged and combines bold architectural  elements  with  delicate details.     Also typical of the style,  it features  a heavy cornice embellished with decorative mouldings such as mo-
dillions and dentils.
The two images of fireplace mantel surrounds that follow feature another striking Georgian Style dining room. Once again, the room is symmetrically arranged around a central fireplace.   However, unlike the design pictured above, the fireplace surround does not extend to the ceiling.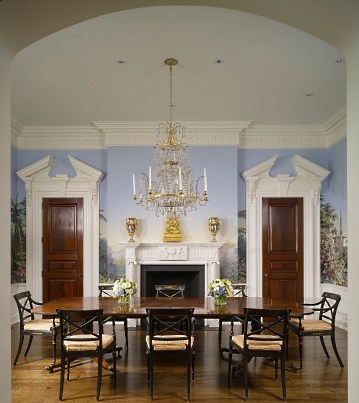 A  closer  look  reveals a more subdued -- albeit very elegant -- fireplace surround. Fluted Doric columns support a finely detailed frieze and mantel shelf.
The fireplace surround design in the two images that  follow  features  yet another example of superb Georgian styling.       Flanked by a pair of finely crafted built-in niches, the fireplace surround nearly soars to the height of the two story ceiling.  A large mirror is framed by the overmantel, which is crowned with a broken pediment.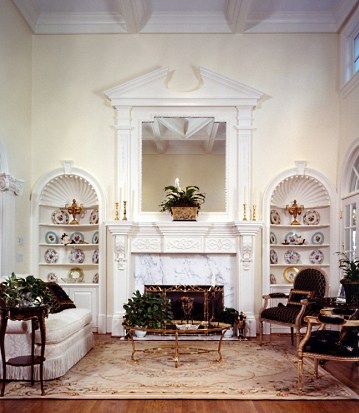 A perspective view of the fireplace surround gives a better indication of the room's classic grandeur!
Library Fireplace Surround Designs by Harrison Design Associates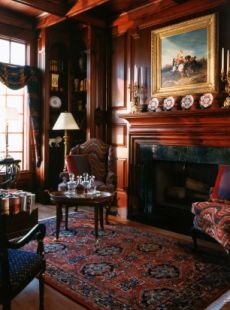 Shifting gears, the fireplace surround designs that follow grace the libraries  of two English-inspired home designs. The richly finished mantel pictured at right includes a beautiful dark marble hearth and firebox surround.
Pine paneled libraries are "very English," and the example that follows is no exception.  Note the knots in the paneling and fireplace mantel, as well as in the beams of the coffered ceiling.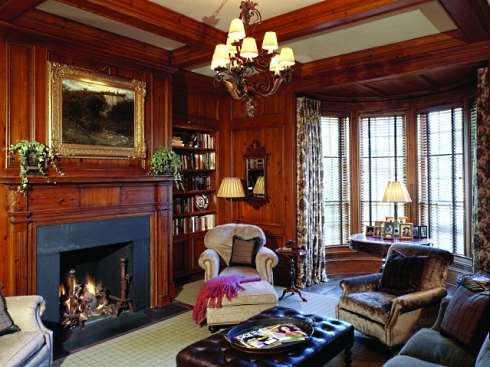 And  finally,  the  monumental  and majestic fireplace surround design that follows is absolutely awe-inspiring! A present-day incarnation of Gilded Age grandeur,  it  anchors  the  library  of  an equally monumental and majestic Beaux-Arts inspired home by Harrison Design Associates.   For more details about this extraordinary fireplace surround, please click here.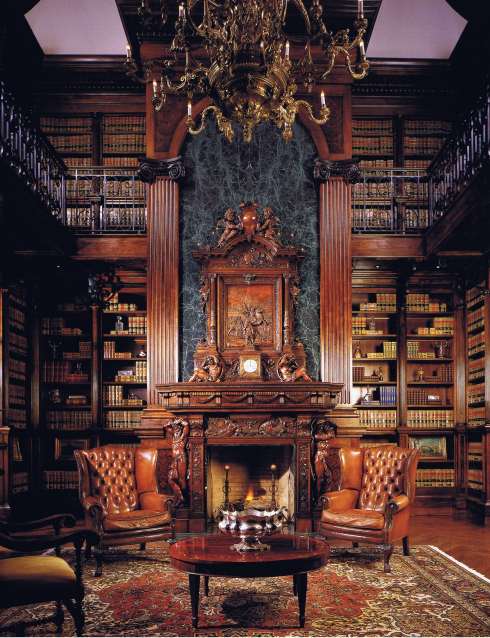 To See More Extraordinary Fireplaces in
this Monumental Home, please Click Here.
Please check back often or subscribe to our  RSS feed,  as  we  fre- quently add new images of fireplace surrounds to our site.
YOU MAY ALSO LIKE:




Fireplaces Mantles & Magnificence -
Masterworks in Wood!


Wood Fireplaces Pictures -
Lofty Ideas!



The Wood Fireplace Surround -
Understated to Magnificent!
Back to Wood Fireplace Mantels
Back to Standout Fireplace Designs Home Page
Didn't find what you were looking for?
Use this search feature to find it.
LIKE THIS PAGE?