The Stone Fireplace Surround...
A Timeless Classic!
Timeless designs for a traditional stone fireplace surround range from relative simplicity and understated elegance to Gilded Age monumentality and magnificence. The grand and palatial mantel styles of yesteryear are reclaiming their rightful place in today's homes!
Renaissance style mantel at Villa Cora . . .
now a grand hotel in Florence, Italy (above)
The  classic stone fireplace surround began as a lowly hood that projected over the fire to vent smoke during the Middle Ages.     During  the  Renais-
sance,  however, the surround  --  or chimneypiece  --  evolved to an "art form."
Magnificent mantels were sculpted from  lime-
stone  and  marble  by  highly skilled artisans. Often rising to the ceiling,  the  chimneypiece was a commanding architectural element that dominated everything else in the room.
The  coming  of the Industrial Age and subse-
quent  emergence  of   America's   Gilded Age during the last quarter  of  the  19th  century brought  about  a  renewed  appreciation   for these extraordinary works of European crafts-
manship.  The simultaneous emergence of the Beaux Arts Movement, an architectural move-
ment  that  drew  upon  earlier  period  styles, created a huge demand for historic  European architectural elements such as chimneypieces.
European Antique Fireplace Mantels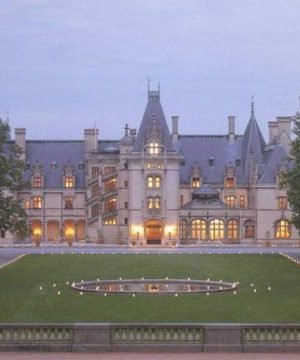 Above Right: "Biltmore House" in Asheville, North Carolina
Above Left: Banquet Hall Fireplace at "Biltmore House"
Rising American capitalists and their agents roamed the European continent to find historic artifacts to furnish their lavish new mansions.  If the desired piece could not be found,  skilled artisans were brought over to the U.S. to create "instant history" in stone . . . from fireplaces to grand staircases.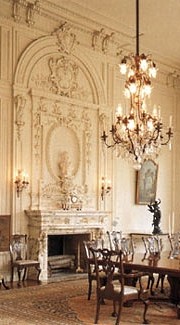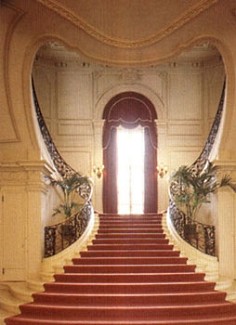 Above Right: Grand Staircase at "Rosecliff" in Newport, RI
Above Left: Dining Room Fireplace at "Rosecliff"
American architects educated at the prestigious  Ecole  de  Beaux  Arts  in Paris were in great demand and eager to supply their clients with elaborate designs for French chateaux, Italian palazzi, and Elizabethan manor houses. Vanderbilts,  Morgans,  Pulitzers,  and Hearsts retained such notable archi-
tects as  Richard Morris Hunt (1827-1895),  Stanford  White  (1853-1906), and Julia Morgan (1872-1957)  to  incorporate  elaborate  mantelpieces  -- both antique and reproduction  --  in  the luxurious town houses,  seasonal retreats, and country estates they designed for them.
Above: Library at "Biltmore House"
No longer required for heating the  home,  the  stone fireplace surround  of the Beaux Arts period was purely ornamental and symbolic. The magnificent chimneypiece in the entrance hall announced  the  style  of  the  house  to everyone that visited.
More Classic Stone Fireplace Surrounds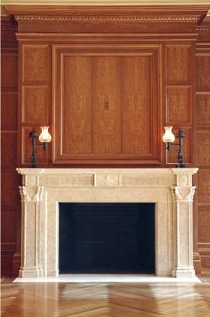 As popular today as ever, traditional man-
tel styles continue to be produced  --  or reproduced  --  in  limestone  and marble. Many are sculpted with the same  degree of care and attention  to  detail  as  their predecessors  more  than  a century ago, such as  this  beautifully  crafted  marble mantel (right and below).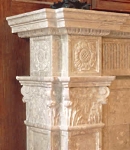 Beautiful marble mantel pictured above by DMS Studios in New York.
Please click here to see more extraordinary mantels by DMS Studios.
Though generally reduced in size to better  fit  in  today's  more  modestly scaled homes, they continue to make a classic design statement.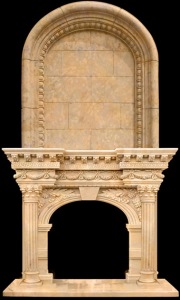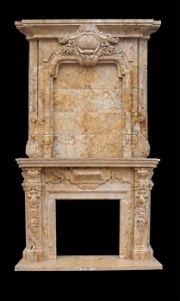 In a living room or family room with a soaring  two  story  ceiling,  a  monu-
mental stone fireplace surround can be absolutely awe-inspiring!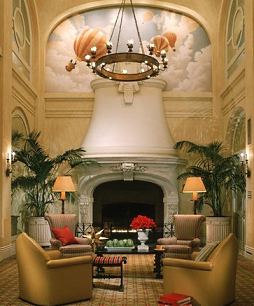 Please check back often or subscribe to our RSS feed,  as we fre- quently add new images of fireplace surrounds made of stone to our site.
YOU MAY ALSO LIKE:





MORE Stone Fireplace Surround
Designs...Romancing the Stone!









Photos of Stone Fireplaces -
Classic Elegance!







Fireplaces Mantles & Mansions -
A Return to Classic Grandeur!







Gilded Age Fireplace Designs -
Monumental, Majestic...and Rustic?








Fireplaces by Francois and Co. -
Reviving the Renaissance...and Beyond!







Regal Fireplace Mantel Designs -
Fit for a King...OR a Queen!
Back to Stone Fireplace Designs Guide
Back to Stone Fireplace Designs Overview
Back to Standout Fireplace Designs Home Page
Didn't find what you were looking for?
Use this search feature to find it.
LIKE THIS PAGE?