River Rock Fireplace Designs...
All Time Favorites!
The river rock fireplace designs featured here are among the best of the best. A nearly limitless array of river rock sizes and colors gives designers and stone artisans an opportunity to express their creativity in a multitude of unique and artistic ways.     The end result is that no two designs are alike.     Rather, by varying stone size, coloration and placement, each fireplace surround is truly one of a kind!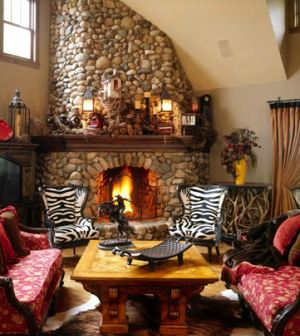 Above: Riehl Designs, Inc. (via HGTV)
Masterfully photographed by one of the talented individuals at Roger Wade Studio, the design pictured below features a lovely arched firebox opening. Echoing its curve is a natural driftwood "mantel shelf" above.
As with the previous stone hearth, the stunning example that follows is
a veritable work of art.      Designed by Custom Mountain Architects of Breckenridge, Colorado, it also features a lovely arched firebox opening.
Even  in  relatively small "packages" such as those pictured below,  careful selection and placement of the river rocks can result in entirely different -- albeit equally striking -- looks.   The beautifully executed design shown be-
low,  left,  which features tiny rounded stones,  contrasts sharply with the much larger stones of the handsome Craftsman-inspired design on the right by Ewing Architects.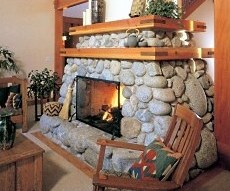 More Craftsman Style Fireplaces
The two striking masonry fireplaces that follow were created for fashion icon Ralph Lauren's Colorado mountain ranch. Though they vary greatly in appearance, each surround is crafted from river rocks.
Below left is another handsome design by Ewing Architects, based in Pasadena, California. In stark contrast, the equally handsome surround to its right features "horizontally-oriented" stones.
More Stone Masonry Fireplaces

More Designs by Ewing Architects

More River Rock Fireplace Designs
The  striking  rock fireplace designs pictured at right and below are the work of stone artisan,  Lew French.
His arrangements of river rock  and fieldstone  are  nothing short of ex-
traordinary!

See More Striking Examples of the
Work of Lew French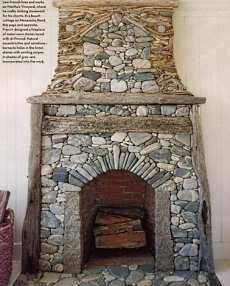 River rocks are available in a rainbow of colors ranging from varying shades of brown (below left) . . . and blues and greys (below right) . . . . .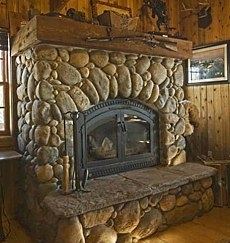 to shades of cream (below left) . . . and a whole palette of pastels (below right)!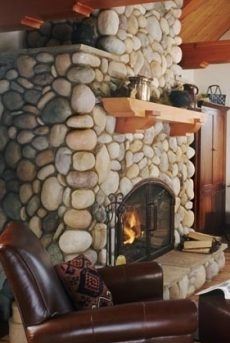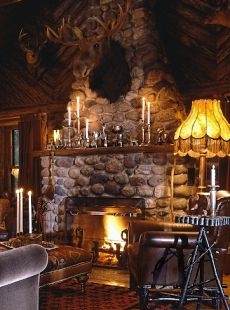 And  once  again,  the  river rock fire-
place designs at right and below vary greatly in their individual looks.    The relatively simple,  but extremely cozy hearth  at  right  is  a picture perfect example of domestic tranquility . . .
. . . . . while the meticulously crafted river rock and fieldstone design that follows is quite sophisticated.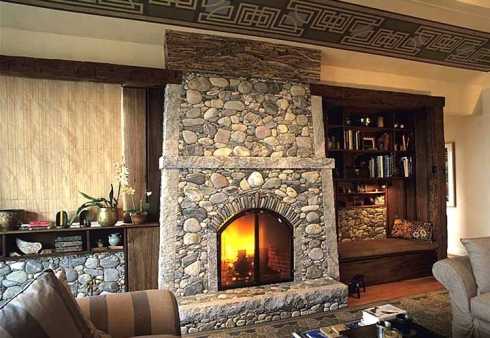 Extraordinary design above by master stone artisan, Lew French.
Please check back often or subscribe to our RSS feed,  as  we  fre- quently add new river rock fireplace designs to our site.
YOU MAY ALSO LIKE:





MORE River Rock Fireplace Designs -
A River Stone Fireplace Rocks!





Standout River Rock Fireplace Pictures -
Real Rock Stars!





The River Rock Fireplace Surround -
Soaring Skyward!





Standout Riverstone Fireplaces -
Cozy Cabin Hearths!





Standout River Rock Fireplaces -
Cottage Cuties!
Back to Stone Fireplace Designs Guide
Back to Stone Fireplace Designs Overview
Back to Standout Fireplace Designs Home Page
Didn't find what you were looking for?
Use this search feature to find it.
LIKE THIS PAGE?