The Craftsman Fireplace...
A Standout Fire Space!
The Craftsman fireplace is back by popular demand!  Incorporating clean lines, sturdy structure, simplicity of form, and natural materials, a Craftsman Style fireplace mantel exudes quality and uncompromising attention to detail!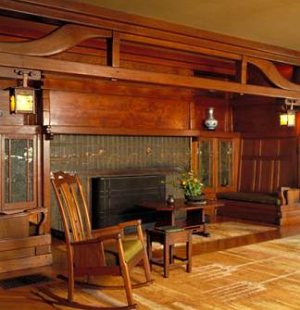 Inglenook Fireplace at Historic Gamble House
(Photo Credit: Tim Street-Porter)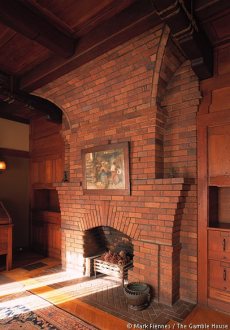 The American Craftsman Style is a descendant of the British Arts and Crafts Movement.  In the U.S., the term refers to the style of architecture, interior design, and decorative arts popular between the dominant eras of Art Nouveau and Art Deco, or roughly the period from 1910 to 1925.
Though many outstanding examples of the style survive, the legendary Gamble House in Pasadena, California, is considered a masterpiece of American Arts and Crafts, or Craftsman, design.  An exemplary work of the Greene brothers, it features a number of striking fireplace designs, including the stunning brick fireplace pictured at right.
Most Craftsman fireplace designs, however, were simpler and more typical of the example pictured below.    Made of beautifully grained quartersawn oak  framing  a tiled surround, the handcrafted quality and workmanship is readily  apparent  in the  finish and detailing,  including the carefully fitted wooden pegs on either end of the mantel shelf facing.
Fireplace Tile pictured above by Clay Squared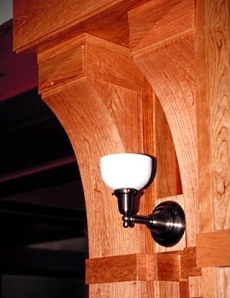 It is that quality of workmanship and attention to detail that has brought about today's revival of the Craftsman Style . . . . . . . not only in fireplace design, but in other architectural elements -- both interior and exterior -- as well.
A renewed appreciation for exceptional detailing using natural materials, such as that depicted at right and below, has made the style immensely popular, once again.
Design details pictured at right and below by TEA2 Architects.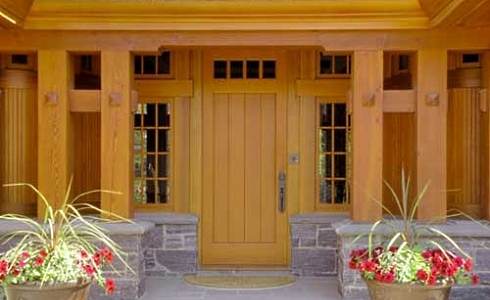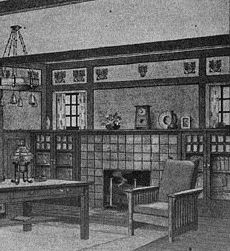 Gustav Stickley (1858-1942), publisher of The Craftsman Magazine and the leading proponent of Craftsman design in America, believed that built-in bookcases and benches were a practical, if not essential, design element in Craftsman Style homes and ensured that the house would not be completely reliant on furniture from outside.  The period drawing at right shows how the fireplace was often used to "anchor" the built-in components, as do the Craftsman fireplace designs that follow.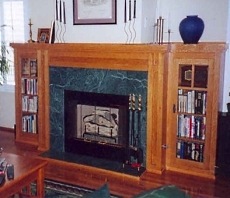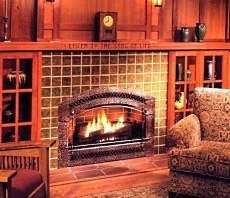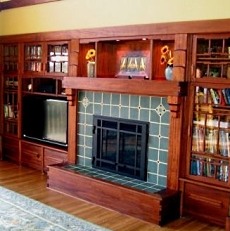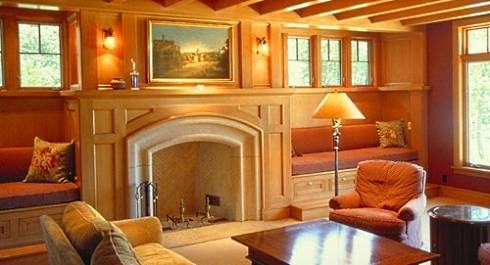 Fireplace with built-in seating, above, by TEA2 Architects.
More Craftsman Fireplaces
The  two  rather  simple,  but  sturdy  fireplaces  shown below are typical Craftsman designs.     Once  again,  quarter  sawn oak is used, along with detailing such as corbels (brackets) and wooden pegs to reflect the handcrafted quality inherent in the style.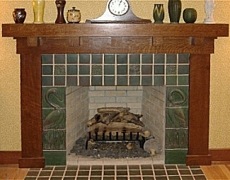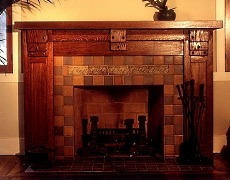 Splayed legs are another common feature of the Craftsman Style and add a bit of elegance and refinement to the designs, as shown in the following examples from Hazelmere Mantel.  The reproduction tile surround on the fireplace at bottom lends an additional authentic touch to the overall design.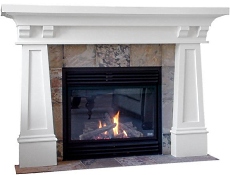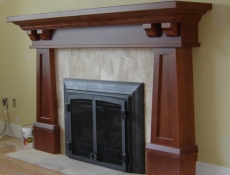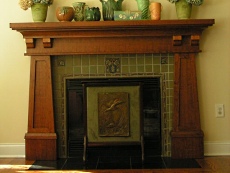 More Arts & Crafts/Craftsman Fireplace Tile Designs

Another  authentic element of Crafts-
man fireplace design is the flared cop-
per  hood,  such  as that depicted in
the period drawings below.
The  reproduction  design pictured at
right  is  a  beautiful  example  of the
quality   workmanship  and  attention
to  detail  --  in  both  the metalwork
and  surrounding  woodwork  --  that
characterizes  Craftsman  styling and
design.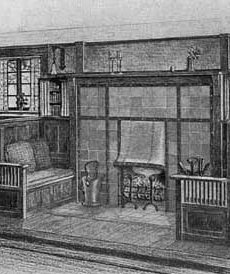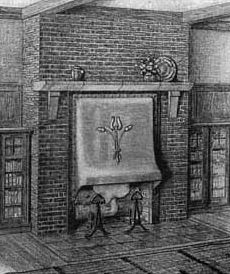 And finally, as shown in the two striking examples which follow, the overall composition can be extended upward to include an overmantel to further enhance the design.  Note the handcrafted quality and the exceptional attention to detail, particularly in the example shown at right, below.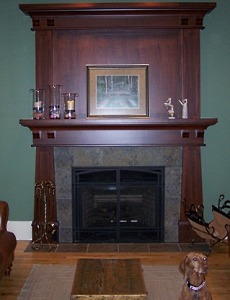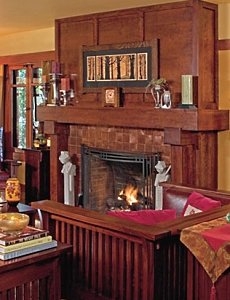 Design pictured above, left, from Hazelmere Mantel.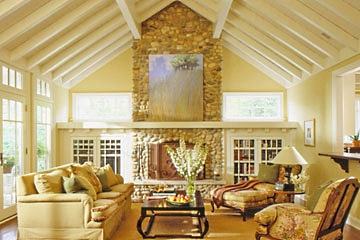 Please  check  back often or subscribe to our  RSS feed,  as  we  frequently add new images of Craftsman fireplaces to our site.

YOU MAY ALSO LIKE:





MORE Craftsman Fireplace Designs!





Rock Out With Country Rock Fireplaces!




Craftsman Mantel Shelf Designs -
Crafted To Perfection!





The Arts and Crafts Fireplace -
A Finely Crafted Fire Space!





MORE Arts and Crafts Fireplaces -
Finely Crafted Fire Spaces!





Contemporary Craftsman Hearths -
New Twist On An Old Theme!





Standout Fireplace Tile -
Arts and Crafts Style!




MORE Fireplace Tiles In
Arts and Crafts Styles!
Back to Fireplace Mantel Designs
Back to Standout Fireplace Designs Home Page
Didn't find what you were looking for?
Use this search feature to find it.
LIKE THIS PAGE?