Contemporary Fireplace

Mantle Designs...

Shape Shifters!



Contemporary fireplace mantle designs are taking on a variety of new and exciting shapes . . . unlike anything we've seen before.   Europe is leading the way, with the U.S., Canada and Australia in hot pursuit!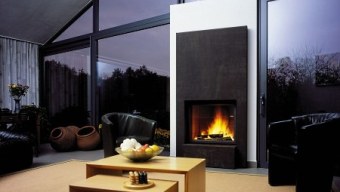 Sleek and modern, they often combine simple geometric forms with an alluring and ever evolving array of materials to form highly sophisticated, albeit restrained, modern hearths, such as the vertically oriented European designs below.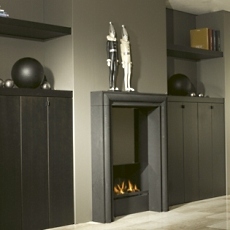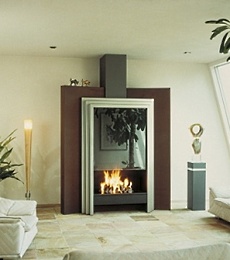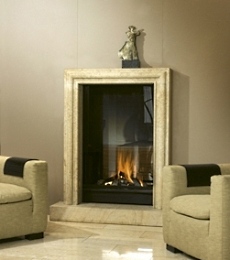 They can also be arranged into some rather "unconventional" shapes,  as shown in the following examples.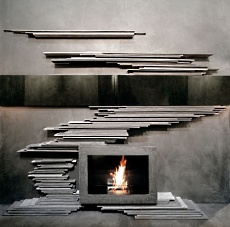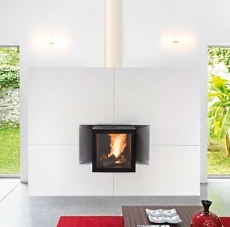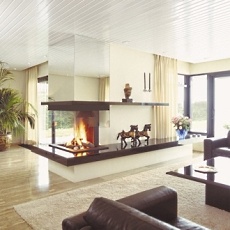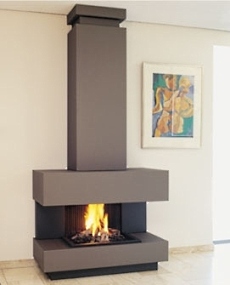 The development of new materials, as well as advancements in the processing and finishing of existing materials, now make it possible to create forms in virtually any shape and texture.
More Fireplace Mantle Designs
Steel, in a variety of forms and finishes,  is widely used in today's contem-
porary fireplace mantle designs. The striking fireplace below left is made of painted steel with small wooden shelves, while the one on the right is made of Corten steel,  a "weathering" steel designed to oxidize to a velvety rust patina.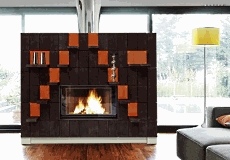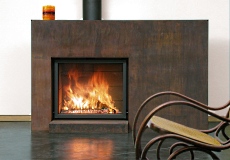 The steel surround at left, below,  appears to have been carelessly ripped open or blown apart,  while the large bronze wall surround at right is very ordered and symmetrical.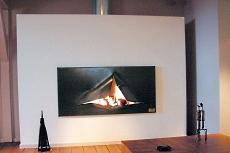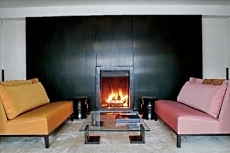 The next two designs, though both made of steel, have different finishes . . . . a mirrored finish on the left and an enameled finish on the right.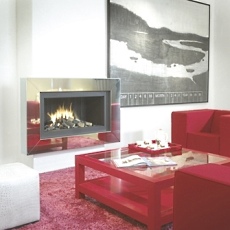 The two high tech designs that follow are made of stainless steel . . . the fireplace on the left has a brushed finish while the one on the right has a polished finish.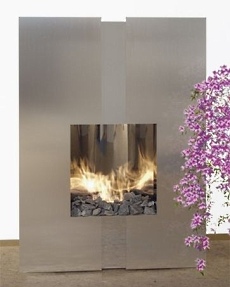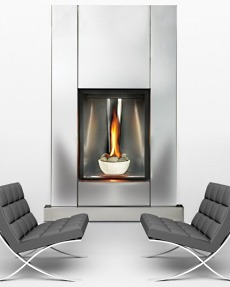 The rather unusual custom designs below utilize metal wall-size surrounds . . . perforated aluminum panels on the left and corrugated galvanized steel cladding on the right.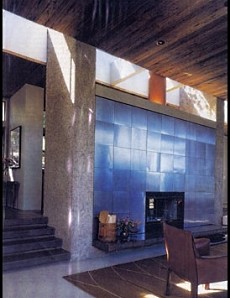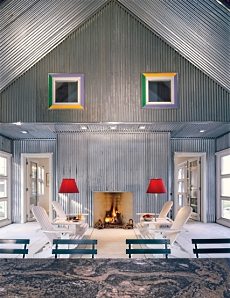 Another material commonly used for contemporary fireplace mantle designs is concrete.  One of the most versatile materials available today, concrete can be formed into virtually any shape and finished in a multitude of very different ways, as shown in the following four examples.   On the left side, the simple, understated design above contrasts sharply with the bold and robust mantle directly below it.   On the right side, the rugged look of the heavily ribbed concrete mantle with metal insert  (above)  is in stark con-
trast to the more subdued sculptural striations and sleek stainless steel tiles of the concrete design pictured under it.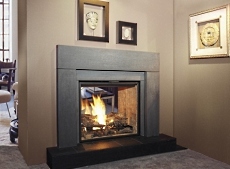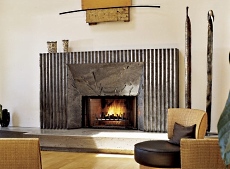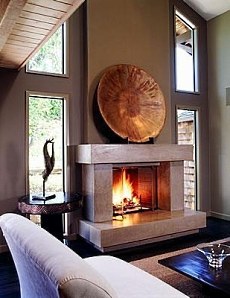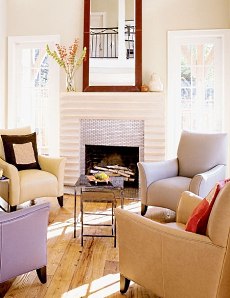 The smooth texture and striking polished finish of the massive surround be-
low is another example of the numerous ways in which a concrete mantle can be finished.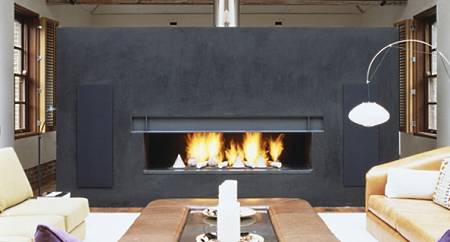 Even natural stone, one of the earliest fireplace materials used by man, is being utilized in contemporary hearth designs in very exciting and creative new ways.    The two mantles below are made of alabaster,  a translucent stone similar to onyx. Made from thinly cut sheets of this beautifully veined stone and illuminated from within, they are absolutely stunning . . . with or without a fire!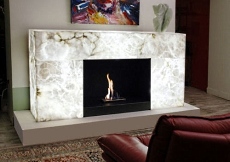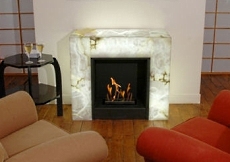 The next four designs are each made of marble. The port hole-shaped fire-
box in the example at top right flares forward and is asymmetrically posi-
tioned in the marble facing to create a very striking contemporary design. Each of the remaining three fireplace surrounds combines two contrasting marble types with great effect.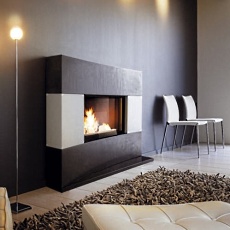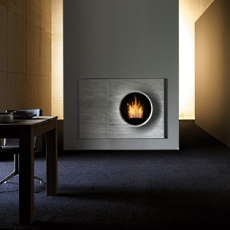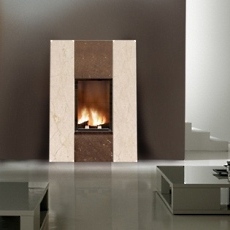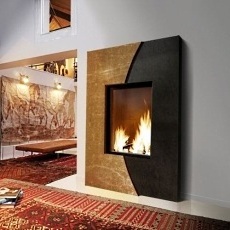 The following two designs are also made of marble but have a very differ-
ent look from those above.   In each example, the marble has been brush finished and sculpted in smooth bas-relief.   The alternating textures and patterns make a very striking . . . and powerful . . . contemporary design statement! From innovative French manufacturer, Chazelles.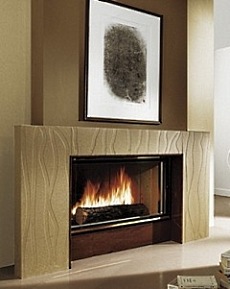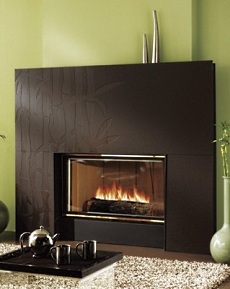 See more unique and distinctive designs from Chazelles Fireplaces



The following example may very well be one of the most unusual  "shape shifter" fireplace mantle designs on the market today. Made by Skloib, a high-end Austrian furniture manufacturer, the "TV Drehturm" is a rotating television cabinet and fireplace all in one. Consisting of two sides, one side holds a flat screen TV and accessories, while the other side holds a con-
temporary circular fireplace.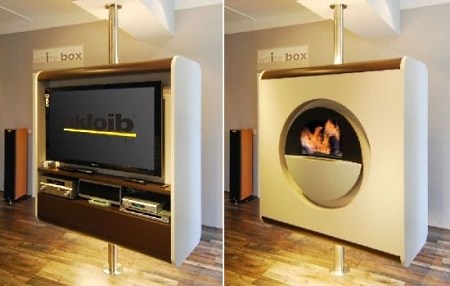 Please check back often or subscribe to our  RSS feed,  as  we  fre- quently add new fireplace mantle designs to our site.
More Contemporary Fireplace Mantle Designs

Mild to Wild Contemporary Fireplace Designs
Back to Fireplace Mantel Designs
Back to Standout Fireplace Designs Home Page
Didn't find what you were looking for?
Use this search feature to find it.

LIKE THIS PAGE?