TV Alcoves by Fireplace Sides...
Just Fittin' In!
The TV alcoves by fireplace sides featured here demonstrate a  variety  of ways to integrate your flat screen TV with your fireplace surround without the need to mount your TV above your fireplace mantel . . . . .
TV Alcove by Fireplace with Stone Sur-
round from Hedberg Aggregates

. . . For numerous reasons, it may be better to position your plasma televi-
sion to the side of your fireplace instead of above it.   For example, if your room  is  not  very  large and creates a challenge in furniture arrangement, you  may  end  up  sitting  too close to your TV if it is mounted above the mantel.   As we all know from attending a movie theater, nobody wants to sit  in  the front row because we are forced to crane our necks as we look up  at  the movie screen right in front of us, which can be very uncomfort-
able.     Though  at  times we may have little or no choice but to sit in the front row at a theater,  we certainly don't want to endure that discomfort in our own living room while watching a movie on our own TV!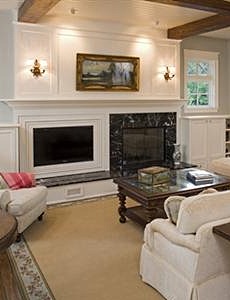 Pictured at left is a finely crafted fire-
place  surround  with a built-in alcove for a flat screen TV.  Created by Pillar Homes of Plymouth,  Minnesota  --  a suburb of Minneapolis -- it exemplifies the  seamless  integration of a plasma TV with a striking fireplace surround.
The TV alcove by fireplace  design  that  follows  consists  of  a  soaring stacked  or  dry stone fireplace flanked by built-in shelving and cabinetry. Designed by Ann Wisniewski of Atlanta-based AJW Designs,  it features a simple  but  bold  white enameled mantel shelf to bridge the gap between
the built-ins on each side of the stone fireplace, effectively tying it all to-
gether.
See More Soaring Stacked Stone Fireplace Designs


Pictured below is another fireplace design with built-in shelving and  cabi-
netry on each side. Finely crafted from cherry wood, the built-ins include an alcove for a TV on the left side of the fireplace mantel.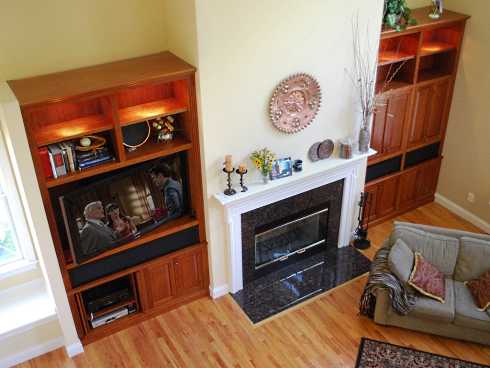 Also seamlessly integrated in the design of the flanking cabinetry is an elaborate speaker system, as shown in the close-up image below.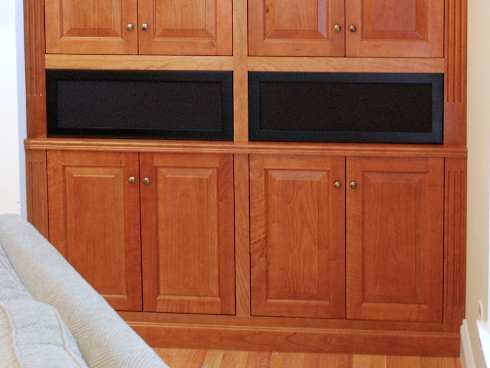 See More TV Alcoves by Fireplace Designs with Built-Ins


The striking Arts and Crafts fireplace surround with built-ins that follows is another finely crafted design from Pillar Homes.    The millwork framing the flat screen TV to the right of the fireplace is beautifully integrated  in  the overall design!
See More Striking Arts and Crafts Fireplaces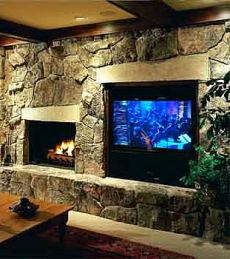 The  next two TV alcoves by fireplace sides are crafted from stone. Pictured at  right  is  a  rugged stone surround with a large lintel over  both  the  fire-
box opening and the TV alcove.    Set within  a  dramatic evergreen forest in Edwards, Colorado,  this home was de-
signed  by architect Thomas Oppelt of Kerrville, Texas.
The colorful stone fireplace design that follows  was  created  by  Heritage Hearths Masonry of Kalispell, Montana.     Brown, red, and gray stone with black  mosses  laid  in an ashlar pattern surrounds a masonry wood burning firebox with a raised hearth and a rustic wood mantel shelf. To the right of the fireplace,  a pair of glass fronted custom doors opens to reveal built-in shelving and a TV alcove.
See More Masonry Wood Burning Fireplace Designs


The slate stone fireplace surround with raised hearth that follows is  from K2 Stone, based in several locations throughout Canada, as well as in the U.S. in Kalispell, Montana.  Flanking the stone surround is a built-in TV al-
cove on the left and built-in cabinetry on the right. A richly finished wood mantel shelf extends to tie it all together.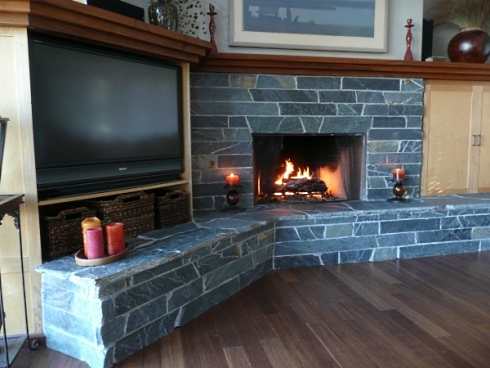 See More Slate Stone Fireplace Designs


The soaring stone fireplace that follows also features built-in cabinetry on either side, including a TV alcove on the left.   Crafted by Streamline Tim-
berworks  of  Richmond,  Virginia,  it features a custom wood mantel shelf over the arched firebox opening, designed and finished to match the flank-
ing cabinetry.
See More Wood Fireplace Mantel Shelves

Contemporary TV Alcoves by Fireplace Sides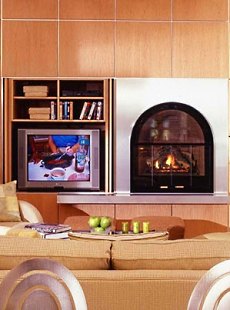 Shifting   gears,    the   TV alcoves by fireplace sides that follow are contem-
porary in design.    Pictured at right is
an arched firebox surround and hearth crafted from metal. Set against a con-
trasting  backdrop  of warm wood pan-
eling, the design features a built-in TV alcove  and shelving just to the left of the in-wall fireplace.
The  sleek,  suspended  fireplace  and
flat  screen  TV  composition  pictured below was custom designed by Colleen Gove  and  Mark McInturff of McInturff Architects,  based in Bethesda,  Mary-
land.    It features a three-foot, vent-
free  gas  fireplace  from Spark Modern Fires.    Tying the fireplace and TV to-
gether  is  a  removable surround made
of  aluminum,  which  rests  on  a steel
frame  that  also supports the fireplace
and plasma TV.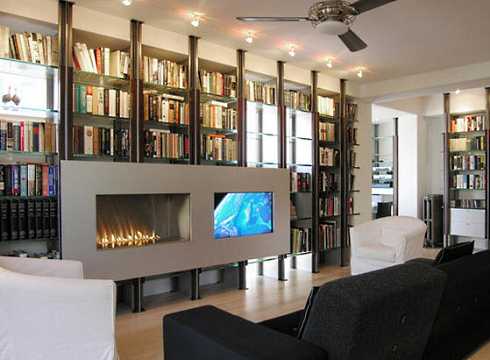 Photo Credit: Julia Hein


And if you'd like a similar design that is "ready-made," look no further than the striking unit pictured below.    Produced by innovative Italian designer and manufacturer, MCZ, the "Scenario" is a real space saver and comes in both gas and wood burning models.   In addition, it offers an ideal viewing platform for HD movies, and can even be used to browse the internet!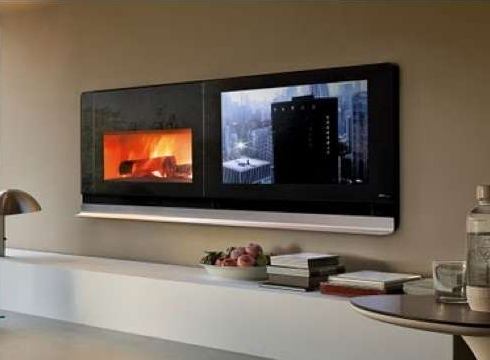 See More Sleek Contemporary Italian Fireplace Designs

Please check back often or subscribe to our RSS feed,  as we fre- quently add new designs for TV alcoves by fireplace sides to our site.
YOU MAY ALSO LIKE:





More TV Alcoves By Fireplace Ideas -
An Overview Of Options!





Flat Screen TV Over Fireplace Designs -
To Hide Or Not To Hide?




TV Fireplace Surrounds
from Top Designers!
Back to Fireplace Design Ideas
Back to Standout Fireplace Designs Home Page
Didn't find what you were looking for?
Use this search feature to find it.
LIKE THIS PAGE?