TV Over Fireplace Ideas...
An Overview of Options!
The TV over fireplace ideas presented here feature a variety of ways to integrate your flat screen TV with your fireplace design. Whether your fireplace surround is very traditional or ultra-contemporary in style . . . or something in between; whether it is faced with wood, stone, concrete, or tile . . . you have a wide range of options to keep your fireplace and TV from competing with one another to become the focal point of your room. Rather, by combining the two, they can both enjoy the limelight!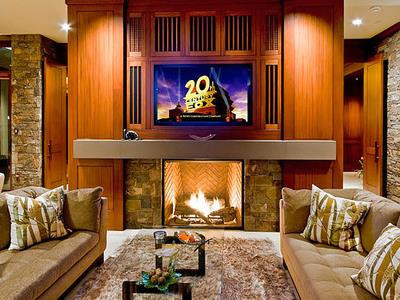 Photo Credit (above): Virtual Imaging 360
The  easiest way to accomplish that objective is to simply mount your flat screen TV on the wall above the fireplace mantel shelf,  as  shown  in  the two TV over fireplace designs that follow.     A host of manufacturers now produce a wide variety of mounting hardware to both simplify and expedite the installation process.
The striking contemporary fireplace that follows was designed by  Andreas Charalambous of Forma Design in Washington, D.C. Set against a dramatic wall of deep indigo blue,  the  white concrete fireplace is scribed in a sym-
metrical geometric pattern of varying size rectangles,  in part,  to  "frame" the brushed aluminum television surround, as well as the flanking speakers. A beautifully conceived and finely executed design!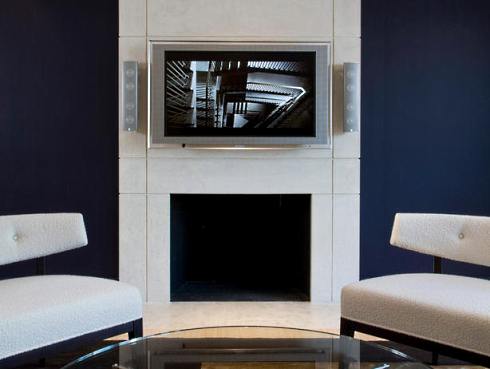 See More Striking Concrete Fireplace Designs


Pictured below is another striking contemporary TV fireplace design by  An-
dreas Charalambous. Featuring a wall of exotic Wenge wood cabinetry with vertical and horizontal cutouts, a forward projecting mantel provides a per-
fect resting place for a large flat screen TV.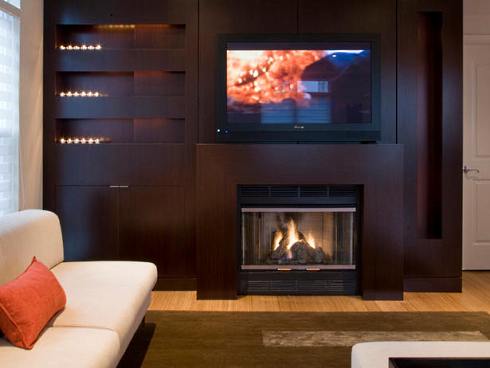 More TV Over Fireplace Ideas
The contemporary TV over fireplace design that follows is by Studio M  of Tampa, Florida.    It features a polished concrete surround with a Montigo linear gas fireplace.   Centered above the firebox opening is a plasma tele-
vision.    Note how the black metal frame around the TV echos that of the frame surrounding the firebox.
Pictured below is a granite fireplace surround by Beaumont Stoneworks, lo-
cated in Duluth, Minnesota.  It features a built-in recess above the mantel shelf to house a large flat screen TV.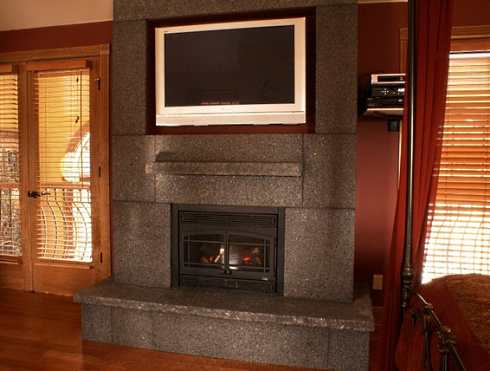 See an Extraordinary Collection of Granite Fireplace Surrounds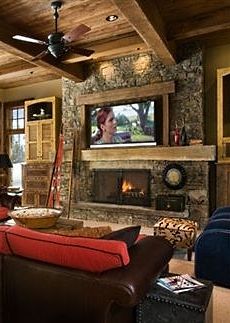 Pictured  at  right  is a stone fireplace surround by Bozeman, Montana-based Locati Architects -- one of the premier architectural design firms in the  West-
ern United States.   It features a plas-
ma television set resting on  the  man-
tel,  framed  by sections of stone that match  the  color  and  texture of the mantel shelf facing.
See a Sampling of Spectacular Stone
Fireplace Designs by Locati Architects!


The TV over fireplace design that follows features a rugged stone surround with  a  deep  recess above the timber mantel shelf to place a wide screen TV.     Capping  the  raised  hearth are sections of smoothly finished stone slabs.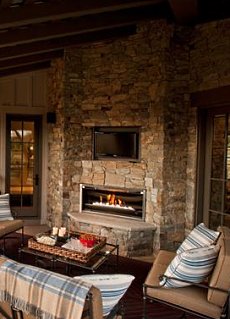 Similarly, the massive stone surround in the outdoor room pictured at right includes  a built-in recess to house a TV.

See More Outdoor Rooms with Stone Fireplaces!

And  finally,  the outdoor room that follows features another large floor-to-
ceiling stone fireplace.   Crafted by Texas Timber Frames, based in San An-
tonio, Texas,  it features a set of handcrafted wooden doors with recessed panels to conceal the flat screen TV above the firebox opening when not in use.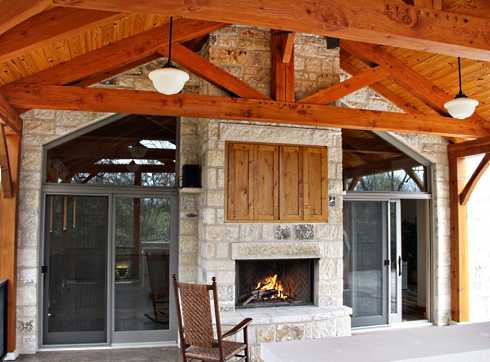 See More Fireplace Designs with Concealed Flat Screen TVs

Please check back often or subscribe to our RSS feed,  as we fre- quently add new TV by fireplace ideas and designs to our site.
YOU MAY ALSO LIKE:





Flat Screen TV Over Fireplace Designs -
To Hide or Not to Hide?





TV Fireplace Surrounds
from Top Designers!





TV Alcoves by Fireplace Sides -
Just Fittin' In!
Back to Fireplace Design Ideas

Back to Standout Fireplace Designs Home Page
Didn't find what you were looking for?
Use this search feature to find it.
LIKE THIS PAGE?