Stacked Stone Fireplace Designs
A stacked stone fireplace is,  for many of us,  the ultimate in fireplace surrounds.  Carefully assembled by master stone artisans, the placement of each stone reflects the skill and artistry of its creator.  Each hand-crafted fireplace design is truly unique  and -- in  many cases -- a veritable work of art!
To build a stone fireplace employing the dry stone or dry stack method, the stones are stacked horizontally  and rely on the weight of the stones and friction  between  each  stone for strength and architectural integrity. Technically "mortarless," the stones  used  to  build  a  dry stone  fireplace -- though  assembled  tightly  together  --  sometimes  allow  for  a very narrow mortared bed joint that is raked back deeply into the stone work so the mortar is undetectable.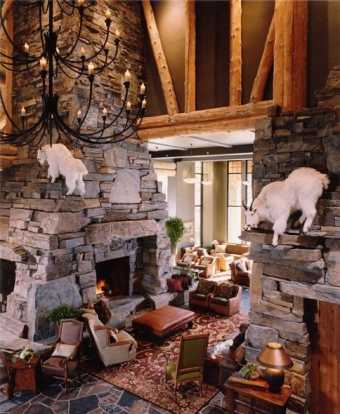 The skill and craftsmanship employed in this construction method has been perfected  over  the  centuries,  resulting in many outstanding examples of the stone worker's art,  such  as the monumental design pictured above by Locati Architects.  As shown in the web pages outlined below, this method of  construction  can be used to create a wide and varied range of exciting looks to give you a truly unique, one of a kind stone hearth design!


Building A Stone Fireplace -
Think Outside The (Fire)Box!


Build A Stone Fireplace -
Stack It Up Outdoors!






Dry Stack Fireplace Pictures -
Simply STUPENDOUS!






Dry Stone Fireplace Pictures -
HIGH & dry!






The Stacked Stone Fireplace -
Stacked In Your Favor!






Dry Stack Stone Fireplaces -
Centuries In The Making!

Back to Stone Fireplace Designs Guide
Back to Stone Fireplace Designs Overview
Back to Standout Fireplace Designs Home Page
Didn't find what you were looking for?
Use this search feature to find it.

LIKE THIS PAGE?