The Stone Surround Fireplace with Built Ins...

Have it YOUR Way!



A stone surround fireplace with built ins provides a host of options for tai-
loring your living area to better suit your personal lifestyle and turn your fire space into a great center of activity and entertainment . . . . .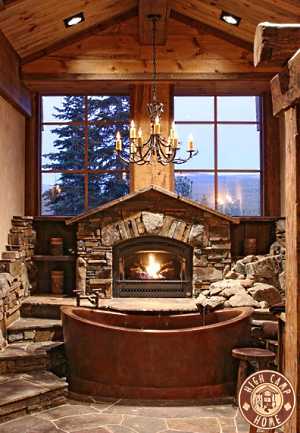 . . . . . Whether a romantic stone hearth and tub surround with a waterfall from High Camp Home  (above right),  or a country style overmantel enclo-
sure with sliding doors to conceal a plasma TV  (below left),  you  can turn your fire space into a multipurpose zone. A place to go not only to cozy up to a warm, crackling fire, but to relax in a soothing bath at the same time . . . or enjoy a great movie . . . or listen to your favorite music. The possibil-
ities are truly endless!
Perfect for a country style interior, the white  enameled  overmantel enclosure pictured  at  left  contrasts  beautifully with  the  stone fireplace surround be-
neath  it.     The enclosure is clad with bead-board   and  features  "barn  like" doors  that  slide  on rails to conceal a modern day plasma TV when not in use . . . an ideal solution for preserving the cozy country look  and  charm  of  the room!
The striking stone surround fireplace with built ins,  pictured below,  is the focal point of the living room in a New England cottage-inspired residence. Designed by Shane Inman of Traverse City,  Michigan,  the  custom  made fireplace surround is 20 feet long and includes a built-in  alcove  for  a  TV and other electronic equipment to the right of the firebox opening.    Note the extended raised hearth and mantel shelf.
The soaring multi-story  stone  surround  that  follows  features  a  firebox opening designed to appear as if it is arched. Mimicking the look is a slight-
ly recessed niche with an actual arched top above the mantel shelf. Wood bookcases  with  arched  openings  flank the forward projecting stone fire-
place surround and are painted to match the millwork in the room.
The field stone surround fireplace with built ins,  pictured below,  is tucked into a large alcove or inglenook. Recessed into the stone work on each side of the fireplace is a bookcase with bead-board backing. A door at the base of each bookcase features a bead-board panel inset.    Oak Hill Architects, based  in  Weston  Center,  Massachusetts, designed this beautiful Shingle Style home.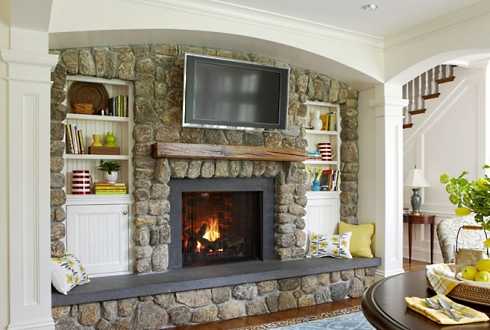 See More Inglenook Fireplace Designs

The Craftsman Style fireplace surround and inglenook that follows derives its inspiration from a design in  Pasadena,  California's  legendary  Gamble House.    Flanking the stone surround fireplace are raised bookcases with glass-fronted doors. Built-in seating anchors each end of the inglenook.
See More Craftsman Style Fireplace Mantel Surrounds With Built-Ins
More Designs for Stone Surround Fireplace with Built Ins
The beautifully crafted stone fireplace surround that follows  was  created by master stone artisan, Lew French.  Built-ins flanking the surround incor-
porate panels with similar stone work.     Above  the  stone  panels,   open shelving is used to display a collection of art objects, as well as books. The recessed area or alcove to the right of the fireplace surround also  includes a built-in bench.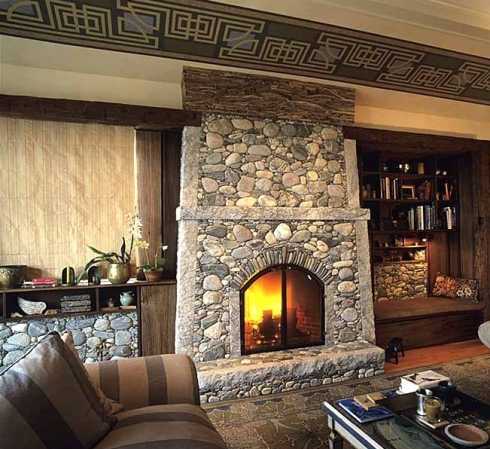 See More of the Extraordinary Work of Lew French


The imposing stone fireplace pictured below  was  created  by  Freshwater Stone, based in Orland, Maine. Crafted primarily from large slabs of granite, its  heavy,  bold and robust appearance presents a striking contrast to the simple,  lightly finished built-in cabinetry  --  and glass shelves used to dis-
play a collection of delicate glassware -- that flank it.  Adding to the stark contrast, as well as its commanding presence, is the  way  the  stone  sur-
round projects into the room.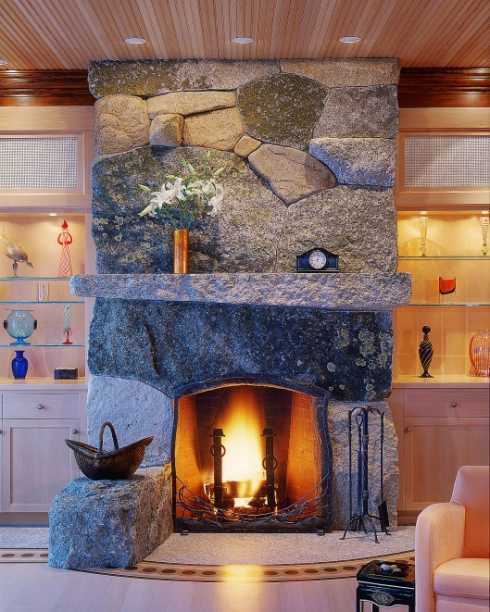 See More Imposing Fireplace Surround Designs from Freshwater Stone


The fieldstone and river rock fireplace surround that follows  is  flanked  by enough built-in cabinetry to rival that of many kitchens!  And with so many doors and drawers, you can conceal nearly everything but the kitchen sink. Overhead,  a  built-in soffit conceals recessed lighting fixtures to illuminate the area below. Four small spot lights mounted on top of the soffit light the area above.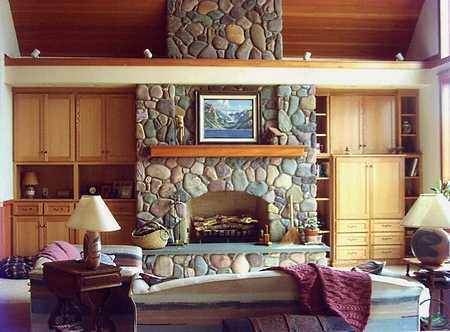 And finally, the stone surround fireplace with built ins pictured  below  fea-
tures an expansive  raised  hearth  with  space  for  firewood  storage  be-
neath it. More contemporary in style than those pictured above, it includes a cozy sleeping alcove on one side with built-in cabinetry above.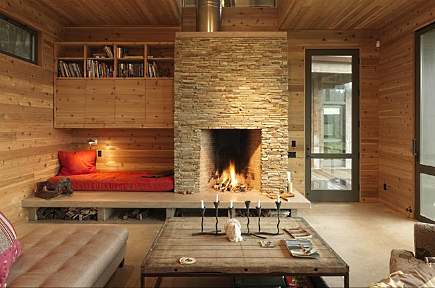 Please check back often or subscribe to our RSS feed,  as we fre- quently add new stone surround fireplace with built ins to our site.
YOU MAY ALSO LIKE:




More Stone Surround Fireplace With Built Ins Designs -
Crafted To Perfection!





Brick Patio Designs For Fireplaces -
Brackets & Built-Ins!
Back to Fireplace Design Ideas
Back to Standout Fireplace Designs Home Page
Didn't find what you were looking for?
Use this search feature to find it.
LIKE THIS PAGE?