TV Fireplace Surrounds
from Top Designers!
The striking TV fireplace surrounds featured here come from some of the most talented designers in America today.    Creatively conceived and beautifully executed, they are bound to grab your attention!
Design above by Harrison Design Associates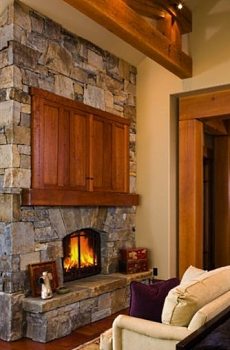 Pictured  at  left  is  a design by Boze-
man, Montana-based Locati Architects -- one of the premier architectural de-
sign   firms   in   the   Western  United States. The stone surround features a wood mantel shelf and a pair  of  finely crafted doors just above it to  conceal a  flat  screen  TV  when  not  in  use. Known,   in  part,  for  its  monumental rustic stone fireplace designs,  a  sam-
pling  of  the  firm's extraordinary work can be seen by clicking here.


Also, See More Concealed Flat
Screen TV Fireplace Designs!
The next several TV fireplace designs that follow come from Atlanta-based Harrison Design Associates  --  another premier architectural design firm in the  United  States.      Well known for its classically-inspired designs,  the craftsmanship  and  detailing in each of the firm's projects is absolutely ex-
quisite!
For  example,  the  design that follows features an alcove or inglenook fire-
place with a great stone arch that echos the detailing  of  the  stone  fire-
place surround. Built-in wood shelving for books, AV equipment and art ob-
jects flanks the fireplace.  Richly finished board and batten paneling frames a wide screen TV resting on the mantel shelf.
See More Inglenook Fireplace Designs
In the TV fireplace design that follows,  Harrison  Design  Associates  em-
ployed  an  elaborately  carved stone fireplace mantel as the room's focal point.  Note how the arch above the tall glass windows in the room echos the graceful arch over the firebox opening.   Above the mantel shelf, a re-
cess or niche in the wall houses -- and frames -- a flat screen TV.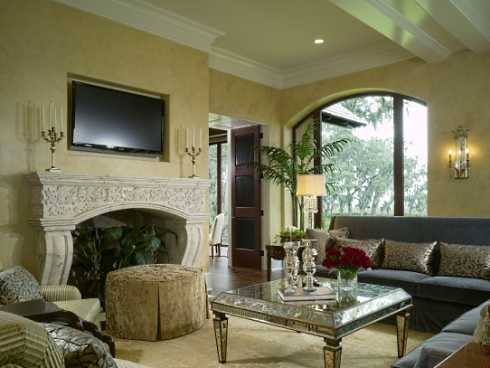 For Do-It-Yourselfers, Please Click Here For
Instructions On How To Build Wall Niches For TVs.
The striking Arts and Crafts inspired design by Harrison Design Associates, pictured  below,  features  a beautiful deep green glazed tile fireplace sur-
round framed by simple pieces of wood that have  been  stained  and  fin-
ished to match the cabinetry and coffered ceiling in the room.  The simple wood  framing  extends  upward  to also "frame" a flat screen TV over the firebox opening.
See More Arts and Crafts Fireplaces
The richly finished wood fireplace mantel that follows  --  also by Harrison Design Associates  --  incorporates elements of Art Deco Styling . . . or a contemporized version of it.     The dark, rich color of the wood contrasts beautifully with the light stone surround and raised hearth.    Centered on the slightly projecting wall above the mantel shelf is a flat screen TV.
The  final design from Harrison Design Associates shown here is the striking brick fireplace surround pictured below.     Framed by a stunning arch,  the fireplace  features  a  gently  curved,   raised  brick  hearth  capped  by  a smoothly finished hearthstone. Above the firebox opening is a stone mantel shelf with a chiseled finish, supported by two large stone brackets,  or cor-
bels. And simply resting on the stone mantel shelf is a plasma television set with a brushed aluminum frame.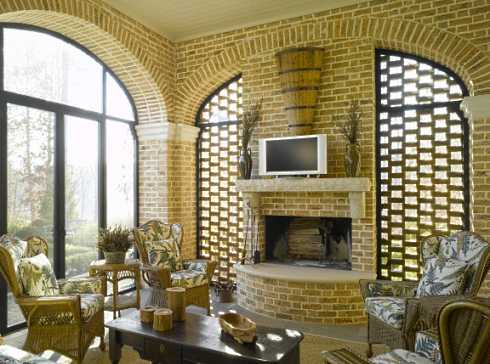 See More Striking Brick Fireplaces
More Striking TV Fireplace Surrounds
One of the more avant-garde designers whose work is  portrayed  here  is Shane Inman of The Inman Company, based  in  Traverse  City,  Michigan. Pictured  in  the three images that follow is one of his unique fireplace de-
signs.  Soaring to 30 feet in height, it is clad with a board and batten wall treatment  from  the base of the raised hearth to the top of the ceiling -- the only exception being glazed white tile around the firebox opening.
Built-in cabinetry flanking the fireplace features recessed panel doors and drawer  fronts,  as  well  as  open  shelving and an alcove to house a flat screen TV on the right. A rather elaborate wood mantel shelf painted in a contrasting color ties it all together by wrapping around the  forward  pro-
jecting  fireplace  and  across  the front of the built-in cabinetry on either side.     And  finally,  for even more contrast and visual appeal, an organic grouping of naturally formed tree branches appears to sprout from the top of the mantel shelf and extend upward toward the ceiling.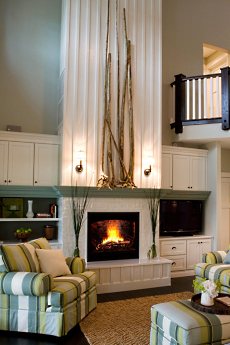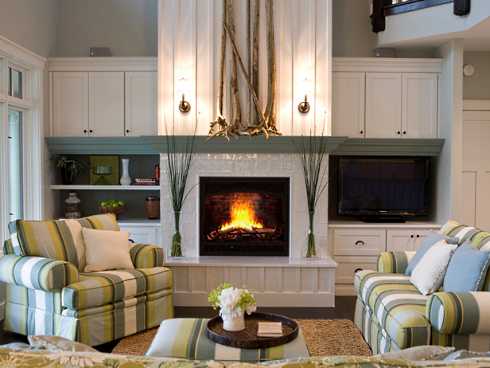 See More Unique Fireplace Surrounds with Built-Ins
The  last  designer  whose  work is featured here is Andreas Charalambous, principal architect of Forma Design, located in Washington, D.C.  Known for his  clean  lines  and  sleek  contemporary styling, the two TV fireplace de-
signs that follow are highly representative of his striking work!
The sleek fireplace design pictured  directly  below  is  made  of  concrete. Scribed lines in the concrete add visual interest and provide a  "frame"  for the flat screen TV above the firebox opening. Once again, built-in cabinet-
ry and paneling flanks each side of the  fireplace,  echoing  and  extending the scribed lines in the concrete fireplace surround.      Finely crafted from sycamore,  the  cabinetry  on  the  left  side  of  the fireplace conceals AV equipment for the plasma television set.    To  the  right  of  the  fireplace, lighted niches provide ideal display areas for the owner's pottery collection.
Photo Credit: Geoffrey Hodgdon
The striking TV fireplace design that follows is part of a  penthouse  duplex in  Washington  D.C. that Andreas Charalambous transformed from a dated Colonial to an ultra-contemporary, Asian-inspired home he characterizes as "Zen Modern."   At first glance, the fireplace surround appears to epitomize modern-day simplicity.   However, a closer look reveals a sophisticated de-
sign that features contrasting stone colors and textures, as well as a care-
fully  conceived  integration  and symmetry of flat screen TV with fireplace surround.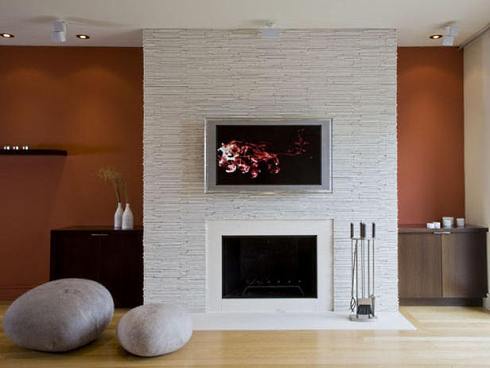 Photo Credit: Geoffrey Hodgdon

See More Sleek and Chic Contemporary Stone Fireplace Photos

Please check back often or subscribe to our RSS feed,  as we fre- quently add new TV fireplace surrounds to our site.
YOU MAY ALSO LIKE:





TV Fireplace Ideas -
An Overview Of Options!




Flat Screen TV Over Fireplace Designs -
To Hide Or Not To Hide?





TV Alcoves by Fireplace Sides -
Just Fittin' In!
Back to Fireplace Design Ideas
Back to Standout Fireplace Designs Home Page
Didn't find what you were looking for?
Use this search feature to find it.
LIKE THIS PAGE?