Flat Screen TV Over Fireplace Designs...

To Hide or Not to Hide?



Flat screen TV over fireplace designs come in a multitude of looks with an ever increasing array of products and design options to make yours truly stand out -- OR NOT -- above the rest. Regardless of whether you choose to conceal your overmantel TV when not in use, or keep it in full view at all times, you have a litany of product choices and installation methods to give it a "finished" look!
Pictured Above: Dual Sliding Lift from Media Decor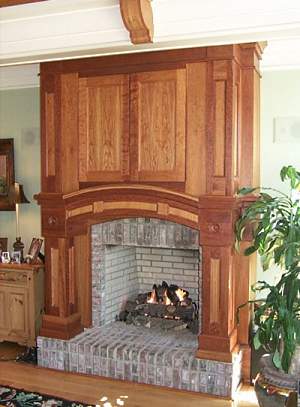 Flat Screen TV Over Fireplace Design
                                        Above by Streamline Timberworks
There  are  no "hard and fast" rules about whether or not you should hide your TV when it's turned off.   It is more a matter of personal preference. For  example,  the cabinetry concealing the TV in the image above,  right,
as  well  as  the built-in -- but unconcealed -- design pictured below, are each very attractive.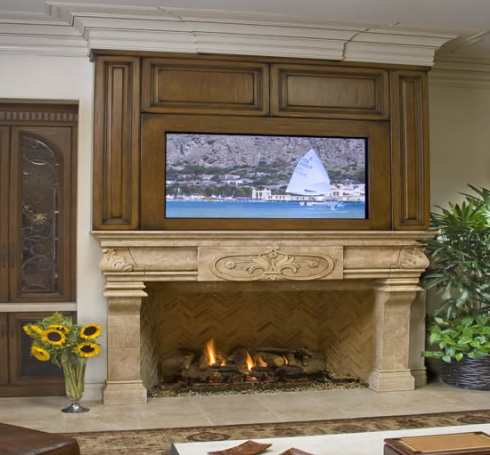 However,  unlike the built-in bookcases in the striking inglenook fireplace design by Oak Hill Architects that follows, the TV seems to dominate the overall composition and lacks a "finished" look.   More than likely, the flat screen TV was added later.      Had it been recessed into the  fieldstone surround, as the bookcases were, it would have much more of a finished appearance -- regardless of whether or not the TV was concealed when not in use.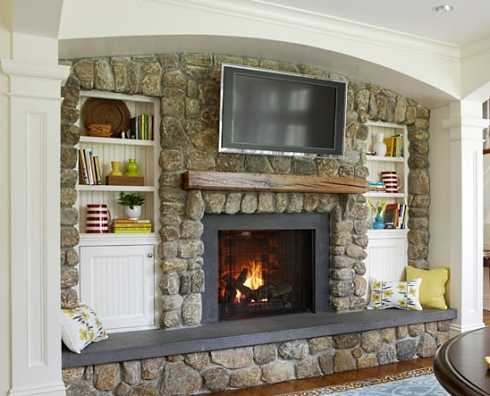 See More Inglenook Fireplace Designs
The two flat screen TV over fireplace designs that follow are highly unusual and remarkably creative! The cut granite fireplace surround pictured below, left,  is  crowned  by  a beautifully crafted wood mantel shelf.     Extending above the mantel shelf is an enclosure  faced  with  bead-board  to  match the  ceiling.      Concealing the TV is a pair of "barn like" doors that slide on rails.    The white-enameled mantel shelf and enclosure contrast beautifully with the grey and tan stonework.
Pictured  below,  right,  is  a smooth stone fireplace surround with a timber mantel shelf.   Once again, it features "barn like" doors that slide on rails to conceal the flat screen TV.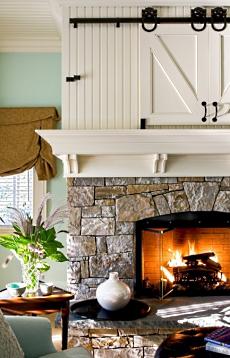 See More Wood Fireplace Mantel Shelves
See More Flat Screen TV Over Fireplace Designs
If you wish to create an authentic period look and feel such as that shown in the two designs that follow,  then a concealed TV is  (almost always)  a "must."     The finely crafted wood mantel and overmantel design by Locati Architects,  pictured  below left,  features a pair of raised panel doors that are closed when the TV is not in use.
The stunning Arts and Crafts TV fireplace surround pictured below, right, is by Debey Zito Fine Furniture and Design, based  in  San Francisco,  Califor-
nia.  It features highly decorative and beautifully detailed flat screen doors above the mantel shelf.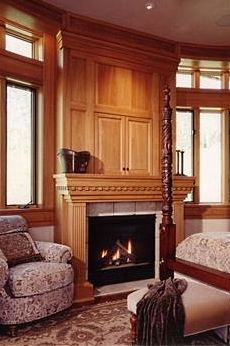 See More Stunning Arts and Crafts Fireplaces
The  exquisite 'Old World' look and feel of the room pictured below is unde-
niable. Despite the "pre-TV-era" appearance of the room and fireplace sur-
round, the built-in plasma television above the mantel does not look out of place.  For a truly authentic period look, it would still be necessary to hide the TV screen. However, the extensive overmantel detailing and framing in this  example goes as far as possible to seamlessly integrate the television into the overall design without completely concealing it.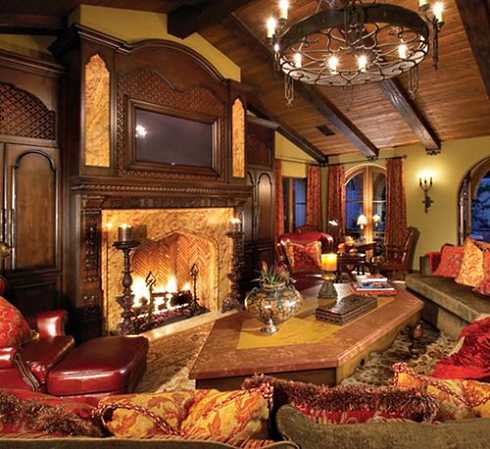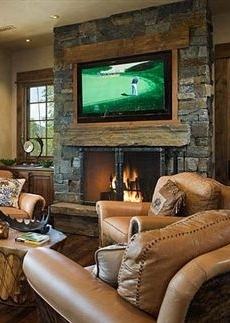 The TV over fireplace design pictured  at right is by Locati Architects -- one of  the  premier  architectural  design firms in the western United States  -- based in Bozeman, Montana.    It fea-
tures   a   recessed   flat  screen  TV
framed  by  contrasting  colored  sec-
tions of stone.    Note how the stone framing  the  top of the TV echos the length,  color and texture of the man-
tel shelf.
See Some of Locati Architects' Most
Extraordinary Fireplace Designs!


Obviously, the monumental flat screen TV over fireplace design that follows makes  no  attempt  to conceal the TV.     Nor is there a niche for it in the stonework above the firebox opening to give it a built-in  look.     However, the projecting wall sconces that flank the TV, as well as  the  mounted  elk head above, create a "frame" that, in effect, visually "recesses" it and pre-
vents it from dominating the facing of the stone fireplace surround.
See More Monumental Stone Fireplace Designs in this Extraordinary
Log Retreat at our sister site, Standout-Cabin-Designs.com
Pictured below is another striking rustic stone fireplace surround. It fea-
tures a flat screen TV in an overmantel recess that echos the recessed firebox beneath it.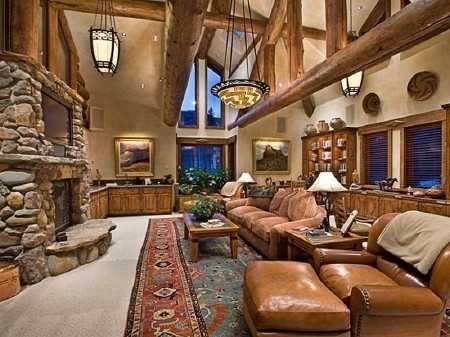 The transitional fireplace design that follows is a dramatic  departure  from the examples pictured above.   Designed by Shane Inman of Traverse City, Michigan, it features an iridescent black tile fireplace surround capped with a wood mantel shelf that is finished in black enamel.   Above the mantel, a large mirror with a black enamel frame conceals a 52 inch flat screen TV.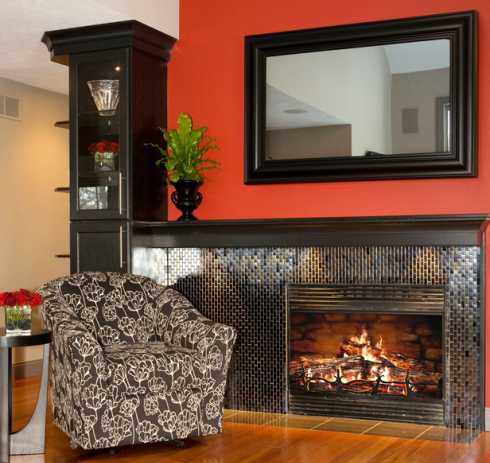 Since the advent of the flat screen or plasma TV,  the marketplace has ex-
ploded with a vast array of products to enhance -- and/or conceal -- your flat screen TV over fireplace design.    Even some television manufacturers are getting in on the act.   For example, Samsung now offers a line of plas-
ma TV screens that look like a mirror when the TV is turned off.      If  sur-
rounded by a nice frame, such as that pictured above, it is virtually impos-
sible to tell that it is a television set when not in use.
Numerous  companies  also  offer  both manual and remote control lifts for framed paintings or prints that are mounted on the wall in front of the  TV screen. When watching the TV, the painting/print slides or tilts up and out of  the  way.    For more ideas about how to hide your flat screen TV over fireplace design, please click here.
Please check back often or subscribe to our RSS feed,  as  we  fre- quently add new flat screen TV over fireplace designs to our site.
YOU MAY ALSO LIKE:





More Flat Screen TV Over Fireplace Designs -
An Overview Of Options!





TV Fireplace Surrounds
From Top Designers!




TV Alcoves By Fireplace Sides -
Just Fittin' In!
Return to Fireplace Design Ideas

Return to Standout Fireplace Designs Home Page
Didn't find what you were looking for?
Use this search feature to find it.
LIKE THIS PAGE?