The Slate Stone Fireplace...
Veritably Versatile!
A slate stone fireplace is remarkably versatile and can be made to look right at home in virtually any style or setting.    Due to its ability to be manipulated by human hands and finished in a variety of ways to create
a multitude of different looks, this beautiful natural material is equally at home in everything from a rustic log cabin to a sleek urban penthouse!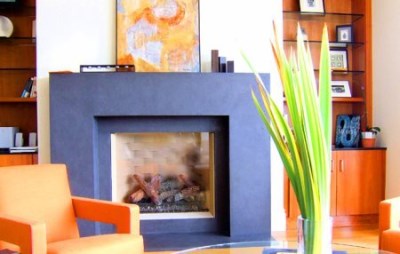 Slate Fireplace above via Modern Organic Interiors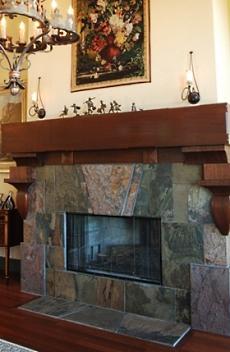 Used  in  construction for thousands
of  years,   natural slate   is  dense, strong,  acid resistant,  non-absorp-
tive  and  impervious to freeze/thaw cycles.  Available in a rainbow of col-
ors including black,  gray, green, pur-
ple and red,  it  is often mottled with more than one color and infused with
tones   of   gold,  copper  and  warm
earth tones, as shown in the two ex-
amples below.
As a fireplace facing material,  slate can be used in its natural state in the form  of  irregularly-shaped  slabs  and roughly textured blocks to give it a very rustic look,  as shown in the example below left.    For a more refined appearance,  the  facing  of  the  cut  stone blocks on the example below, right,  has been honed to a smoother finish and combined with dimensional stone for added contrast.
In the following slate stone fireplace photos, slate tiles are used.   Note the variations in color and texture, as well  as  the  size, shape and positioning of the tiles in each example . . . . which  make it possible to achieve a variety of different looks.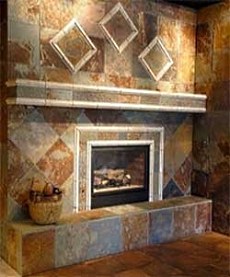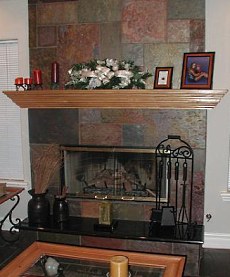 The  two examples below present a study in contrasts.    Though both are rather modern or contemporary in design, the example on the left uses pre-
cisely  cut  and  fitted tiles with a smooth finish to achieve a sleek and so-
phisticated look.    Conversely,  the example on the right employs randomly cut  and  fitted  stones with a textured facing to give it a more casual and laid-back look.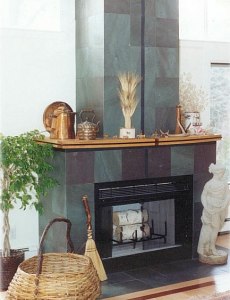 More Slate Stone Fireplace Designs
The  ability to manipulate slate in so many  ways  makes it extremely ver-
satile  and  an excellent choice as a fireplace facing material.   For exam-
ple,  the  fireplace  pictured  in  the
close-up  at  right  was  created by stacking  slate  tiles  horizontally so
that  only the edges are visible . . . resulting in a very distinctive look.
In the example below,  left,  a black slate  stone  fireplace  mantel  was highly  polished to reveal the beauti-
ful --  albeit  subtle  -- variations in color and veining.    Below,  right, a
Cumbrian green slate fireplace surround is carved and incised with dragon-
flys for a truly unique look!     And finally,  the slate stone fireplace design at bottom employs a ribbed slate surround for a very contemporary look.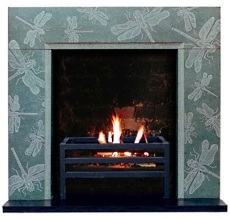 The  final  two  examples  on this page  --  though very different from one another -- were selected for their design originality and flawless execution. The  rugged  "lodge-style"  fireplace  pictured  below,  left,  artfully blends fieldstone  and  river  stone with large,  randomly cut and roughly textured slate slabs which are punctuated, horizontally,  by two smooth dimensional stone mantel shelves and a hearth.   The overall effect is truly impressive!
More Fieldstone Fireplace Designs

More River Stone Fireplace Designs
The deep tones and rich hues of the slate tiles on the contemporary design pictured below, right, are beautifully framed by the richly finished hardwood cabinetry flanking the fireplace.  An elegantly curved mantel shelf ties it all together to create a very unified and harmonious composition!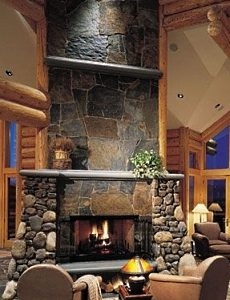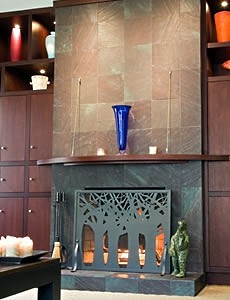 Please check back often or subscribe to our  RSS feed,  as  we  fre-
quently add new designs for slate fireplaces to our website.
YOU MAY ALSO LIKE:




MORE Slate Stone Fireplace Designs!





Natural Stone Fireplace Design -
Steeped in Tradition!




A River Stone Fireplace Rocks!





The Fieldstone Fireplace -
Outstanding in its Field!





Favorite Field Stone Fireplace Designs -
Fields Of Dreams!
Return to Stone Fireplace Designs Guide

Return to Stone Fireplace Designs Overview
Return to Standout Fireplace Designs Home Page

Didn't find what you were looking for?
Use this search feature to find it.
LIKE THIS PAGE?