Design Contemporary Stone
Fireplaces...
Caminetti Montegrappa!
To design contemporary stone fireplaces,  the talented designers at Cam-
inetti Montegrappa are going beyond the bounds of conventional "wisdom" as to what constitutes a fireplace . . . . .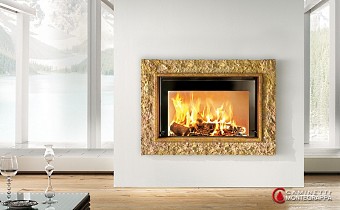 . . . . . to redefine this familiar, centuries old architectural element as something other than what we've been used to seeing in a natural stone fireplace.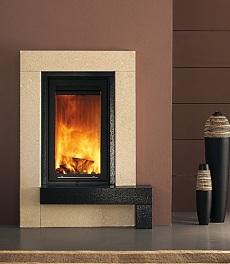 A  cutting edge Italian fireplace manu-
facturer,   Caminetti Montegrappa has pushed  the  envelope  to   design   a unique and exciting collection of stone hearths . . . . . . unlike anything we've seen before!
Though the company also manufactures traditional designs with a modern twist,  such as shown in the sanded (right) and sandblasted (left) marble surrounds that follow . . . . .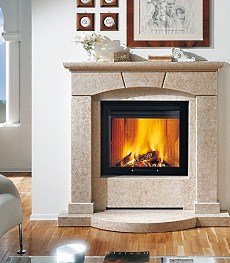 . . . it is in the creation of unique contemporary surrounds where the Cam-
inetti Montegrappa designers truly excel!   For example, the outer frame of the design pictured below,  left,  is  made  of  reinforced clay with irregular ceramic mosaic inserts.  The internal frame is crafted from marble that has been brushed and flamed,  then coated with a protective varnish.    Below, right, is a surround crafted from roughly-cut black slate that has also been brushed with a protective finish.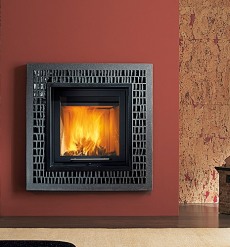 Elegance  and  understatement  characterize  the marble fireplace designs that follow.  The sleek surround with curved hearth pictured below, left, is made from polished Rosa Asiago marble. To design contemporary surrounds such  as  the  one  on the right, the manufacturer carefully assembles the brushed marble components using tongue-and-groove construction.    The rectangular design is softened by rounded corners to offset the  stark  for-
mality, lending a touch of originality to the overall composition.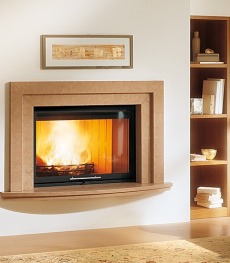 The design that follows juxtaposes  simple  geometric  forms  such  as  the square and circle to create a striking composition.   The dark circular frame is  crafted from flamed marble that has been brushed and then coated with a protective varnish. Similarly, the light-colored interior (square) frame and hearth has been brushed and coated with a protective finish.     Note  how
the upward curvature of the hearth echos the curve of the outside circular frame.
The brushed stone surrounds that follow -- each distinctive from the other -- are crafted from two different varieties of marble.
Design Contemporary Fireplaces
To design contemporary fireplaces such as  the  models  pictured  below, Caminetti Montegrappa expanded the overall compositions both vertically and horizontally.    Extending from floor to ceiling, each design includes a raised hearth that extends laterally to include a bench or benches.   The stone surrounds that frame each of the  firebox openings,  as well as the raised hearths and benches,  are  crafted from marble that has been pol-
ished, brushed or bush- hammered.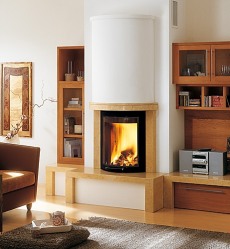 The "picture perfect" fireplace design  at right is crafted from only one vari-
ety  of  marble  but incorporates two distinctly contrasting finishes.    The outer frame  is  roughly  cut  with  a course  texture while the inner frame has a smooth, polished finish.   Need-
less  to  say,  the overall effect is in-
credibly striking!
And finally,  with its surround in Venghé stone,  the design pictured below looks very much like wenge wood, an exotic tropical hardwood with similar veining.   Venghé is quite versatile and fits beautifully into different styles and settings.    The soft and natural color of Venghé stone,  polished and coated with a protective finish,  lends a great deal of warmth to the room and complements its wooded setting.
Please check back often or subscribe to our RSS feed,  as  we  fre- quently add new design contemporary fireplace images to our site.
YOU MAY ALSO LIKE:

More Design Contemporary Stone Fireplaces
by Caminetti Montegrappa!
Back to Stone Fireplace Designs
Back to Contemporary Fireplace Designs
Back to Standout Fireplace Designs Home Page
Didn't find what you were looking for?
Use this search feature to find it.

LIKE THIS PAGE?