Inglenook Fireplace Designs...
Cozy Nooks & Crannies!
The inglenook fireplace designs featured here showcase a vast array of looks ranging from rustic to "rad" . . . . . and almost everything in between. Finely crafted from a variety of materials in a wide range of styles, they are timeless and enormously appealing!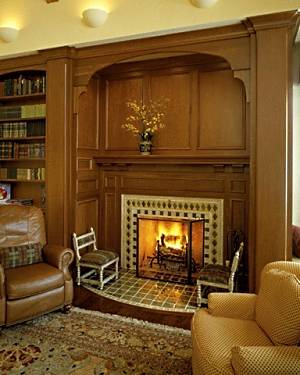 Few  architectural  elements  have  the nearly irresistible allure of a cozy hearth tucked inside an inglenook or alcove.     Warm  and  inviting,  they beckon us to nestle up beside them for comfort and camaraderie. Large or small, the inglenook fireplace draws us in like a child to a camp fire!
And few inglenook fireplace designs are larger than the rustic surround pic-
tured  below.    Part of a legendary Adirondack Great Camp in Upstate New York,  it  is  one of two monumental fireplaces in the main lodge living room which measures 80 feet wide by 100 feet long . . . and 30 feet high!  Cere-
al heiress Marjorie Merriweather Post built this spectacular 68 building com-
plex, called Camp Topridge, in the 1920s.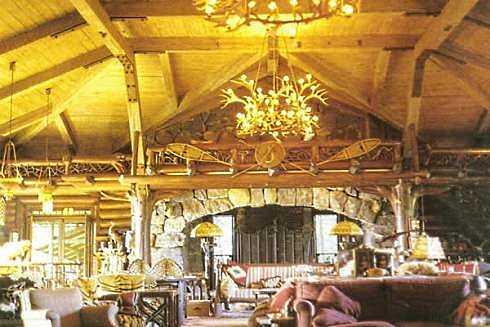 See More Adirondack Style Fireplaces
A dramatic departure from the rugged and rustic fireplace pictured above is the inglenook fireplace design that follows.  Richly carved, paneled and fin-
ished,  and highlighted with gilded accents, this striking alcove is part of an equally elaborate dining room in the Swan Turnblad mansion,  completed  in 1908.    Now  the  American Swedish Institute,  it is located in Minneapolis, Minnesota.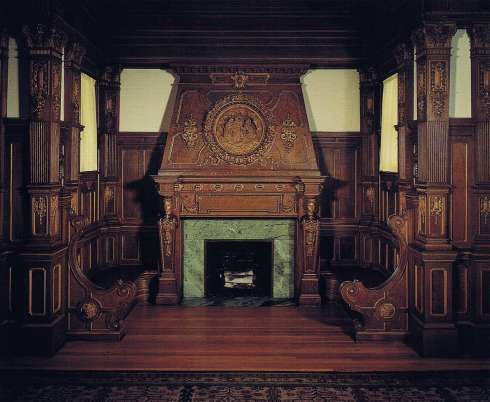 When it comes to designs for inglenook fireplaces,  it  doesn't  get  much cozier than the design pictured below.    Neatly tucked under a beautiful wooden staircase,  the detailing of the the brick fireplace surround echos the curve of the arch framing the inglenook.
Continuing with a brick theme, the fireplace that follows was created by Clay Chapman  --  one  of,  if not THE finest brick artisan working today. Recesses  and  layers  of  brickwork  are  masterfully arranged to create striking,  one  of a kind designs that are both visually and architecturally intoxicating!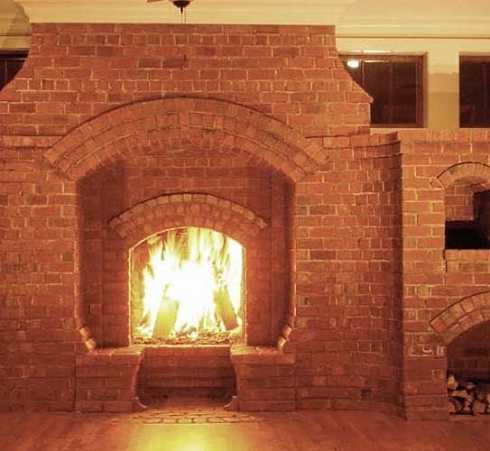 See More of the Extraordinary Work of Clay Chapman
The Arts and Crafts inglenook design pictured below combines classical de-
tailing -- in the form of modified Tuscan columns -- with  an arched firebox opening surrounded by river rock, and capped with a Craftsman Style man-
tel shelf.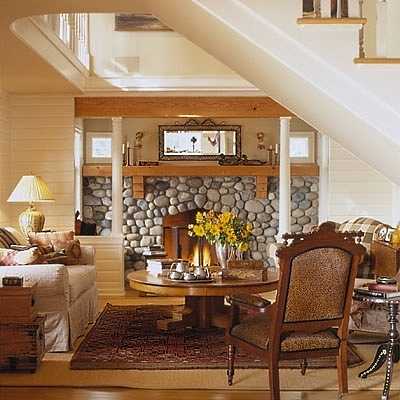 See More Craftsman Style Fireplace Mantel Shelves

See All Time Favorite River Rock Fireplace Designs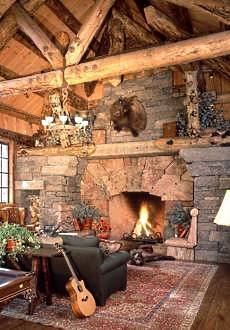 More Inglenook Fireplace Designs
The  inglenook fireplace designs that follow were created for mountain re-
treats.  Pictured at right is a striking stone hearth created for  a  magnifi-
cent private lodge in Montana.    De-
signed by Ewing Architects, based in Pasadena, California,  the lodge con-
tains   several   extraordinary  stone fireplaces.
See More of the Exceptional Work
of Ewing Architects

The imposing stone hearth that follows is for a mountain retreat in northern California.   Designed by Walker/Warner Architects, based in San Francisco, California, it is crafted from massive slabs of stone.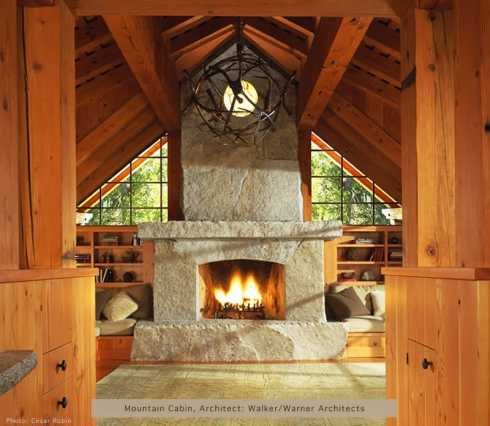 Photo Credit: Cesar Rubio

See More Outstanding Custom Stone Hearth Designs
The handsome Kiva fireplace design pictured below is highly unusual, as it is rarely found in an inglenook.   Originating from the American Southwest desert region, the Kiva was historically placed in the corner of a room.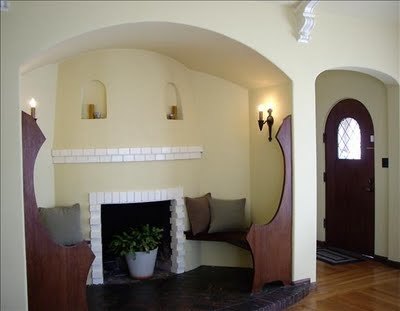 See More Unusual Kiva Fireplace Designs
The inglenook fireplace design that follows draws its inspiration from Span-
ish Revival architecture.     Set against a richly stained and paneled back-
ground,  the  soaring  stone  fireplace  has  a commanding presence in this room!
See More Spanish Style Fireplace Designs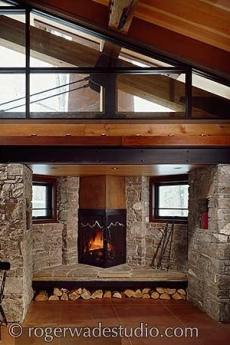 The unique and innovative contempo-
rary design pictured at right was cap-
tured through the camera lens of one of  the  highly talented folks at Roger Wade Studio.     It features a roughly textured stone surround  with  an  al-
cove  for  storing  firewood under the raised hearth/seating area.
Conversely,  the  contemporary  inglenook  hearth  design that follows is faced with a smooth stone surround. The elegant raised hearth features gently curved extensions on either end for seating.
See More Unique & Innovative Contemporary Fireplace Designs

Please check back often or subscribe to our  RSS feed,  as  we  fre- quently add new inglenook hearth designs to our site.
YOU MAY ALSO LIKE:





More Craftsman Inglenook Fireplace Designs -
Crafted to Perfection!
Back to Fireplace Design Ideas
Back to Standout Fireplace Designs Home Page
Didn't find what you were looking for?
Use this search feature to find it.
LIKE THIS PAGE?