Freshwater Stone Fireplace
Construction...

Massive & Majestic!
Stone fireplace construction from Freshwater Stone is truly unique and
unlike anything we've seen before.  Based in the eastern United States in Orland, Maine, Freshwater Stone creatively fashions slabs of granite into monumental fireplace designs, as well as other architectural elements, such as the striking arched gateway pictured below.
Soaring from floor to ceiling -- often
to a height of two stories or more -- the  large  stone  slabs used in each fireplace design appear, almost as if
by magic, to defy gravity . . . . . de-
spite their tremendous weight!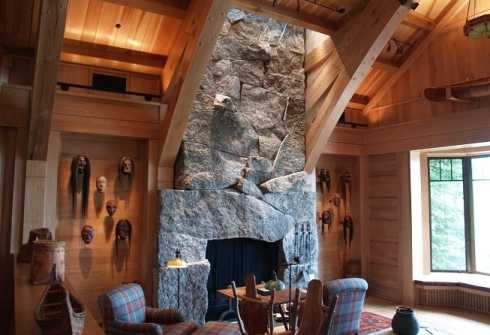 Even single story designs, such as the following, have a commanding pres-
ence  with  their  massing  and artistic arrangement of large granite slabs. Note the beautiful coloration in the design pictured below, right (top row).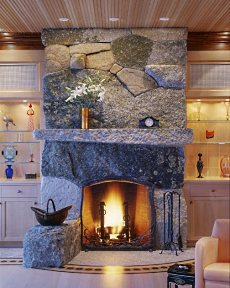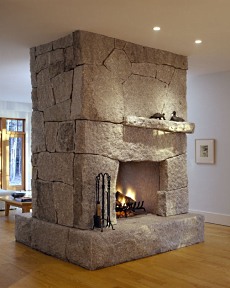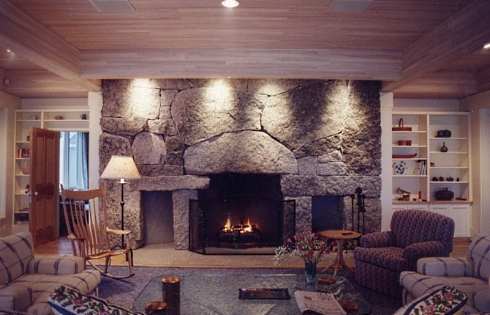 More Freshwater Stone Fireplace Construction
Founded in 1976 by Jeff and Candy Gammelin, Freshwater Stone's fine work can be found around the world in fireplaces,  chimneys,  kitchens and van-
ities,  stone work landscaping,  monuments,  columns,  towers,  and  more. Freshwater Stone produced the soaring multi-story extravaganzas that follow.   Truly monumental and majestic, they are a lasting tribute to the stone artisan's craft!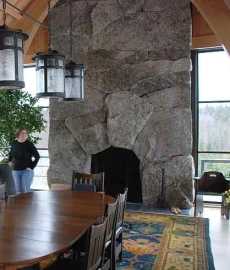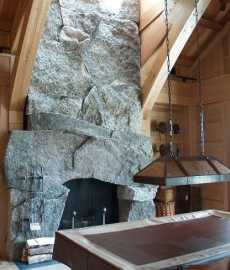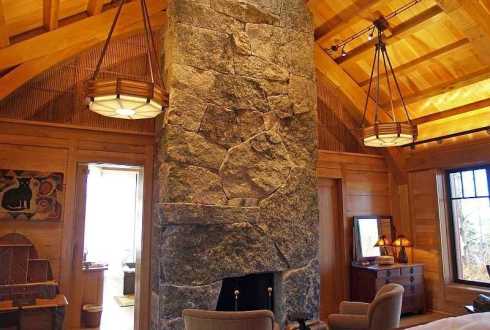 More Monumental Fireplace Designs


Departing from the use of stone slabs,  such as that pictured in the exam-
ple below, right, is the stunning design on the left. Crafted from fieldstone, it uses large stone blocks in roughly square and rectangular shapes,  inter-
spersed with much smaller stones to provide a striking contrast.  Also note the large blocks of stone in varying sizes that  were  used  to  create  the raised hearth.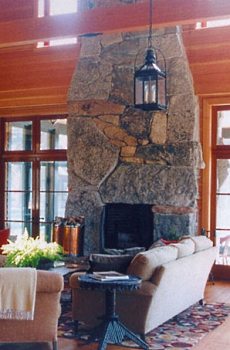 Favorite Field Stone Fireplace Designs


The two designs that follow are,  once again,  crafted from large slabs of granite. In addition, they are interspersed with contrasting smaller stones for greater visual and architectural interest.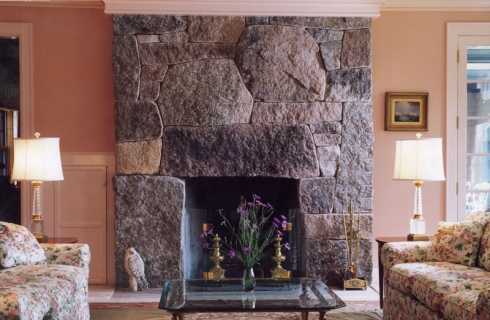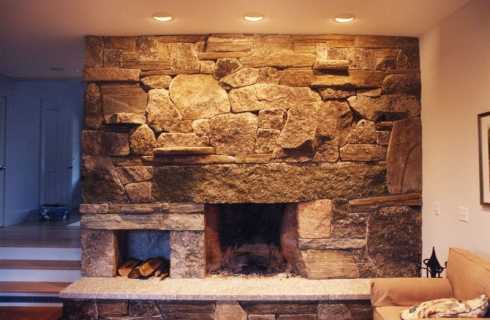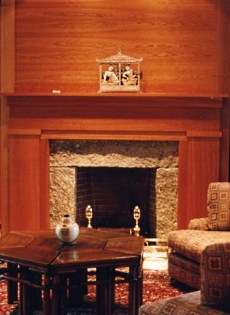 A significant departure from the stone fireplace construction featured above  is the elegant Asian-inspired design at right. The coursely textured split gran-
ite surround is softened by  the  clean lines  and  mellow warmth of the finely finished wood mantelpiece.
Freshwater Stone's outstanding craftsmanship and attention  to  detail  is highly prized around the world.     David Rockefeller, Jr.,  one  of the firm's many clients, summed it up best with this glowing endorsement: "Jeff Gam-
melin  designed  and  constructed  a monumental stone fireplace my family and I so enjoy in our home in Maine. He is a master craftsman, and an art-
ist, whose medium is natural stone.  One would be hard put to find a more talented one."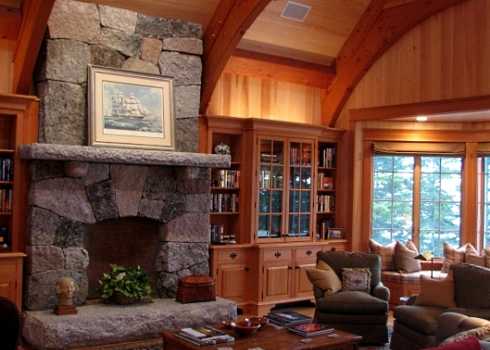 Please check back often or subscribe to our RSS feed,  as  we  fre- quently add new images of stone fireplace construction to our site.
YOU MAY ALSO LIKE:





Standout Rock Fireplace Pictures -
Blocks of Rocks!
Back to Stone Fireplace Designs Guide
Back to Stone Fireplace Designs Overview
Back to Standout Fireplace Designs Home Page
Didn't find what you were looking for?
Use this search feature to find it.
LIKE THIS PAGE?