Covered Patio Designs for Fireplaces
Undercover Enjoyment!
The covered patio designs featured here showcase a wide variety of ways to create a unique overhead space for your outdoor fireplace. From plain beadboard to beamed and coffered ceilings, your overhead space can be as simple or elaborate as your imagination and budget will allow!
Outdoor Fire Space above by Conard Romano Architects
The beautiful open ceiling pictured below is a real stunner! Massive crown mouldings  extend  upword  to a spectacular beamed and coffered ceiling. Contrasting  with  the fine woodwork on the ceiling are stone walls with a cozy stone corner fireplace integrated into the design.   An abundance of lush vegetation in pots and planters softens the stone surfaces in this in-
credible outdoor room!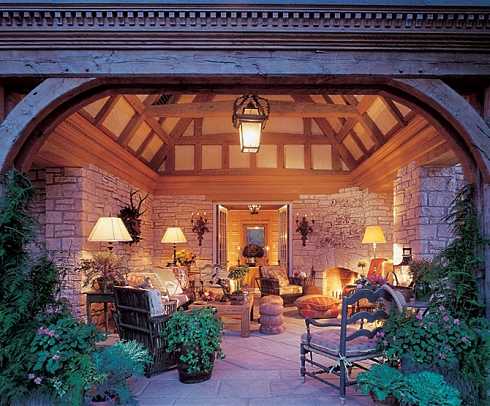 The fireplace pictured below,  left,  with a cast stone mantel and raised hearth,  extends upward to a beamed sloping ceiling.     Handsome brick arches provide access to this traditionally styled outdoor fire space.
Contrasting with this is the modern design pictured below, right.  Simple beadboard covers the ceiling above a contemporary style stone outdoor fireplace that is open on three sides.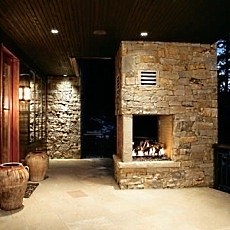 Moving  from "contemporary" to "rus-
tic" is the striking gazebo style patio design pictured at right.   Intricately handcrafted log work  in  the  ceiling contrasts beautifully  with  the  rug-
ged stone fireplace that anchors this structure.
The rustic design that follows with its majestic mountain views is by one of America's  premier  architectural  design  firms,  Locati Architects, based in Bozeman, Montana.   A striking stacked stone fireplace and flagstone floor-
ing  are  sheltered  by  a  steeply pitched roof and finely handcrafted wood working.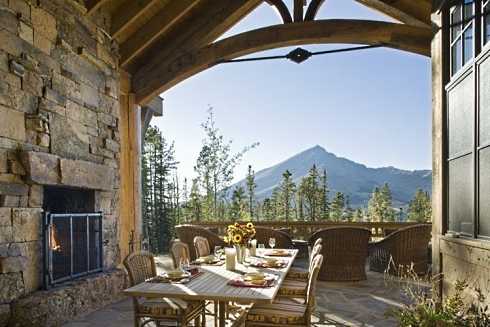 See More of the Extraordinary Work of Locati Architects
More Covered Patio Designs for Fireplaces
Traditionally  styled stone fireplaces anchor the two covered patio designs that follow. While the ceiling design pictured below, right, is fairly straight-
forward, the design on the left is much more elaborate. Utilizing a series of angles and curves that rise higher and higher, the upper level wall and ceil-
ing are pierced by a dramatic postmodern Palladian arch.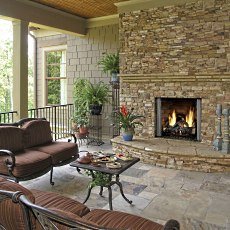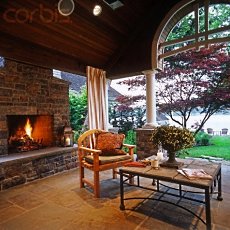 The covered patio design that follows features Craftsman Style detailing. French doors flank a natural bluestone fireplace.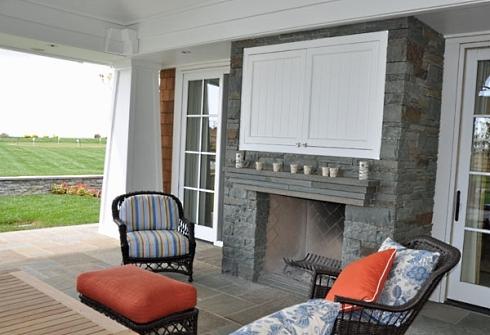 The striking patio design pictured below  combines  a  tantalizing  array  of building materials  in  contrasting  sizes,  shapes,  patterns,  textures  and colors to form a visually appealing whole.     Darkly stained beadboard lines the  ceiling above a light-colored brick wall and stone arch fireplace design in a random ashlar pattern. A contrasting natural stone floor completes the composition.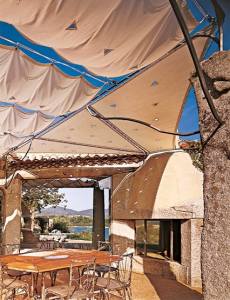 For a more exotic look, colored or printed canvas fabric can  be  at-
tached  to framing erected above
the patio,  as shown in the exam-
ple  over  the stone fireplace pic-
tured at right.
And finally, the enchanting evening scene that follows features a patio ar-
ea  with  a  beamed  ceiling.    A formal mantelpiece made of light-colored cantera stone is juxtaposed against a backdrop of dark,  roughly  textured wall stone veneer. Stone tiles cover the floor of this intimate outdoor room.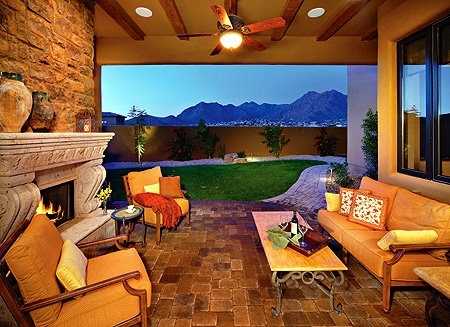 See More Cantera Stone Fireplace Mantel Designs

Please check back often or subscribe to our  RSS feed,  as  we  fre- quently add new images of patio designs for outdoor fireplaces to  our site.
YOU MAY ALSO LIKE:





MORE Covered Patio Designs for Outdoor
Fireplaces...An Exciting Array Of Styles!
Return to Outdoor Fireplace Designs
Return to Standout Fireplace Designs Home Page
Didn't find what you were looking for?
Use this search feature to find it.
LIKE THIS PAGE?