Custom Fireplace Mantels...
Concrete Ideas!
Custom fireplace mantels made of concrete have spawned a whole new array of unique and exciting designs due to the versatility of the material, itself, and the relative ease with which it can be worked . . . . . . .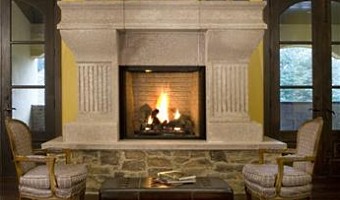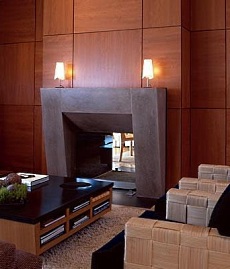 Generally made from a durable con-
crete blend such as glass fiber re-
inforced concrete, it is lighter in weight . . . . . AND your wallet . . . . than natural stone. However, with
the variety of finishing techniques available today in the hands of a master concrete artisan, it is virtual-
ly impossible to distinguish it from natural stone in instances when that
is the desired effect.
The following examples show a range of different natural stone looks achievable with concrete . . . . .
including honed or polished granite and travertine . . .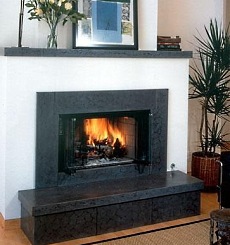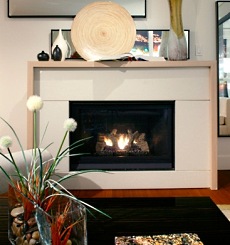 hand carved limestone . . . . . . . rough faced sandstone . . .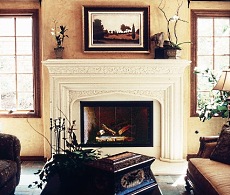 and split face granite . . . . . . . or cut fieldstone.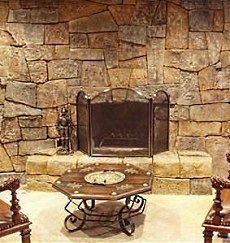 A concrete custom fireplace mantel can be traditional . . . . . or contempo-
rary in style . . .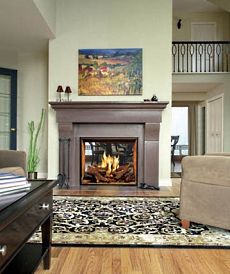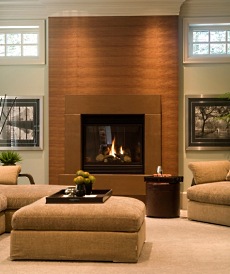 elaborate . . . . . . . or simple in design . . .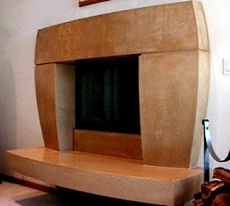 with . . . . . . . . . or without an overmantel . . .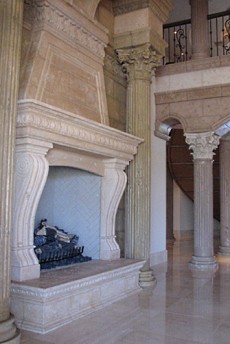 for both indoor rooms . . . . . . . and outdoor rooms.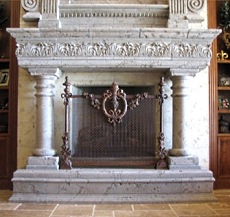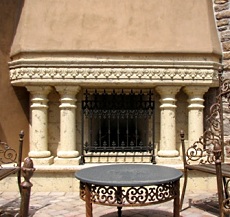 The  following  two starkly contrasting images show some of the ways in which custom fireplace mantels fabricated from concrete can be molded, shaped and finished. While the striking mantel on the left is heavily ribbed and finished to match the color and texture of the metal insert, the equal-
ly striking mantel on the right has extremely smooth surfaces and is fin-
ished to resemble highly polished slabs of natural stone.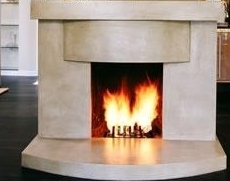 Likewise, the following two images reflect different fabrication and finishing techniques. On the left, the smooth and suave monotone mantel and sur-
round contrasts sharply with the multi-hued striations and sleek stainless steel tiles of the beautiful mantel and surround at right.
Following are a few more examples of custom designs of varying shapes, sizes, styles and finishes.   With the versatility of concrete, the design possibilities are virtually limitless!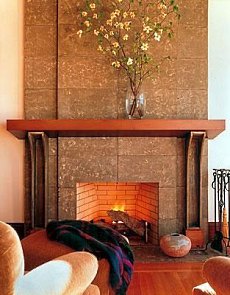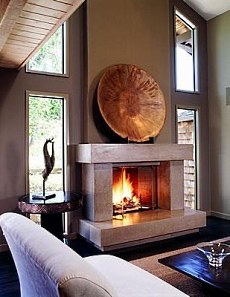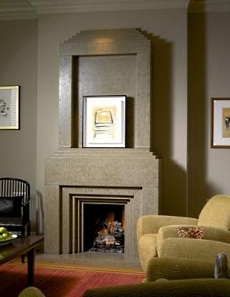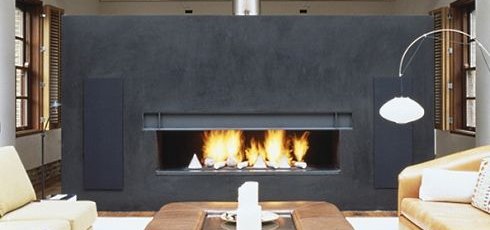 If you're looking for the best there is in a present day concrete custom fireplace mantle, you need look no further than the highly skilled concrete artisans and studios behind the incredible examples shown here.  For more information about any of these amazing artisans and their remarkable work, please contact us.
Please check back often or subscribe to our RSS feed,   for  we  fre- quently add new images as we discover exceptional new talent to bring to you.  Also, if you know of a skilled designer or artisan that you believe should be featured here, please let us know.
YOU MAY ALSO LIKE:


Back to Custom Fireplace Designs
Back to Standout Fireplace Designs Home Page
Didn't find what you were looking for?
Use this search feature to find it.

LIKE THIS PAGE?