Fireplace Design Ideas - A "Glass" Act!
by Christine
(Chicago, IL USA)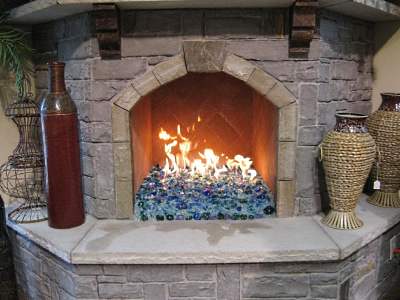 Traditional Design
One of my favorite fireplace design ideas is to substitute colored glass crystals for the "same 'ol, same 'ol" gas log sets generally found in a gas burning fireplace. Though often used in contemporary settings, glass crystals work equally well with traditionally-designed fireplaces, as shown in the photo of the large stone surround with raised hearth pictured above.

Available in a virtually unlimited rainbow of hues, glass crystals give you an opportunity to personalize your fireplace by adding a splash of color to either match or accent the decor of your room, according to your individual tastes. In addition, a range of sizes and shapes is available to further personalize the look and feel of your hearth. There is, quite literally, something for everybody!

Happy Choosing!

Christine




Dennis' Reply: Christine -- I agree that the use of glass crystals, with all the shapes, sizes and colors available today, is a great way to personalize the look and feel of your fireplace. Thanks for sharing your wonderful idea and great pics!