Stone Fireplace Design Ideas
to Personalize Your

Fire Space!
The fireplace design ideas featured here show a multitude of ways to cre-
ate a uniquely personal stone hearth for your home. Regardless of wheth-
er  your  tastes  and  preferences are steeped in tradition or the latest in sleek and chic,  ruggedly rustic or highly formal  --  and everything in be-
tween  --  you  will  discover  a host of ideas to create a fireplace design
that goes beyond merely ordinary . . . to EXTRAORDINARY!

Design above by architect Deirdre Sheerr-Gross; Builder: McGray & Nichols (Photo Credit: Carl Vernlund)


Most of us take a great deal of pride in our homes  --  especially when we have an opportunity to personalize it with our own unique style.    And for most  of  us,  the more the design and decor transcends the ordinary, the more we treasure it!
After all, who truly wants the same thing that everyone else has?
Just as each of us is uniquely different from anyone else, we like our homes and furnishings to make a unique design statement.  Surprisingly, you don't necessarily  need  an  unlimited  budget to make a uniquely personal design statement with your fireplace.
The examples of fireplace design ideas that follow encompass a wide range of  budgets.      What is important to understand is that each of the stone fireplace designs pictured below can be modified in a variety of  ways  that allow you to adjust your budget accordingly.
As  an  example, the striking polished Colorado buff sandstone fireplace de-
sign pictured directly below can be modified while still  retaining  its  design integrity and uniqueness. Even if it were just a "basic" or simple design, the stone type, color and finish -- alone -- would make it stand apart from the crowd, as it is not normally seen in a fireplace surround. Adding to its arch-
itectural  and  visual interest is the placement and "layering" of the stones, including the large wedge-shaped stones, or voussoirs, lining the top of the arched firebox opening.    An adjoining built-in storage area with an arched opening for firewood adds to the overall composition.   Contrasting hearth-
stones feature chiseled edges, as does the stone  shelf  above  the  wood storage area.    Conversely, the smooth and simple mantel shelf above the fireplace opening is crafted from wood.    It is stained and finished to com-
plement the polished sandstone facing.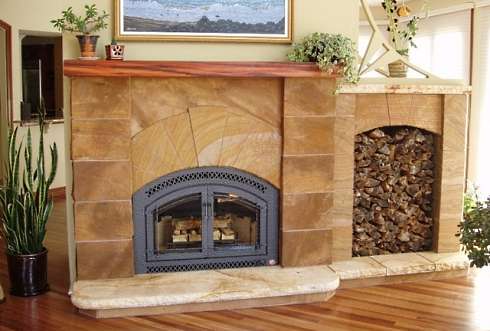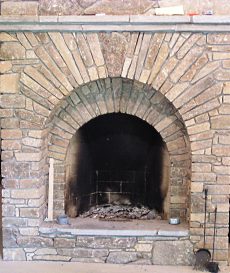 The following stone fireplace designs, though very different in style, also feature "layered" stone work for added visual appeal. The design pictured at right, by Stone Age Masonry in Southwest Virginia, USA, has a recessed firebox and hearth. Echoing the arch of the firebox opening is a larger arch on the fireplace facing. Unlike the design pictured above, the voussoirs framing the arched openings at right are long and narrow, giving the overall composition a much different -- albeit equally striking -- look and feel.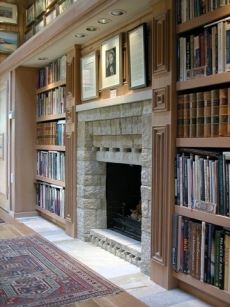 The handsome library fireplace mantel design pictured at right and below is by Hot Rock Masonry, based in Eastsound, Washington, USA. Beautifully detailed, the stone work is also layered and features a series of horizontal bands above the firebox opening that gradually recess or "step back" from one another. Framing the roughly textured stone surround is richly paneled and finished millwork that adds contrast and visual appeal.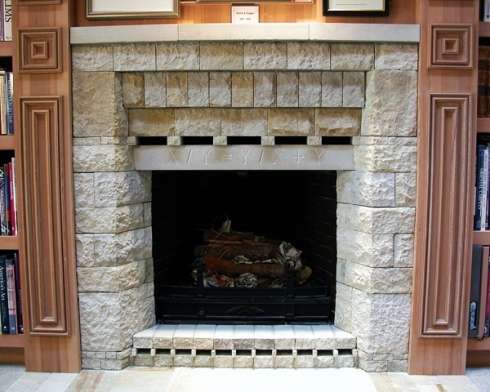 The sleek and chic fireplace mantel design that follows is crafted from travertine, the identical material that lines the wall behind it. Inspired by Art Deco styling, it features a series of vertical bands that "step back" from the fireplace facing to the wall on either end.
See More Travertine Fireplace Designs



Fireplace design ideas that feature outward spreading or splayed "legs" are pictured at right and below. Though both are very distinctive, each of the fireplace designs has a unique look and feel that readily distinguishes it from the other.
The stone detailing in the design at right, by Sharp Stone Work of Liberty, Missouri, USA, also includes a "layered look," with the splayed legs projecting slightly forward from the facing surrounding the firebox opening. Near the top of each splayed leg is a small, vertically oriented rectangular niche for added interest. Capping it all off is an elegant, richly finished wood mantel shelf.
See More Wood Fireplace
Mantel Shelves
The river rock Arts and Crafts fireplace that follows also features splayed "legs" -- though less pronounced or formal in appearance than those of the stone hearth pictured above, right. Designed by HartmanBaldwin Design Build in Claremont, California, USA, it is a striking present-day interpreta-
tion of the American Craftsman Style. Though relatively simple in design, note the extraordinary craftsmanship and detailing of the beautifully finished -- AND "layered" -- wood mantel shelves.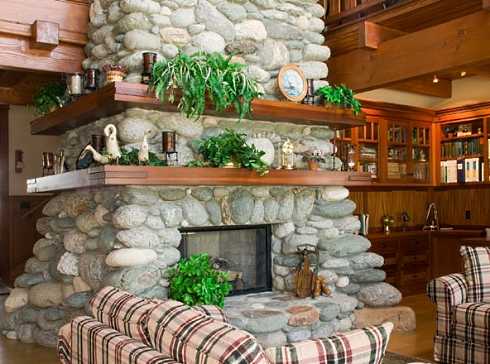 See More Stone Craftsman Style Fireplaces

See More River Rock Fireplace Designs

More Stone Fireplace Design Ideas
Among the multitude of distinctive fireplace design ideas is the practice of combining contrasting stone types, sizes, shapes, textures, colors and finishes to create a uniquely personal fireplace mantel or surround. The design pictured at right, by Francois & Co. of Atlanta, Georgia, USA, is one such example.


See More Stone Fireplaces from
Francois & Co.



Pictured below -- though much more formal in appearance -- is another striking example of combining starkly contrasting stone types, sizes, shapes, textures, colors and finishes to create a highly distinctive and unusual fireplace design. Given the virtually limitless array of potential combinations, the sky is the limit for creative fireplace design ideas!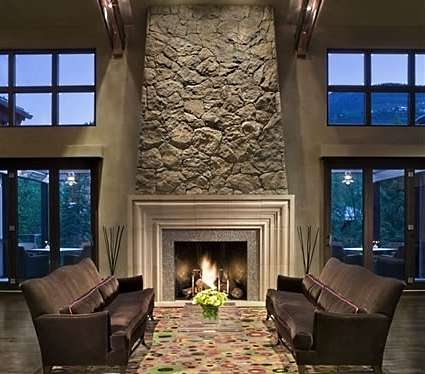 And if you're looking for fireplace design ideas that are so unique you can be virtually guaranteed that nobody else on Planet Earth has one, look no further than the examples which follow. Pictured at right is a stunning and highly unusual fireplace design by True Stone Enterprises, based in Deming, Washington, USA. Crafted from columnar basalt -- a volcanic rock rarely seen in fireplace surrounds -- each of the stones is positioned vertically, somewhat similar to the way they are found in their natural geologic formations. Needless to say, this is a truly unique, one of a kind fireplace design!
Another approach to the unique positioning of stones can be found in the two fireplace designs pictured below by Ancient Art Of Stone, located in Victoria, British Columbia, Canada. Painstakingly created -- stone by stone -- each design is flowing and dynamic. The company's website sums it up best: "Every creative piece is one of a kind and naturally through its form is connected to the great spiral, the ebb and flow of life."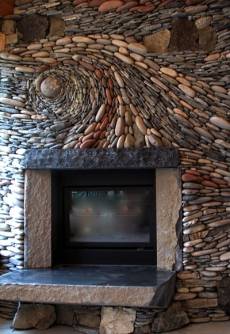 See More Unique Designs by Ancient Art of Stone!
PLEASE CLICK ON THE FOLLOWING LINK FOR
More Stone Hearth Design Ideas!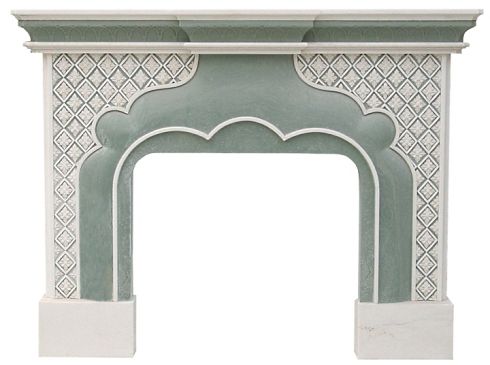 Please check back often or subscribe to our RSS feed,  as  we  fre-
quently add new fireplace design ideas to our site.
YOU MAY ALSO LIKE:




Stone Hearth Design Ideas -
Take It to The Top!








Standout Stone Fireplace Ideas -
Soar to New Heights!








Traditional Fireplace Design
Images & Ideas...Folksy to Fancy!







Fireplace Mantel Ideas -
Inspiring & Enlightening!








Stone Fireplace Hearth Ideas -
Outstanding Custom Designs!








Fireplace Stone Ideas -
Rugged & Rustic...Yet Refined!







Corner Hearth Ideas -
Rock Solid!






Ideas for Building a Fireplace
that Really Rocks!



MORE Creative Ideas for Building a Stone -
Fireplace...Think Outside the (Fire)Box!




Building Outdoor Fireplace Ideas -
Gravity-Defying Stonework!




Build a Stone Fireplace -
Stack It Up Outdoors!




Outdoor Stone Fireplace Options -
A Rocky Mountain High!



Ideal Spaces for Outdoor
Stone Fireplaces!



Outdoor Stone Fireplace
Design Ideas & Tips



Return to Fireplace Design Ideas
Return to Stone Hearth Categories
Return to Stone Fireplace Designs Overview
Return to Standout Fireplace Designs Home Page
Didn't find what you were looking for?
Use this search feature to find it.
LIKE THIS PAGE?