Rock On with a
Rustic Stone Fireplace!
Many of the rustic stone fireplace designs created today were inspired by the picturesque and romantic architectural style of the Adirondack Moun-
tain region in Upstate New York between 1870-1930.    The  Adirondack Style,  as it came to be known, utilized rustic hand-hewn logs and tree branches, often in their natural state, in both structural and decorative ways.
Adirondack Stone Hearth, ca. 1904

Monumental fireplaces were skillfully crafted from rugged stones and boulders gathered on site.  Pictured below, right, is the "Playhouse (1901) at Sagamore Camp, one of several historic Adirondack retreats.
During  the  latter 19th and early 20th centuries,  the  Adirondacks became a fashionable   summer  retreat  and  at-
tracted  some  of America's wealthiest families.  Sprawling compounds, called Great Camps,  were  built for Morgans, Vanderbilts, Whitneys, Carnegies, and Rockefellers  in  densely  wooded  set-
tings.
The most spectacular Great Camp was a 68 building complex called Top-
ridge. Built in the 1920s for cereal heiress Marjorie Merriweather Post, the main lodge boasts a living room 80 feet wide by 100 feet long.    Massive timber beams support the 30 foot high ceiling.  Anchoring each end of the room is an enormous walk-in fireplace made of stone. (see photo below)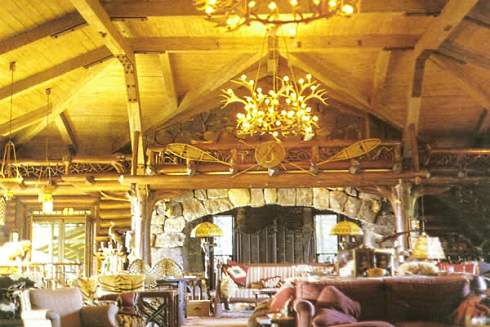 More Rustic Stone Fireplaces
While the striking present-day rustic stone fireplace designs pictured below may not be quite as massive as the walk-in hearth above,  they do, never-
theless, have a very commanding presence.   Whether crafted from granite (top row, below)  or fieldstone (bottom row, below),  they make a powerful design statement.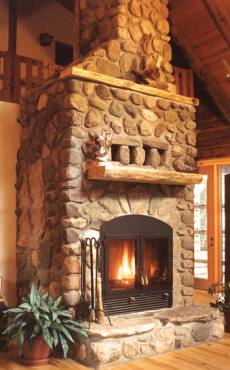 The  Adirondack Style  represents  a uniquely American innovation. Roman-
tic evocations of a pioneer past, the camps  erected  in  the  Adirondacks were  unlike any buildings created be-
fore.
Since its inception, the rustic and pic-
turesque style of the Adirondacks has spread  to  many other regions of the country . . . . .
and continues to be as popular as ev-
er for homes in mountainous, wooded, and waterside settings.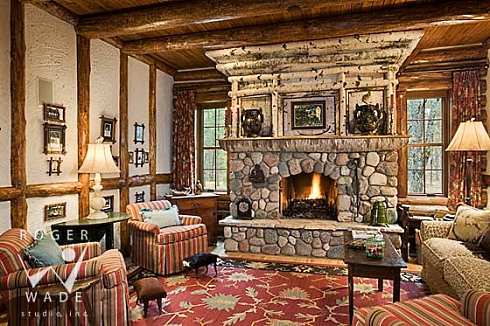 Please check back often or subscribe to our  RSS feed,  as we fre-
quently add new images of rustic stone hearths to our site.
YOU MAY ALSO LIKE:




Rustic Rock Fireplace Designs -
The Spirit of the Old West Lives On!
More Rustic Stone Fireplace Designs

Craftsman Style Rock Fireplaces

Stone Outdoor Fireplaces
Back to Stone Fireplace Designs Guide

Back to Stone Fireplace Designs Overview
Back to Standout Fireplace Designs Home Page
Didn't find what you were looking for?
Use this search feature to find it.
LIKE THIS PAGE?