Classic Fireplace Mantle Surrounds
The Grandeur Continues!
The classic fireplace mantle surrounds featured here grace  a  lavish  and monumental French  Beaux-Arts  Revival style home inspired by the grand mansions of America's commercial royalty  during  the  Gilded Age  of  the
late 19th century. Completed in late 2001 in Holmby Hills, California, Fleur de Lys was created with the same level of  craftsmanship  and  attention
to detail befitting its predecessors more than a century ago!
Fleur de Lys
PART II OF II
Designed by architect Richardson Robertson of Los Angeles,  California,  in conjunction  with  a team of consultants in France and Italy, this timeless and enduring design reflects a return to Classicism rarely seen on this  lev-
el today. And undoubtedly, as with many of the Beaux-Arts designs of the Gilded Age, it is destined to become an important part of our architectural heritage.
Built on a scale approximating some of its late 19th century forebears, the 45,000 square foot home includes 12 bedrooms, 15 bathrooms, and a mag-
nificent ballroom that can accommodate up to 650 people.   The  architec-
tural detailing is superb and features rare Italian inlaid marble, gilded  mold-
ings, and hand-painted ceiling murals.
Though  unable  to  confirm, rumors persist that Fleur de Lys was recently acquired by singer- songwriter, record producer and actress, Mariah Carey. Pictured below are two images of the stately entrance facade.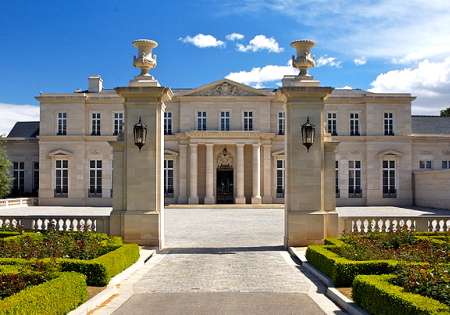 The grand entrance hall pictured  at right and below features an elegant white marble fireplace surround with gilded ormolu mountings. Tying it all together  is  an elaborate ceiling de-
sign with gilded moldings, as well as
a white marble floor.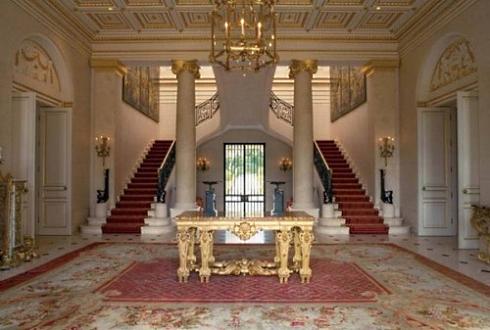 The richly paneled and stained library pictured below, left, features a hand carved fireplace mantle in dark marble.   Conversely, the room pictured be-
low,  right,  features  white  enameled paneling with gilded accents and an elegant fireplace surround in a lighter-colored marble.    Note the elaborate fire screens in front of each of the marble fireplace mantle surrounds.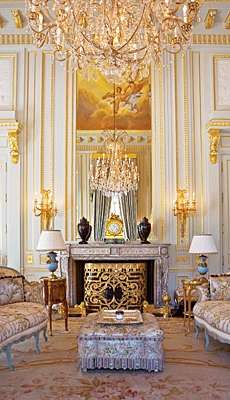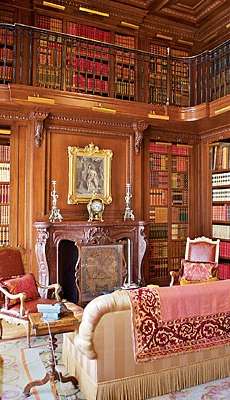 The image that follows features one of the home's living room areas.    A beautiful Italian white statuary marble fireplace mantle surround provides the focal point in this room.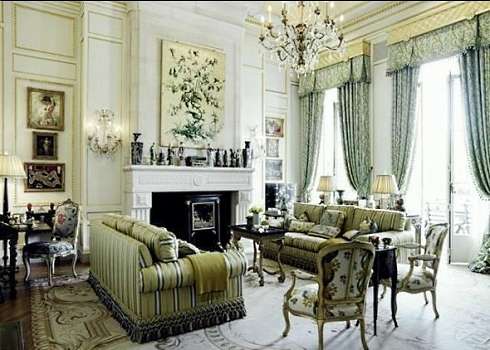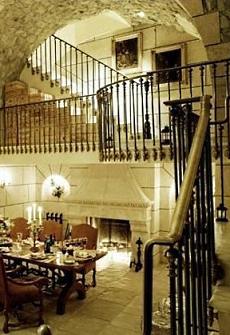 Pictured at right is one of  the  home's dining  areas, which features a hooded stone fireplace surround.  The gargan-
tuan  ballroom,   pictured   below,   in-
cludes a dark marble fireplace surround with a soaring arched overmantle  that frames  a  mirror.   Framing  the  entire composition  is  a  pair  of classic Ionic columns with gilded capitals.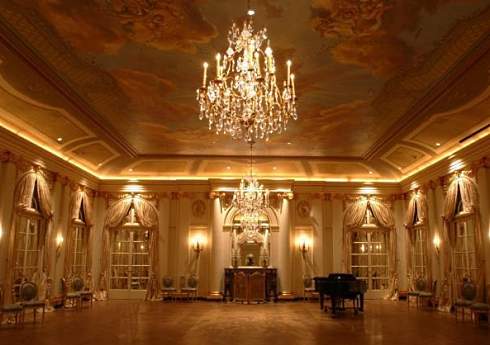 The bed in the master bedroom suite, pictured below, is modeled after the bed of Marie Antoinette at Versailles.     Once again, the room features an elegant marble fireplace surround with an overmantel mirror in an elaborate arched frame.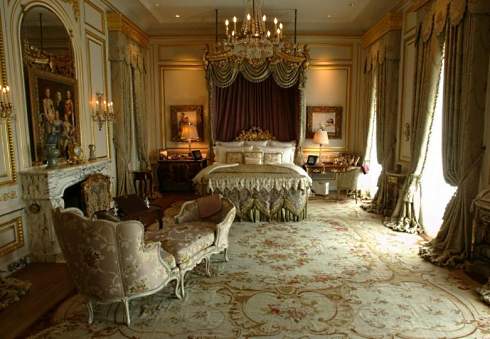 Outside, the property features a 70 foot swimming pool and spa, a part of which is shown in the lower right corner of the image that follows.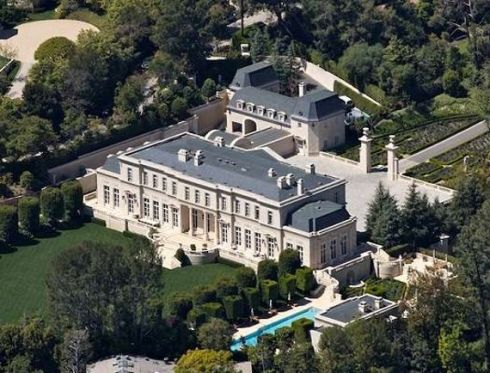 Included in the outdoor pool area is a Classically-inspired pool house, pic-
tured below.    Centered on the back wall is a stone fireplace mantle sur-
round.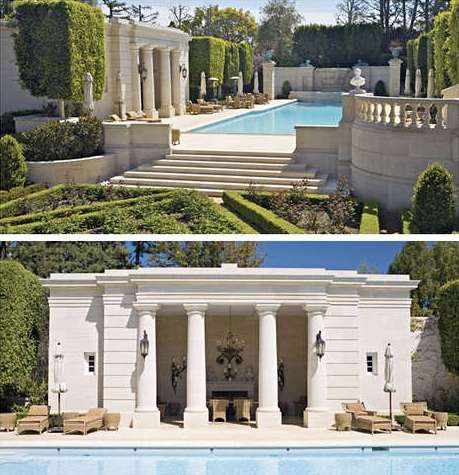 A close-up view of the pool house fireplace shows the hand carved de-
tailing beneath the mantle shelf.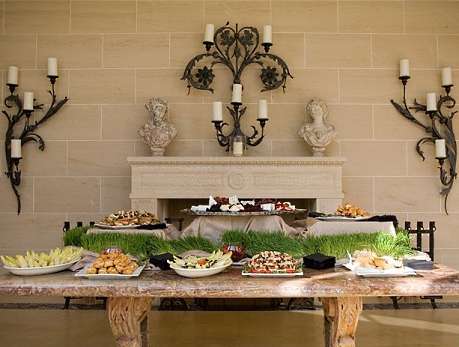 Photo Credit: Vanessa Preziose Photography
And  finally,  a  couple of parting shots feature two more images of the stately entrance facade.  Whether captured in daylight or twilight, the photos reveal a present-day masterpiece of Beaux-Arts design!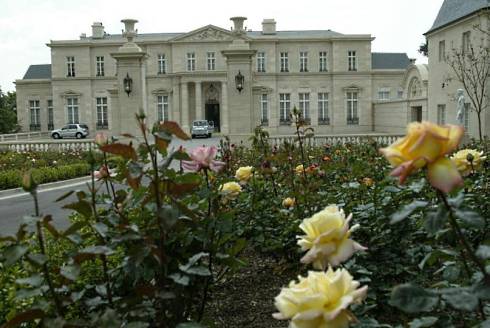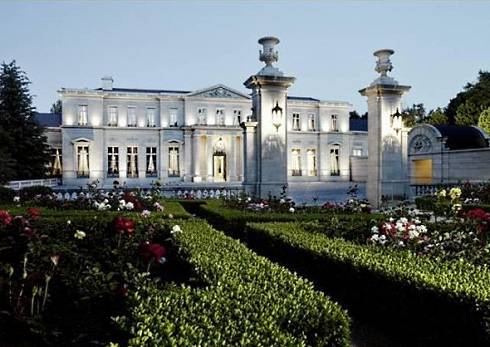 More Fireplace Mantle Surrounds
Fireplaces Mantles & Mansions...
A Return to Classic Grandeur!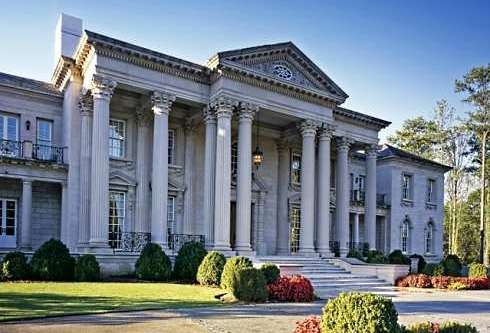 Please check back often or subscribe to our  RSS feed,  as  we  fre- quently add new images of classic fireplace mantle surrounds to our site.
YOU MAY ALSO LIKE:





Fireplace Mantle Surrounds In Celebrity Homes -
A Great Way To Get Inspired!








The Stone Fireplace Surround -
A Timeless Classic!








Gilded Age Fireplace Designs -
Monumental, Majestic...and Rustic?








Regal Fireplace Mantel Designs -
Fit For A King...OR A Queen!








The Custom Stone Fireplace Mantle -
A Masterpiece In Stone!








Formal & Semiformal Stone
Fireplace Designs Guide
Back to Stone Fireplace Designs Guide

Back to Standout Fireplace Designs Home Page
Didn't find what you were looking for?
Use this search feature to find it.
LIKE THIS PAGE?