Custom Stone Fireplaces Rock!
Custom stone fireplaces, with their naturally striking variations in stone size, shape, color and texture, never cease to amaze us with their notably individualized looks. Combine a designer's keen eye with a stone artisan's skilled hands . . . . . and the possibilities for creating a uniquely personal-
ized hearth are virtually endless!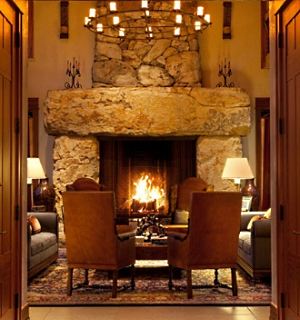 Photo above via Joshua Rowland Interiors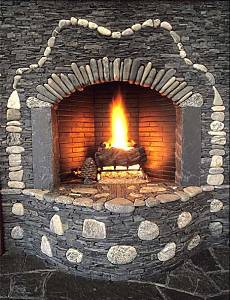 The stunning designs at right and di-
rectly  below  provide  a sampling of what can be achieved with a custom stone  fireplace  surround.    Master
stone artisan Lew French is the  ex-
traordinary  talent  behind  each  of these.
Created  by  Mother Earth and rear-
ranged by human hands,  a  custom stone fireplace  is truly a joint artis-
tic  effort between man and nature. Solid   and   substantial,   a   stone
hearth  reflects stability and securi-
ty . . . . . just as  the  great  stone fortifications   around   a   medieval
town  or village provided a sense of comfort  and  security for its inhabi-
tants many centuries ago.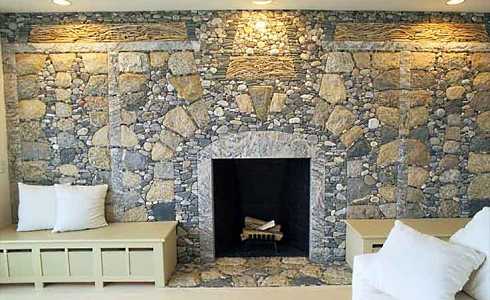 Stone, as an artistic medium, has been used for at least as long as it has been employed as a building material . . . . . often  simultaneously . . . as shown in the picturesque designs that follow  --  also created by Lew French.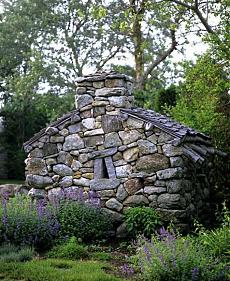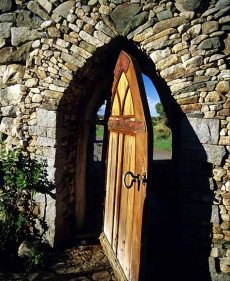 More Custom Stone Fireplaces
Mosaic Masterworks
In the hands of a master stone artisan, there appear to be few limitations to its use as a decorative element.    The stone mosaic designs pictured below  were  created  by  Robert Pierson of Pierson Masonry,  located  in California's Sierra Nevada Mountain region.    Meticulously detailed,  each handcrafted design employs a variety of  stone  types,  including  ledger stone, quartz, limestone and granite.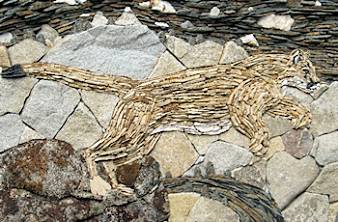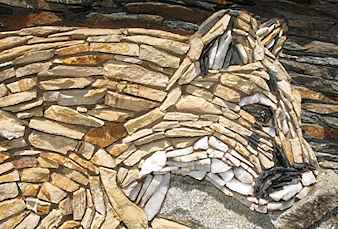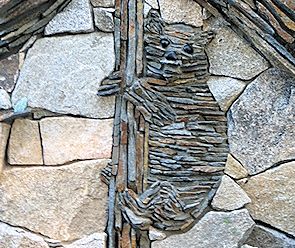 See More of Robert Pierson's
Intricate Stone Mosaics!
Mix it Up
The juxtaposition of varying sizes, shapes and colors of rock is what makes a custom stone hearth so interesting . . . . . and striking.  Though carefully arranged,  the  best examples look as if they were effortlessly "thrown to-
gether," such as the outstanding custom hearths that follow.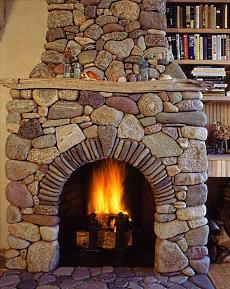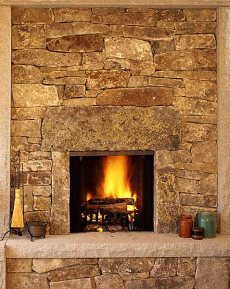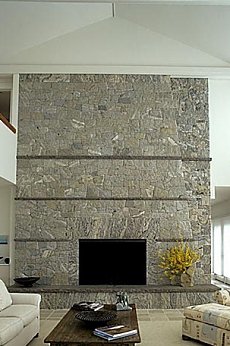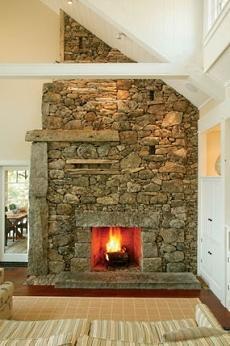 The four designs pictured above are by Lew French.
See More Extraordinary Designs by Lew French
Whether made of granite, slate, sandstone . . . . . or any one or more of a wide variety of stone types . . . a custom stone hearth provides a stun-
ning focal point that adds real value to your home.   More importantly,  it offers a lifetime of enjoyment for you and your family!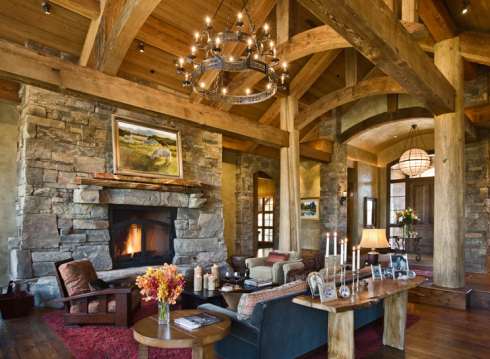 Design above by Locati Architects, based in Bozeman, Montana
See More Stone Fireplaces by Locati Architects
If you're looking for the best there is in present day custom stone hearths, you won't go wrong with any of the skilled stone artisans behind the striking examples featured here.  To find MORE remarkable stone or rock fireplaces, please see our Stone Fireplace Designs Guide.  Created to help you quickly navigate our website's stone-related pages, the convenient "Guide" covers everything from ruggedly rustic . . . to classically formal . . . to sleek contemporary fireplace designs -- for both indoors and out!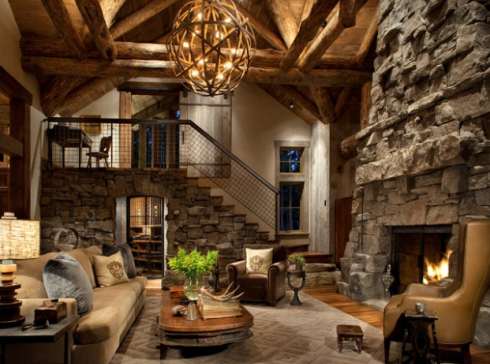 Great Room above by Peace Design, based in Atlanta & Bozeman
Please check back often or subscribe to our RSS feed, as we fre-
quently add new stone hearth designs to our site.
Also, if you know of a skilled designer or artisan that you believe should be featured here, please let us know!
YOU MAY ALSO LIKE:



Fireplace Hearth Ideas -
Outstanding Custom Designs!




Stone Hearth Pictures -
REAL STANDOUTS!




Extraordinary Stone Hearth Designs!




Standout Fireplace Images -
Exceptional Designs by Ewing Architects!




Stone Hearth Pictures -
EXTRA Extraordinary Designs!
Back to Custom Fireplace Designs
Back to Stone Fireplace Designs Overview
Back to Standout Fireplace Designs Home Page
Didn't find what you were looking for?
Use this search feature to find it.
LIKE THIS PAGE?