Standout Stone Fireplace Ideas...
Soar to New Heights!
The fireplace ideas presented here feature a multitude of creative ways
to combine other materials with your stone surround to give it a more distinctive and commanding presence. Extending it upward will not only enhance both the visual and architectural appeal of your stone fireplace, but will give you an opportunity to make a uniquely personal design statement!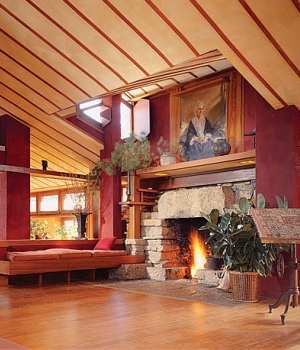 Regardless of whether your personal taste is rugged and rustic or formal and fashionable, a little planning and creativity can go  a  long  way  to transform your stone surround from "so-so" to "WOW!" And you don't need to be an innovator or world-renowned architect like Frank Lloyd Wright (1867-1959) to pull it off. The fireplace pictured above, right, is one of Wright's designs for Taliesin, his summer home and studio near Spring Green, Wisconsin.
Undeniably, the floor to ceiling stone fireplace design pictured at left is a real stunner!   However, for reasons related to weight or cost, it is not always pos- sible to create such a monumental de- sign entirely from natural stone.
Fortunately, it is possible to "have your cake and eat it, too!" Alternative mate- rials that are lighter in weight and lower in cost can be combined with your stone surround to create a majestic, highly personalized fireplace design. The fireplace ideas that follow were se- lected to provide inspiration and to help you get your creative juices flowing!
The striking design that follows was created by Andrew Chary Architects, based in Upstate New York. It derives its inspiration from the rustic Adir-
ondack Style architecture popular at the turn of the last century.   How-
ever, instead of extending its stone surround up to the ceiling -- as was typically done -- the architect employed a lighter and more cost-effective, but equally striking approach to its design. The area between the top of the stone surround and ceiling was simply framed in with 2 by 4 inch studs, covered with sheet rock, and painted to match the color of the walls in the room. Then the frosting was put on the cake by trimming it out with small logs, branches and twigs in the Adirondack manner.    Note how the trim around the slightly raised hearth and mantel shelf helps to tie the entire composition together.
See More Adirondack Style Fireplace Designs
Another fireplace idea for a rustic stone surround is to simply cover the area above the mantel shelf with sheets of natural bark, as shown in the example below by Harrison Design Associates.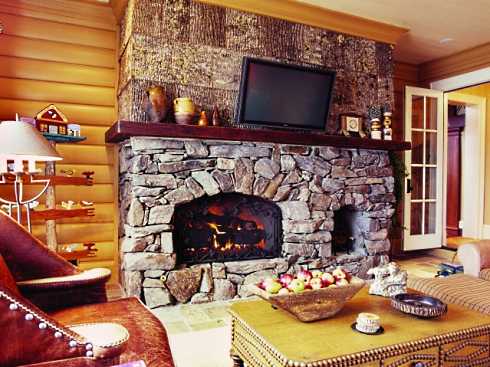 And finally, if the room is large enough and you have the space for it, you can create a rustic fireplace surround flanked by cozy alcoves for seating or working at your desk. Large birch bark tree trunks, set slightly forward, frame the top and sides of the stone surround, as well as provide a sturdy mantel shelf.    Weathered and distressed siding lines the far wall and is punctuated by two small windows framed with log trim.    This warm and inviting room is located at the Lake Placid Lodge in Upstate New York.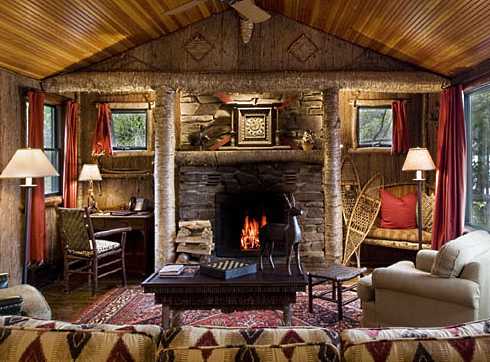 See More Cozy Fireside Alcoves & Inglenooks!

More Stone Fireplace Ideas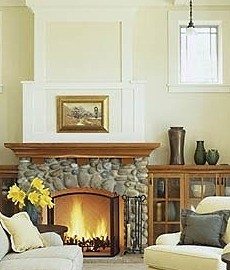 If your taste is a bit less rustic but still fairly casual, the fireplace ideas for the two designs that follow may be more your cup of tea. In each example, the area above the stone surround is ex-
tended to the ceiling by framing it in with 2 by 4 inch studs and covering it with sheet rock. Simple trim boards are then installed around the perimeter & painted. If your ceiling is high enough, a "stepped" design such as that pic-
tured at left can add more visual in-
terest.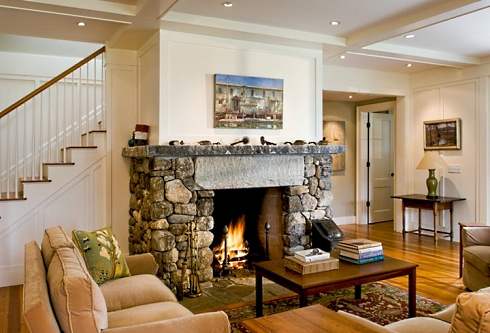 The Arts and Crafts or Craftsman Style fireplace design that follows is from Pillar Homes, based in Plymouth, Minnesota. It employs a rather stylish ap-
proach. Along with customary built-ins flanking each side of the stone sur-
round, a tapered hood extends from the mantel shelf to the ceiling.  Once again, the perimeter is trimmed with simple boards.    However, the hood facing consists of bead-board to match the ceiling treatment.
See More Craftsman Style Fireplace Ideas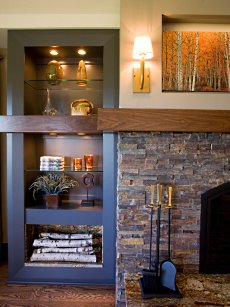 The transitional style stone fireplace design pictured below, with a close-up image at left, is by designer Shane Inman, based in Traverse City, Michi-
gan. It features a stone surround with an arched firebox opening and a raised hearth. Extending from the top of the stonework to the ceiling is a sheet-rocked overmantel with a built-in il-
luminated recess or niche for display-
ing artwork. The fireplace is flanked by built-in bookshelves and tied together by a richly finished wood mantel shelf that wraps around the top of the stone surround and extends across the front of the bookshelves.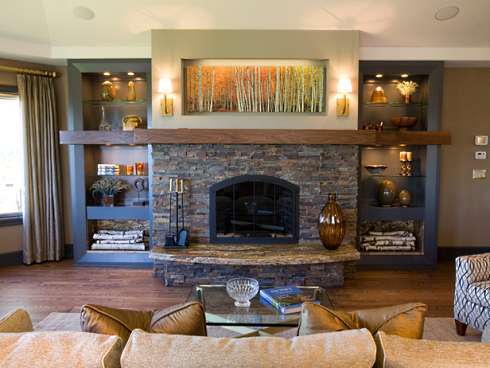 See More Stone Surround Fireplace with Built Ins Ideas
And if you're going for a highly formal, 'Old World' look, the fireplace idea that follows may be more to your liking. Clearly, the focal point of this room is the regal fireplace design. The Classically-inspired stone mantel is, in and of itself, very elegant. But it's the extension from the top of the mantel to the ceiling that gives it a regal appearance. Ironically, the cost of building the extension, or overmantel, is significantly less than the cost of the mantel, itself.
Inexpensive and readily available building materials such as framing lumber (be sure to "work in" the gentle curve) and sheet rock are about all that is required to construct this.    Add a carpenter or skilled do-it-yourselfer to the mix and "WHALLAH," it's done! . . . well, almost. Actually, all that's left to do is to apply the final finish.
In this particular example, the homeowner opted for a Venetian plaster finish -- an excellent choice for this room. A time-honored technique that is currently enjoying a resurgence in popularity, Venetian plastering is, once again, in the repertoire of many professional painters and decorators. In addition, it is now being practiced by a growing number of do-it-your-
selfers.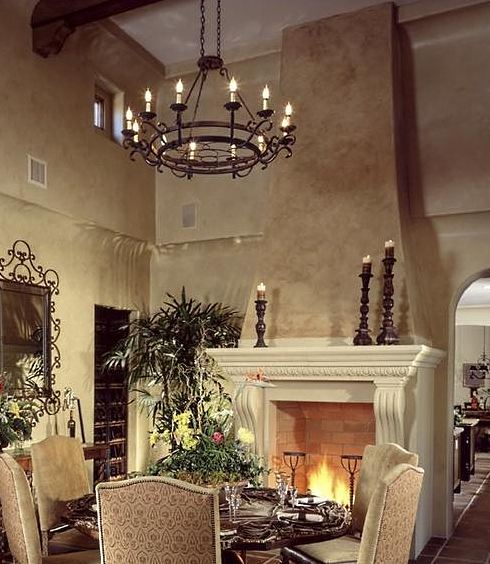 And finally, if stone weight and installation costs are not limiting factors, please click here for unique and distinctive stone fireplace ideas to make your floor-to-ceiling stone surround stand apart from the crowd!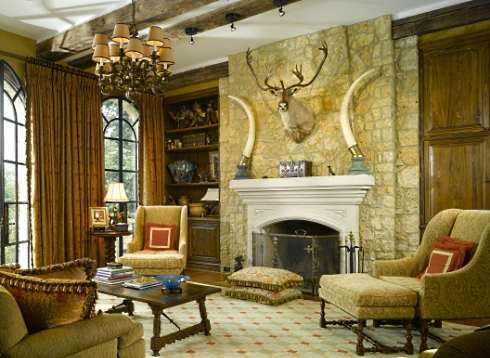 Please check back often or subscribe to our RSS feed,  as  we  fre- quently add new fireplace ideas to our site.
YOU MAY ALSO LIKE:




More Stone Fireplace Ideas -
Take It To The Top!







Stone Fireplace Design Ideas
To Personalize Your Fire Space!







Traditional Stone Fireplace Design
Ideas & Images...Folksy To Fancy!







Stone Fireplace Mantel Ideas -
Inspiring & Enlightening!








Fireplace Stone Ideas -
Rugged & Rustic...Yet Refined!








Stone Fireplace Hearth Ideas -
Outstanding Custom Designs!
Back to Fireplace Design Ideas
Back to Standout Fireplace Designs Home Page
Didn't find what you were looking for?
Use this search feature to find it.
LIKE THIS PAGE?