Ideal Spaces for Outdoor




Stone Fireplaces!



Outdoor stone fireplaces . . . . . . decisions . . . . . decisions . . . . . . . . . decisions . . . . . . . . .  Now that you've decided on an outdoor fireplace, the next decision is where to put it.  Even if it appears that your outside space is very limited, you may have more options than you think.
First and foremost, give some thought about how you will use it, as well as how often . . . . . . .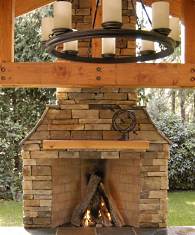 Will it be used primarily as a peaceful retreat to escape the hustle and bustle
of daily life?

If so, consider locating it in a quiet -- even isolated -- corner of your property, away from your house and any other potential distractions.
Will it be used primarily for gathering
with your immediate family members
and occasionally entertaining your friends?
Then you may want to consider placing it in more of a "high traffic" area closer to your house, where it is more convenient to access.
Will it be used frequently as a gathering spot for entertaining family and friends?
Then you will likely want to place it as close to your house -- and your kitchen -- as possible, where you will have convenient access to food and beverages.
Do you want a covered or partially covered gathering area around the fireplace to shade you from the hot sun, as well as give you the flexibility to use your outdoor room when it rains?
If you already have a covered porch, you may want to consider locating your fireplace at some point along its perimeter. Conversely, if you don't have a covered porch but want to position your fireplace near your house, it may be possible to extend the roofline over the gathering area or, alter-
natively, install a canvas canopy over it.
Another good option, whether or not you locate your fireplace near your house, is to erect a pergola over the gathering area. Though it won't pro-
tect you from a hard driving rain, it will provide shade from the hot summer sun.
Outdoor Stone Fireplaces
Following are several examples of outdoor stone fireplaces ideally located for frequent entertaining. Most adjoin a raised deck or porch, or an ele-
vated terrace -- many of which are covered -- with convenient access to the kitchen area.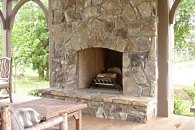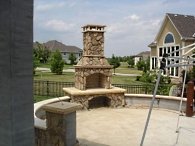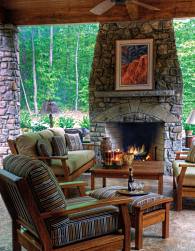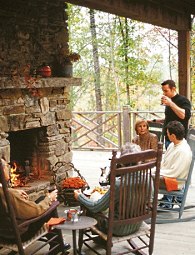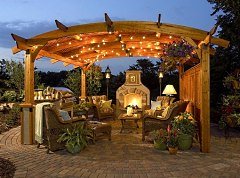 The pergolas shown here (right and below) are a very attractive way to delineate the area comprising your outdoor room . . . as well as provide shade from the hot summer sun.
Please click on images at right and below, right, for more information.
The fireplace photos below show outdoor stone fireplaces built into hillsides . . . a very effective way to optimize even limited outside living areas and to utilize space that would otherwise not likely be used.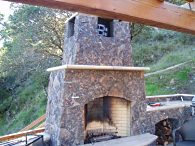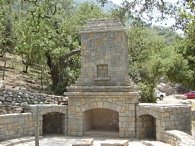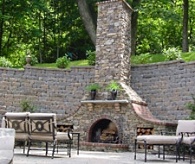 Another way to effectively utilize a sloping rear lawn or yard is with ter-
racing. Not only does a terraced landscape make your yard more "useable," but if your objective is to employ your outdoor fire space primarily as a tranquil retreat, it provides a great way to locate it away from your house and other potential distractions.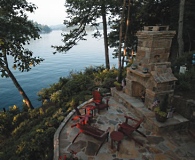 And finally, if you have an outdoor pool, you have a great area around which to build your fireplace. By adding other water features such as wad-
ing pools and waterfalls, as in the examples pictured below, you can create an absolutely stunning outdoor fire space!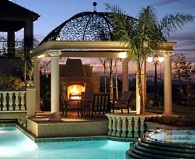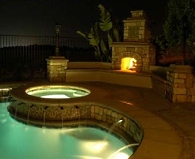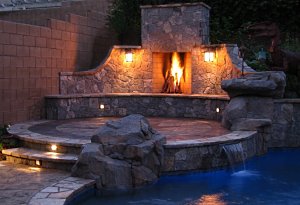 Please check back often or subscribe to our RSS feed,  as  we  fre- quently add new  fireplace photos of outdoor stone hearths to our site.
More Outdoor Stone Fireplaces

Overview of Outdoor Rooms
Back to Outdoor Fireplace Designs
Back to Standout Fireplace Designs Home Page
Didn't find what you were looking for?
Use this search feature to find it.
LIKE THIS PAGE?