Fireplace Stone Ideas...
Rugged & Rustic - Yet Refined!
The fireplace stone ideas featured here include a broad range  of  exciting designs. Rugged and rustic, the natural stone fireplaces that follow exhibit a great deal of refinement in both design and execution!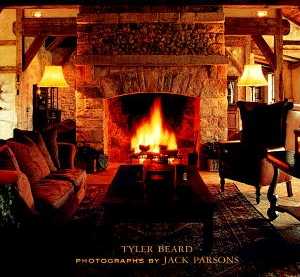 Photo Credit: Jack Parsons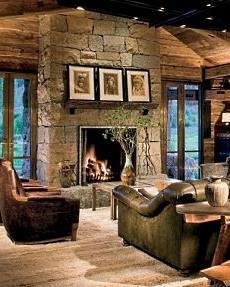 The striking stone fireplace pictured at left was designed by New York design-
er,  William Sofield,  for  a ranch house perched  high  in  the central Colorado Rockies.
The  equally  striking  stone  fireplace that  follows  was  designed  by  Reid Smith Architects,  based  in Bozeman, Montana.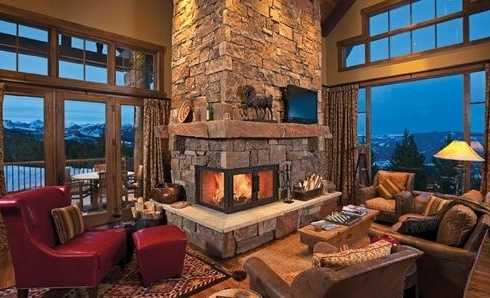 The fireplace stone ideas and rustic designs that follow come from the pre-
mier design firm, Miller Architects.     Based in Livingston, Montana, the firm creates  outstanding rustic stone fireplace designs for some very fortunate clients in Montana, Idaho, Wyoming, New Mexico and Colorado.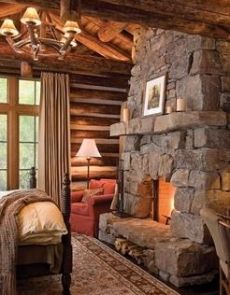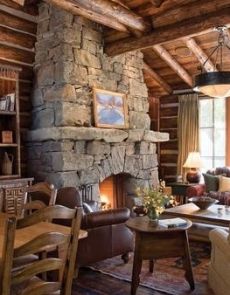 See More Outstanding Designs from Miller Architects
at our sister site, Standout-Cabin-Designs.com
The stone fireplace design that follows comes from another outstanding design firm in Montana. Based in Bozeman, Locati Architects is a premier design firm that also creates fabulous rustic stone fireplaces.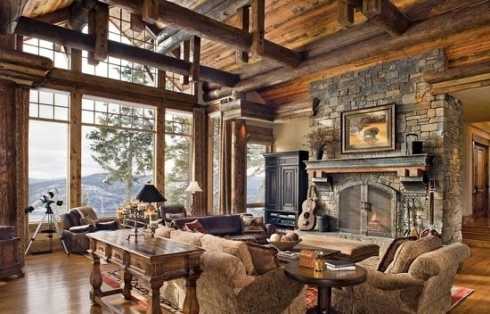 More Outstanding Stone Fireplace Designs by Locati Architects
The beautiful stone fireplace pictured below is in a home in the Colorado Rockies.  Featured in Log Home Living, the home was designed by Hamill Creek Timber Homes, located in British Columbia, Canada.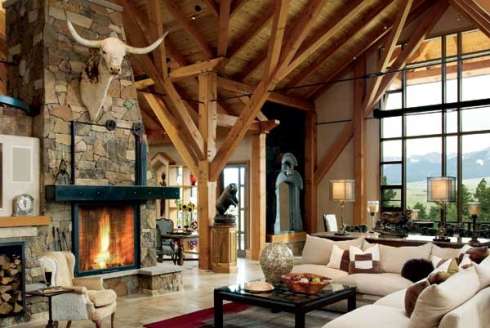 More Fireplace Stone Ideas
Moving eastward to upstate New York,  the fireplace stone ideas and de-
signs  featured  in the pictures below were inspired by the fabulous Great Camps of the Adirondacks. Built during the latter half of the 19th century and early years of the 20th century,  the  grandiose family compounds of cabins and lodges were used as summer homes by the wealthy.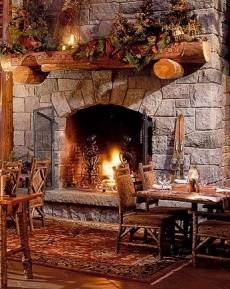 The  striking  fireplace design pictured at right is in Whiteface Lodge, located in Lake Placid, New York.
The  stunning  fireplace designs  that follow are in the Lake Placid Lodge. Built on the site of an Adirondack Great Camp dating back to 1882,   the current lodge was constructed in 2005 after a fire destroyed the original camp. In addition to the stacked stone fireplace designs, the Adirondack Style  is  carried over to the furnishings in the lodge, such as the branch and twig bed shown at bottom.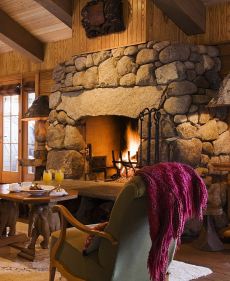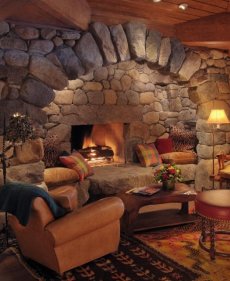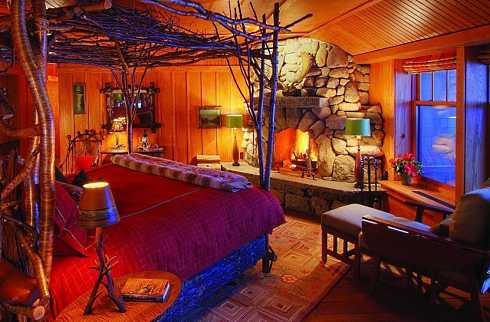 More Stacked Stone Fireplace Designs

More Adirondack Style Fireplaces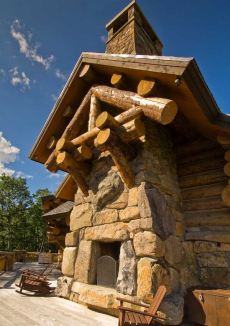 And  finally,  topping  off  these out-
standing   fireplace stone ideas  and designs  are  the stone hearths that follow.  Located in the Hudson Valley
in upstate New York, the lavish  rus-
tic  retreat  that houses these stun-
ning fireplaces takes  the Adirondack Style to new heights!     The rugged outdoor fireplace pictured at right  is massive in scale,  as  are  the indoor fireplaces pictured below.   Featured
in  Log Home Living,  this newly con-
structed,  custom  crafted  log home was  built  with  inordinately massive logs, as  well,  in scale with the mon-
umental fireplaces.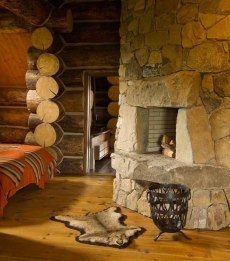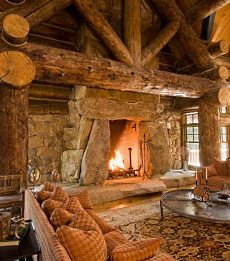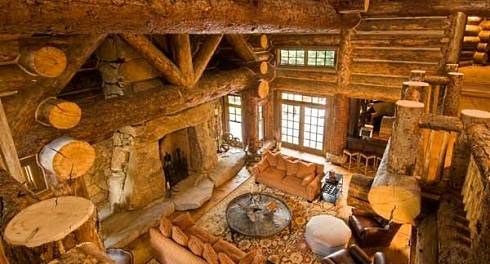 More Outdoor Fireplace Designs

More Monumental Fireplace Designs

Please check back often or subscribe to our  RSS feed,  as  we  fre- quently add new stone fireplace designs and ideas to our site.
YOU MAY ALSO LIKE:





Stone Fireplace Hearth Ideas -
Outstanding Custom Designs
Back to Stone Fireplace Designs Guide
Back to Stone Fireplace Designs Overview

Back to Standout Fireplace Designs Home Page
Didn't find what you were looking for?
Use this search feature to find it.
LIKE THIS PAGE?