Traditional Stone Fireplace
Design...Folksy to Fancy!
The stone fireplace design images and ideas featured here include a diverse sampling of traditional hearths that are ideal for everything from cottages to castles . . . . . and farmhouses to French Norman manors. Whether the look you're seeking is laid-back and casual or stately and formal, each of the fireplace designs that follow -- from fairly simple to highly elaborate -- conveys a sense of elegance and style!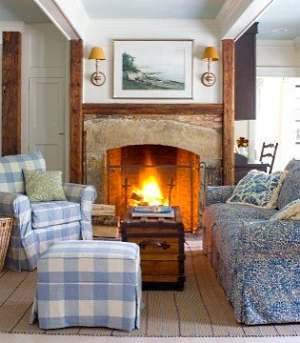 Photo Credit: James R. Salomon
Pictured above is a relatively simple stone fireplace design in Falmouth, Maine, USA. Crafted from stone slabs and rubble, it is framed with rustic hand-hewn timbers. Despite its simplicity, it boasts an elegant -- though "imperfect" -- arch above the firebox opening.
The stone fireplace design that follows is also relatively simple. However, it employs a variety of materials in contrasting colors and textures for added visual interest, as well as a more ordered and symmetrical placement of the stonework in the surround. From Hedberg Aggregates, based in Minnesota, USA, the stones consist of grey and blue-grey granite. Covering the top of the firebox opening is a striking handcrafted metal hood. A mantel shelf made from a massive salvaged timber crowns the entire ensemble and helps to create a very handsome fireplace design!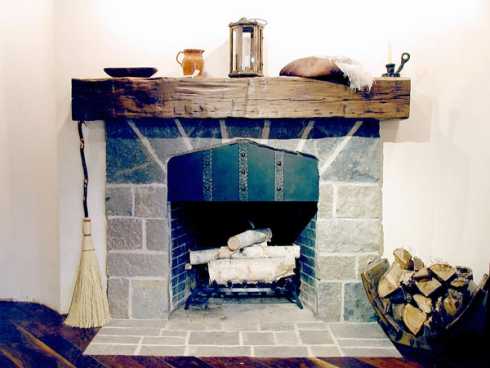 See More Granite Fireplace Surrounds
The cozy stone hearth that follows features a recessed surround of cut Pennsylvania fieldstone. Designed by Fairfax & Sammons Architects of New York, the coffered ceiling and early American style paneling on the walls, as well as that framing the stone firplace surround, cause this room to simply ooze period charm and ambience!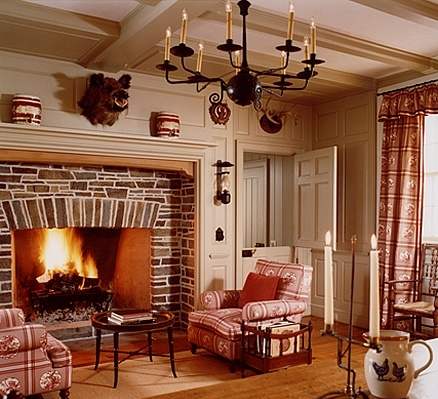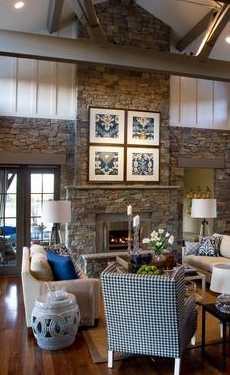 The soaring multistory stone fireplace pictured at left and below anchors the Great Room of a home in Park City, Utah, USA. Created by interior design-
er Linda Woodrum to resemble an old stone farmhouse, the Great Room is the home's hub of activity.
The grey-brown limestone used to clad the fireplace surround extends around the room to a height of one story. To keep its weight -- as well as its cost -- down, the limestone was cut into two inch thick pieces or sections of thin stone veneer after it was quarried. A contemporary style direct-vent gas fireplace (Rinnai RHFE-750 Indoor Gas Fireplace) provides warmth and energy efficiency.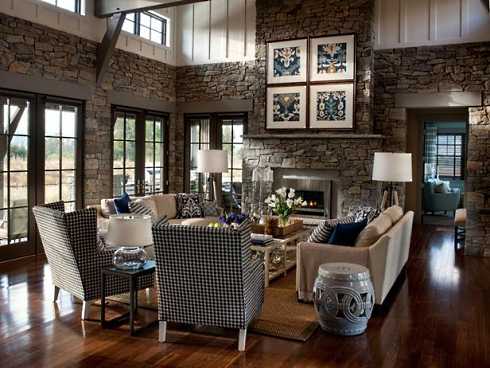 The colorful French Norman Style room that follows occupies a home designed by Harrison Design Associates -- one of the premier architectural design firms in the United States today. Flanking the lovely arched stone surround are elegant built-in bookcases.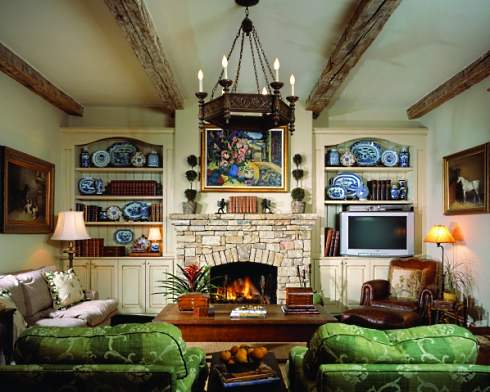 See More Stone Surround Fireplace with Built Ins Designs

Formal Stone Fireplace Design Ideas
Pictured at left is a more formal fireplace design than those shown above. Made of cast stone, it was fabricated by Stirling StoneWorks.
The striking Georgian Style library pictured below was designed by Oak  Hill Architects, based in Weston Center, Massachusetts. A smooth, intricately veined stone fireplace surround complements and contrasts beautifully with the room's richly finished paneling and coffered ceiling.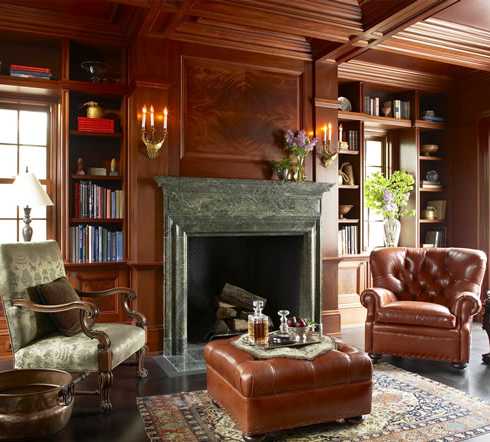 The elaborate, Rococo-inspired fireplace surround that follows is by Ian Knapper, one of the UK's foremost designers and makers of fine stone fireplaces. Based in Staffordsire, England, Ian Knapper is noted for his stunning custom designs and outstanding workmanship -- more than amply demonstrated here.     Crafted from Portland stone and an unusual black fossil-filled limestone, it is a present-day masterpiece of the stone carver's art!
And finally, the grand hooded stone fireplace surround pictured below looks as if it belongs in a castle. Once again, it comes from the premier architec-
tural firm of Harrison Design Associates.
More Grand Fireplace Surrounds from Harrison Design Associates

Please check back often or subscribe to our RSS feed, as we fre- quently add new stone hearth designs to our site.
YOU MAY ALSO LIKE:





More Stone Fireplace Design
Ideas...Take It To The Top!







Standout Fireplace Ideas -
Soar To New Heights!








Stone Fireplace Hearth Ideas
To Personalize Your Fire Space!







Fireplace Mantel Ideas -
Inspiring & Enlightening!







Fireplace Hearth Ideas -
Outstanding Custom Designs!
Back to Fireplace Design Ideas
Back to Stone Fireplace Designs Guide
Back to Stone Fireplace Designs Overview

Back to Standout Fireplace Designs Home Page
Didn't find what you were looking for?
Use this search feature to find it.
LIKE THIS PAGE?