Stone Fireplace Mantel Ideas...
Inspiring & Enlightening!
The stone fireplace mantel ideas featured here reflect a variety of creative options to make your fireplace design stand out in a BIG way, regardless of the size of your budget. From a simple forked tree branch mantel shelf or brick-framed firebox surround . . . to an intricately hand carved wood man-
tel shelf or elaborate stone tile mural set in an overmantel, you are bound to find inspiration and a host of unique ideas to create a stone fireplace design that is truly your own!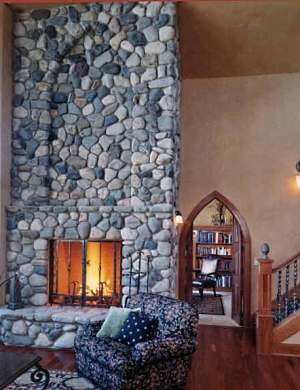 Design Above By Tom Murphy Masonry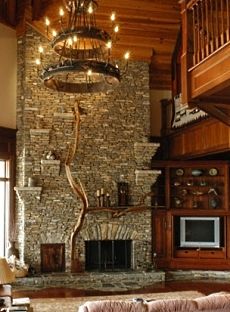 The stone fireplace design pictured
at left is by StreamLine Timberworks, based in Richmond, Virginia, USA. It features a series of small corbelled shelves randomly placed at varying heights to lend architectural interest and to break up the soaring expanse
of floor to ceiling stone facing. Adding further to the visual appeal is a natur-
ally formed tree branch that rises from the base of the hearth to frame the firebox opening and serve as a mantel shelf just above it.    A natural fork in the branch sends another limb skyward along the stone facing.


The fireplace design that follows features a gently curved arch above the firebox opening, framed by vertically-oriented stones with a large keystone at the center, or crown, of the arch. Centered just above the keystone is an elaborate hand carved wood fireplace mantel shelf by Ron Ramsey of Carved by Ramsey Studio, based in the Sierra Nevada Mountains near Lake Tahoe in the U.S. The beautifully carved and richly finished mantel shelf adds contrasting color and texture to the relatively smooth facing of the stone fireplace surround.
More Extraordinary Carved Wood Fireplace Mantel Shelves By Ron Ramsey!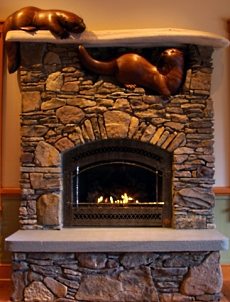 A variation of the fireplace mantel idea shown above is pictured at right. Created by Hot Rock Masonry of Eastsound, Washington, USA, it features a pair of playful otters carved from wood against the backdrop of a rustic stone fireplace surround. Lending additional contrast to the overall composition is the smoothly finished hearthstone and fireplace mantel shelf. Also note the gentle and varying curve along the edge of the mantel shelf.
The fireplace mantel ideas that follow also include designs which feature wood fireplace mantel shelves that contrast with the stone work. For even more contrast, the perimeter of each firebox opening is framed with brick-
work. The see-through fireplace design pictured below, left, also features brick corbels supporting the mantel shelf, as well as brick accents in the stone work above. Below, right, a brick hearth complements the frame around the firebox opening. Centered at the top of the opening is a key-
stone.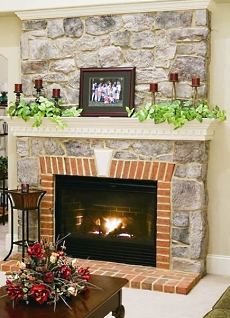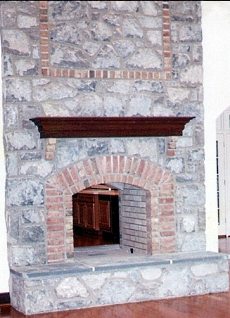 See More Wood Fireplace Mantel Shelves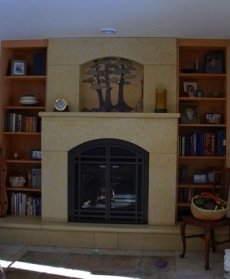 The fireplace design pictured at right, with a close-up image below, is crafted from Kasota limestone, more commonly known as "Kasota stone." Created by Beaumont Stoneworks of Duluth, Minnesota, USA, it features a scenic stone tile mural in an overmantel niche.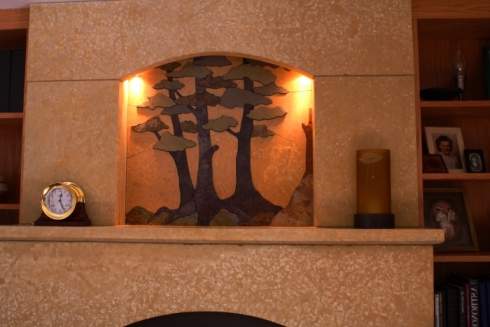 The colorful stone tile mural that follows, though created for use as a kitchen backsplash, can be worked into a fireplace mantel or overmantel design, as well. Also crafted by Beaumont Stoneworks, its intricate detailing is a testament to the skill and craftsmanship of the talented artisans that work at this firm!
More Stone Fireplace Mantel Ideas
The stone fireplace mantel ideas that follow employ sharply contrasting colors of stone in their surrounds to give them distinctive visual appeal. Pictured at right is a hand carved marble fireplace surround from Authentic Provence, based in West Palm Beach, Florida, USA. Called the "Post Modern Cheminee," it features bands of contrasting varieties of marble -- White Carrara, Giallo Sienna and Tinos Green.
The exotic fireplace mantel design pictured below is also crafted from contrasting varieties of marble. Designed by After The Antique, based in Norfolk, England, "The Moroccan" is inspired by Moorish architecture. Hand carved in green marble, it features ornate decorative inlays in white marble.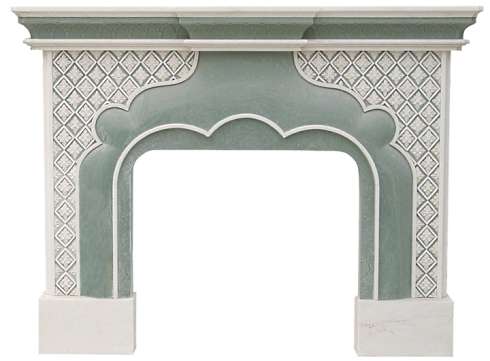 See More Distinctive Fireplace Mantel Designs By After The Antique!


The fireplace mantel ideas that follow feature two highly unusual stone fireplace designs. The design pictured below, left, is by Miller Stoneworks, based in Leavenworth, Washington, USA. Crafted from granite, it employs a dry-stack stone laying technique. From a wide base of stone that appears to be "spilled" onto the floor, the overall composition tapers inward as it rises to a height of 17 feet. Recessed just above the mantel shelf is a mosaic mountain scene created from a darker colored stone.
The equally unique stone fireplace pictured below, right, employs a variety of stone types and cuts, in addition to contrasting colors, in its design. From K2 Stone, with numerous locations throughout Canada, as well as in Kalispel, Montana, USA, it features an Ocean Pearl slate mantel, hearth and lintel. Rising above the mantel shelf is natural ledgestone with a recess in the shape of an inverted "V". Flagstone lines the interior of the recess, which also contains a water feature!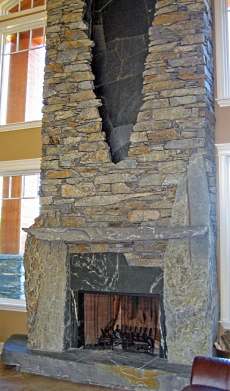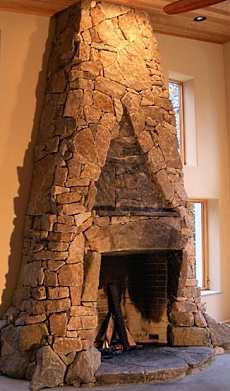 See More Dry Stacked Stone Fireplace Designs


And finally, the striking outdoor stone fireplace that follows was created by Yoder Masonry of Hartville, Ohio, USA. It features beautifully contrasting stone work that includes Pennsylvania blue stone, Ohio blue vein limestone, and tumbled Pennsylvania bluestone with a raised limestone hearth.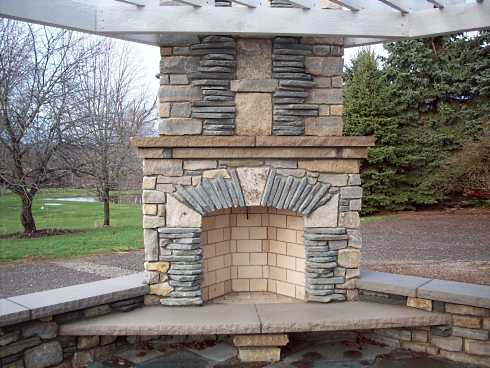 Please check back often or subscribe to our RSS feed,  as  we  fre- quently add new fireplace mantel ideas to our site.
YOU MAY ALSO LIKE:





Stone Fireplace Design Ideas -
Take It To The Top!








Standout Stone Fireplace Ideas -
Soar To New Heights!








Traditional Fireplace Mantel
Ideas & Images...Folksy To Fancy!








More Stone Fireplace Design Ideas
To Personalize Your Fire Space!








Fireplace Stone Ideas -
Rugged & Rustic...Yet Refined!








Stone Fireplace Hearth Ideas -
Outstanding Custom Designs!








Corner Fireplace Mantel Ideas -
Rock Solid!
Back to Fireplace Design Ideas
Back to Stone Fireplace Designs Guide

Back to Standout Fireplace Designs Home Page
Didn't find what you were looking for?
Use this search feature to find it.
LIKE THIS PAGE?