Build A Stone Fireplace...
Stack It Up Outdoors!
Build a stone fireplace in your back yard by stacking the  stones  naturally and organically . . . . . . with the help of a worldwide network of resources dedicated to preserving and perpetuating an age-old tradition. To many, a dry stone fireplace is the ultimate way to go. Fortunately, there is a global community of like-minded individuals,  organizations  and  other  resources you can turn to for guidance and direction!

Dry stacked stone (without mortar) structures and other architectural ele-
ments have been around for centuries.  Ancient stone walls and fences, in particular,  have  withstood the test of time and can still be found in many parts of the world.  Generally, they were constructed by chipping and cut-
ting the stones, where necessary,  then carefully fitting them together like pieces of a puzzle.  Though labor intensive, the end result was often spec-
tacular, and, over time, developed into an art form.
In addition to its natural beauty, a dry stone structure will outlast one that is "mortared" -- especially in climates where there is a wide variation in an-
nual temperature.    With freeze/thaw conditions, mortar eventually breaks down  and  requires periodic maintenance to sustain its structural integrity. And,  as  with  any  structure/architectural element that employs mortar to bind the stones together, the dry stone technique  works  with  any  stone size . . . from small rubble-like stones to huge boulders!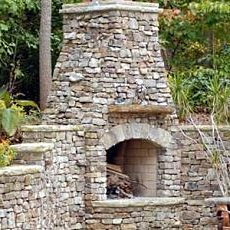 Due  to  a  resurgence of interest among a growing number of enthusiasts, several organizations -- worldwide -- have been established over the past decade,  or so,  to both preserve existing dry stone structures and to pro-
mote  and  perpetuate  this  ancient art form through workshops and semi-
nars (See list of resources below).     The dry stacked stone fireplace that follows  is  the  work  of one such practitioner, Eblacker & Stone, based in Rochester, New York, USA.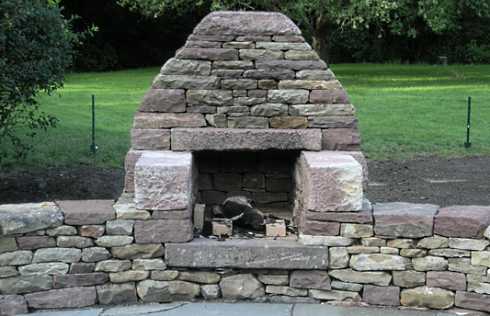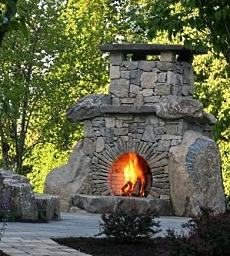 To   build a stone fireplace  outdoors employing the dry stone method, the sky is the limit when it comes to size, shape, and design.   Pictured at right
is  a  striking  outdoor stone fireplace design  by   Landscape Aesthetics  in Bernardsville, New Jersey, USA.
The monumental dry stacked stone fireplace pictured below is  part  of  an incredible hunting lodge in South Carolina, USA.     Constructed by Hearth-
stone Log & Timber Homes, this stunning structure can be  viewed  at  our sister site, Standout-Cabin-Designs.com.
Large  slabs  of  quartzite   from   New York-based Champlain Stone were em-
ployed to build a stone fireplace (right) that is very striking -- albeit bold  and daring -- in design.
Equally striking, along with its majestic setting, is the stone fireplace pictured below.   Designed by Bozeman, Monta-
na-based  Locati Architects,  it is rep-
resentative of the outstanding work of this premier architectural design firm!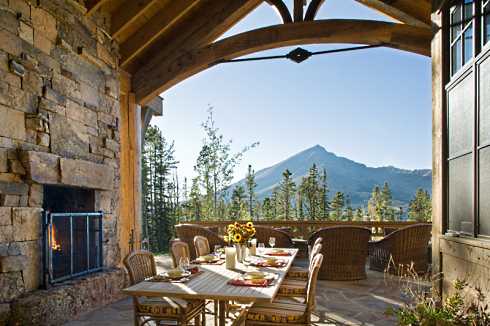 If  you're planning to build a stone fireplace in your back yard employing
the dry stone method,  a great resource to check out is Dry Stone Wal-
ling Across Canada,  formerly the Dry Stone Wall Association of Canada. The dry stacked stone fireplaces depicted in the five images that follow were all created by members of Dry Stone Walling Across Canada. Clear-
ly, this organization is made up of a devoted and dedicated group of en-
thusiasts that know how to build a stone fireplace!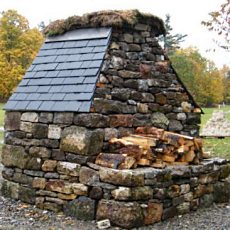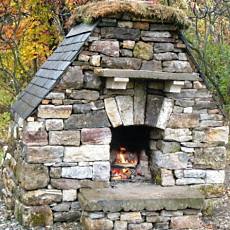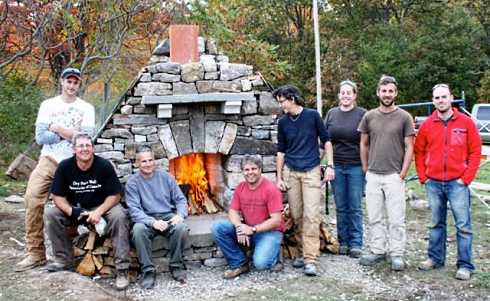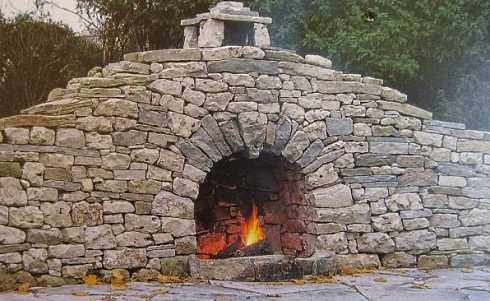 The Stone Wall Initiative  --  a component of the Connecticut State Mu-
seum of Natural History and the University of Connecticut  --  is another excellent resource. To access it, please click here.
More Info on How to Build a Stone Fireplace
In addition to those referenced above, the following resources are chock full of information for both beginners and experienced stone artisans:
Dry Stone Conservancy (Lexington, Kentucky, USA) http://www.drystone.org
The Stone Foundation (Santa Fe, New Mexico, USA) http://www.stonefoundation.org
Dry Stone Walling Association of Great Britain
http://www.dswa.org.uk
L'Architecture En Pierre Sèche (France)
http://www.pierreseche.com
Dry Stone Wall Association of Australia
http://www.dswaa.org.au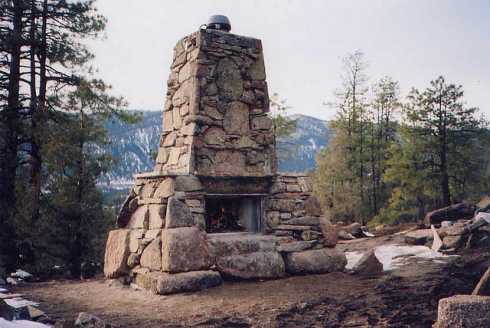 Please check back often or subscribe to our  RSS feed,  as  we  fre- quently add new images of dry stone fireplaces to our site.
YOU MAY ALSO LIKE:





Build A Stone Fireplace -
Think Outside The (Fire)Box!







Dry Stack Stone Fireplaces -
Centuries In The Making!








The Stacked Stone Fireplace -
Stacked In Your Favor!








Stacked Stone Fireplace Pictures -
HIGH & dry!








Stacked Stone Fireplace Pictures -
Simply STUPENDOUS!


Back to Stone Fireplace Designs Guide

Back to All Outdoor Fireplace Designs
Back to Standout Fireplace Designs Home Page
Didn't find what you were looking for?
Use this search feature to find it.
LIKE THIS PAGE?