Field Stone Fireplace Designs...
Fields of Dreams!

The field stone fireplace has been a fixture in homes around the world  for centuries, particularly in North America and Northern Europe. An abundant supply of field stone in many areas has made it a "natural"  for  fireplaces, chimneys,  foundations,  retaining walls,  livestock fencing, and landscape terracing!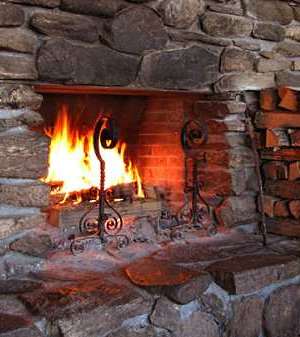 Beautiful,  strong  and  durable,  field stone  is  easily found in virtually any agricultural   area   where  crops  are grown.    To most farmers it is an on-
going  nuisance,  as  the stones con-
tinue  to   surface   year  after  year
when the earth is tilled and prepared  for  planting new crops . . . . . . . re-
quiring their removal from the fields.
Having  grown  up  on  a  dairy  farm, myself,   I  can  certainly  appreciate
the farmers' disdain.    Along with my younger siblings,  I  probably  collect-
ed and removed several  tons of that "nuisance"  rock from our fields when
I was a boy.
Design pictured above by      
Shope Reno Wharton Architects  
However, as an adult in the "field" of architectural  design,  I've  come  to appreciate the beauty, durability and strength  of  this natural building ma-
terial -- much more than I ever could have imagined!    In  the  hands of a skilled  and experienced stone mason,
a  field stone fireplace can become a veritable work of art -- with complex and contrasting patterns, colors, tex-
tures and uniquely individual nuances that  cannot  be  seen by most eyes until  the  whole has been assembled and completed by the artisan.
When  naturally  blended  with  other stone types or styles -- such as river rock -- and  the  stones are precisely
fit together with no visible mortar, as in  the  superb  examples at right and below, the result is stone artistry perfection!   True masterpieces in stone! True masterpieces of the stone artisan's craft!
The incredible talent behind these amazing works of art is master stone artisan, Lew French.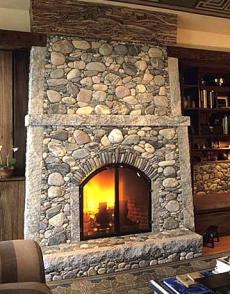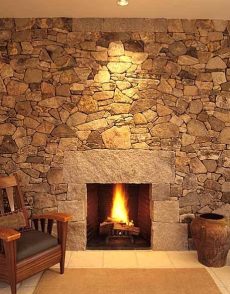 See More Extraordinary Stone Fireplace Designs by Lew French
Needless to say, such perfection comes at a price due to the extraordinary amount of time it takes to gather and hand fit each stone.  However, if it's perfection that you're seeking -- in terms of stonework quality -- it simply does not get any better than this!
More Field Stone Fireplaces
Fortunately,  for  those  of us on a lesser budget,  there are still some out-
standing field stone fireplace designs in a wide range of styles,  colors and textures . . . . . as well as highly skilled stone artisans available to execute those designs.    For example,  though both of the striking fireplaces below are crafted from fieldstone, each has its own distinctive look.   The stones in  the  example at left -- brown, tan and buff in color -- have been cut or split and rather tightly arranged for a relatively "smooth" overall look.   The stones  in  the  example at right,  primarily ranging from blues to grays and more  "loosely"  stacked  and  assembled,  are  interspersed  with  boulders around the firebox and hearth to give it a more rugged and natural look.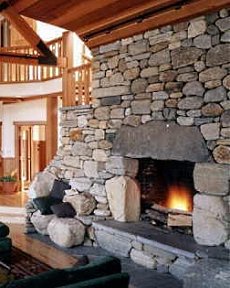 The next two designs were selected for the way they seamlessly combine present  day  technology  and  energy efficiency with the look and feel of ages  past.     Each has a firebox system designed to deliver heat into the room  through  an opening above the wooden mantel shelf.    However, in-
stead  of  simply  installing  a  conventional  louvered  metal grille over the opening . . . . . as is often done . . . the stone artisan cleverly arranged a series  of small stones to create a custom grille that is much more in keep-
ing with the overall look and feel of the natural stone surround.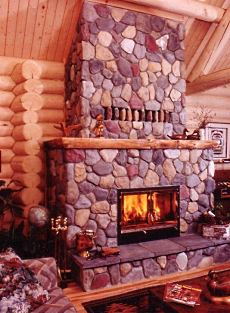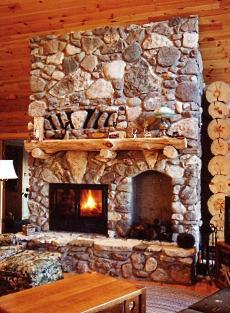 The following designs were chosen for their pleasing proportions, scale and balance. Once again, note the natural looking stone grille above the mantel shelf  of  the  fireplace at left.    The unique mantel shelf at right is clad in white  birch  bark  and  contrasts  beautifully  with the darker,  skillfully ar-
ranged stones behind it.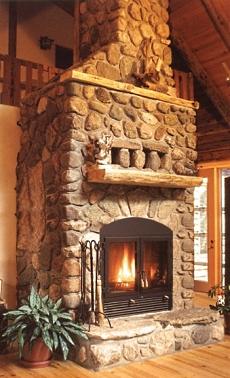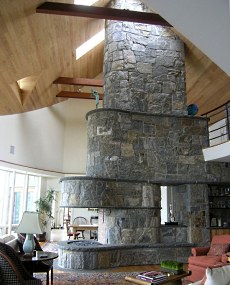 For pure ingenuity and inventive-
ness,  the  contemporary design
at  right gets my vote.    Clad in
blue,  gray and buff Connecticut
field  stone  squares and its fuel
bed  laid with blue glass crystals,
it presents a very striking and in-
novative composition.
The  next three designs were chosen to demonstrate that a smaller scaled  . . . and less expensive . . . field stone fireplace can be equally striking.  In each example, the stone surround boasts a beautifully crafted mantel shelf and  mouldings  of richly contrasting woods to elegantly "frame" the overall composition.
The Craftsman Style design at bottom features an inviting inglenook.    In-
spired by an inglenook fireplace design in  Pasadena,  California's  landmark Gamble House (1908),  the  fireplace  surround  is flanked by finely crafted built-in cabinetry and seating.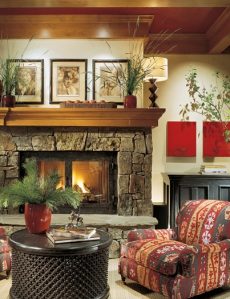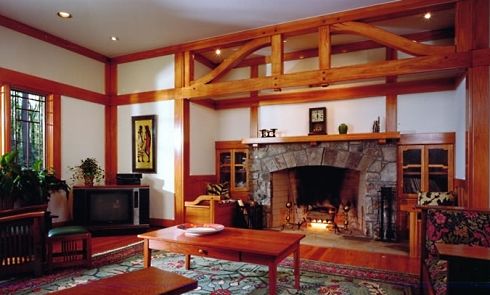 See More Inviting Inglenook Fireplace Designs
And finally, for pure "coziness," the following designs are hard to beat.  For reasons relating as much to the incredible setting and surrounding decor as to  the  stone  hearth,  itself,  each example oozes ambiance and nostalgic charm in volumes!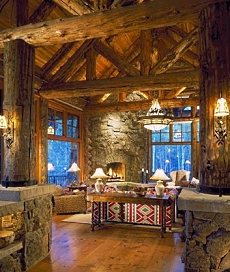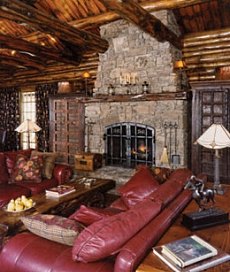 Please click here to view and learn more about field stone fireplace de-
   signs.
As you can see from the foregoing examples, a field stone fireplace can be spectacular!  Ironically, the stones can be "harvested" from the very fields that give . . . and hopefully fulfill . . . . . the farmers' dreams of a bountiful crop each year at harvest time.
For  many  homeowners, field stone is also an important "crop."    Only this time,  it  is  their  dreams of a stunning fireplace or other architectural ele-
ment that they aspire to fulfill. In more ways than one, the plots of ground that  farmers  so carefully manage -- as stewards of the land -- are, quite literally . . . . . fields of dreams!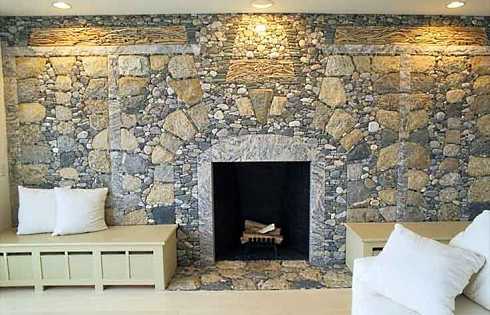 Striking fireplace pictured above is by master stone artisan, Lew French.

See More Extraordinary Designs by Lew French!

Please check back often or subscribe to our RSS feed,  as  we  fre- quently add new field stone fireplace designs to our site.
YOU MAY ALSO LIKE:




More Field Stone Fireplace Designs





A River Stone Fireplace Rocks!





The Slate Stone Fireplace -
Veritably Versatile!





The Slate Fireplace - A Clean Slate
For YOUR Special Fire Space!
Back to Fireplace Design Overview
Back to Stone Hearth Design Categories
Back to Standout Fireplace Designs Home Page
Didn't find what you were looking for?
Use this search feature to find it.
LIKE THIS PAGE?