The Slate Fireplace...


A Clean Slate For

Your


Special Fire Space!

A slate fireplace looks great in virtually any style . . . from traditional to contemporary . . . . . . .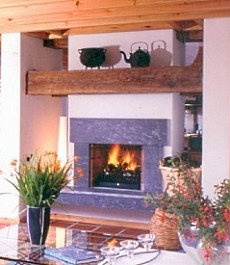 The  broad  range of colors, textures and finishes available with slate make   it  an  ideal choice for architects, de-
signers,  contractors and builders, as well   as  discriminating  homeowners,
for it is a remarkably versatile materi-
al and extremely adaptable to a host   of widely varying applications.  Easily sawn or trimmed to size,  split at any thickness and machined to any finish, slate's  versatility  in design and con-
struction is limitless.
Thinly sliced natural slate veneer stones,  as well as slate tiles,  are avail-
able in a wide variety of sizes, shapes, colors and textures.  As a result, a broad  range  of different looks are possible with a slate design,  as shown in the examples pictured below.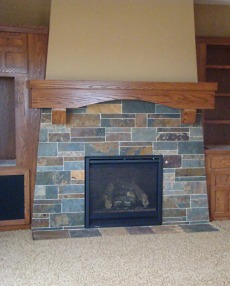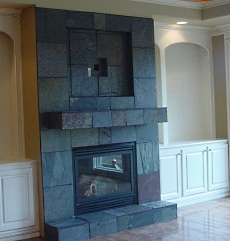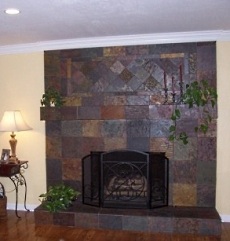 In addition,  the actual positioning or placement of the stones or tiles can be varied to create a host of different looks.   For example, note the diag-
onal  placement  of  the  similarly sized tiles in the slate surround pictured below,  left,  which  contrasts  sharply with the horizontal banding on the fireplace pictured below, right, in which different sizes of stone are used.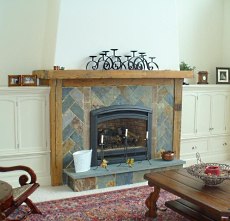 More Slate Fireplace Designs
The slate in the brilliantly-hued fireplace design pictured below,  left,  is in-
fused  with  tones of copper for dramatic effect,  as is -- albeit to a lesser extent -- the beautiful Craftsman Style design pictured on the right.
More Craftsman Fireplace Designs
The following two sets of images present a study in contrasts.  Below, left, the  random  sizes  and  smooth  finish of the slate veneer stones contrast sharply with the rough textured,  similarly sized stacked stones of the slate design on the right.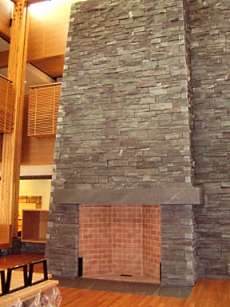 Likewise, the rough textured facing of the black slate fireplace pictured be-
low,  right,  contrasts  sharply  with the highly polished finish and beautiful veining patterns of the fireplace pictured to its left . . . . . . .
. . . . . as does the sleek contemporary design pictured below, featuring a smooth black slate facing.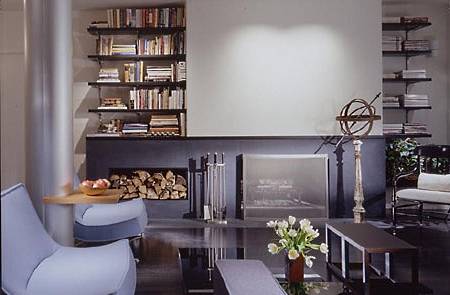 Please check back often or subscribe to our RSS feed,  as  we  fre- quently add new stone hearth designs to our site.
YOU MAY ALSO LIKE:



Natural Stone Fireplace Design - Steeped In Tradition





A River Stone Fireplace Rocks!




The Fieldstone Fireplace - Outstanding In Its Field!




Favorite Field Stone Fireplace Designs - Fields of Dreams!
Back to Stone Fireplace Designs Guide

Back to Stone Fireplace Designs Overview

Back to Standout Fireplace Designs Home Page
Didn't find what you were looking for?
Use this search feature to find it.

LIKE THIS PAGE?