Standout Rustic Stone Fireplaces
Rugged & Revered!
The rustic stone fireplaces featured here are the work of one of the out-
standing design firms in western America. Pearson Design Group, based in Bozeman, Montana, turns dreams into reality!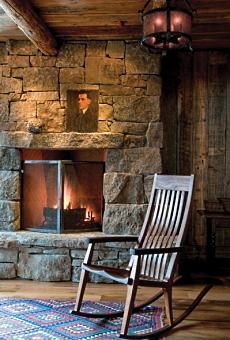 Rugged  and  rustic,  yet  beautifully
hand-crafted using natural materials
. . . . .
. . . the stunning home designs from this  highly creative firm are nothing short of extraordinary!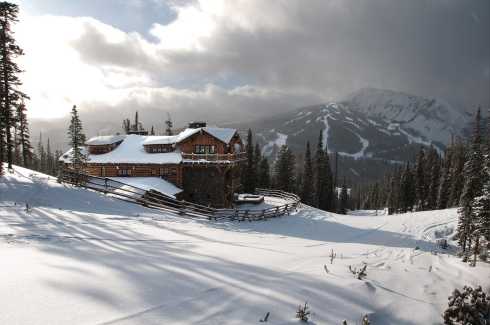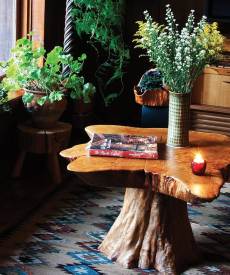 Hallmarks of a home from  Pearson De-
sign Group  include  superb craftsman-
ship  and  meticulous  attention to de-
tail  that  carries through to the interi-
ors,  as pictured at right and below . .
. . . . . as  well as the exterior (below, second row).   Note  the  exquisite hand-crafted detailing at the corners  of this beautiful log home design.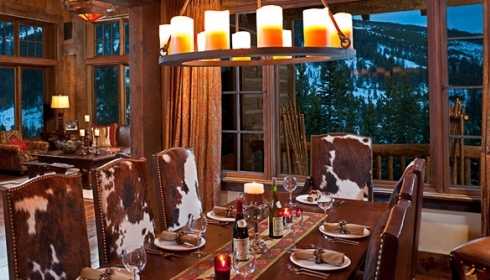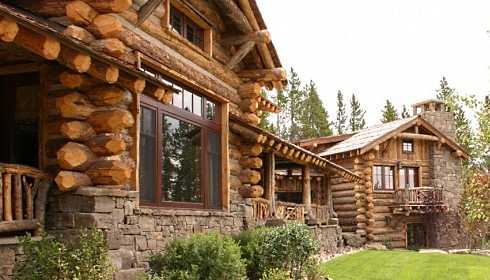 Rustic Stone Fireplaces
Rugged  and rustic natural stone fireplaces are another hallmark of Pearson Design Group. The two designs pictured below are crafted from large blocks of cut stone that is roughly square and roughly rectangular in shape.   Also note  the  large  stone mantel shelves that have been worked into each of the designs.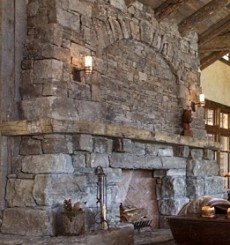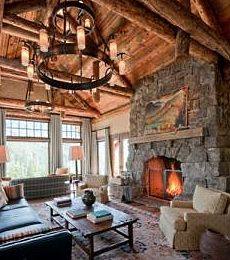 Similarly, the stone hearth design in the living room pictured  at  right  is crafted from  large  blocks of stone and sports a stone mantel shelf.
The rustic stone fireplaces pictured below are corner designs for bedrooms. While the design on the left -- with huge stone blocks for its hearth  --  is positioned  at  a forty five degree angle across the corner and simply dives into  the wall on each side . . . . . . . the stone work in the more elaborate design on the right angles backward just to the left of the  firebox opening, giving it additional mass, as well as a more commanding presence.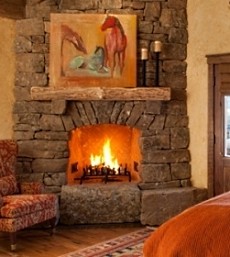 More Rustic Stone Corner Fireplace Designs
The rugged stone fireplace in the bedroom pictured below features a raised stone hearth with a built-in recess for storing firewood. It also incorporates a rustic timber mantel shelf resting on stone corbels, or brackets.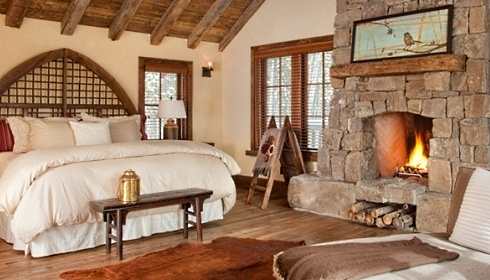 More Rustic Wood Fireplace Mantel Shelves
Similarly, the rugged stone outdoor fireplace that follows boasts a raised hearth with a wide niche beneath it to hold plenty of firewood.      What better  way  to  enjoy  the spectacular view and crisp outdoor air of this pristine  mountain setting than cozying up to a large stone hearth with a warm and toasty fire?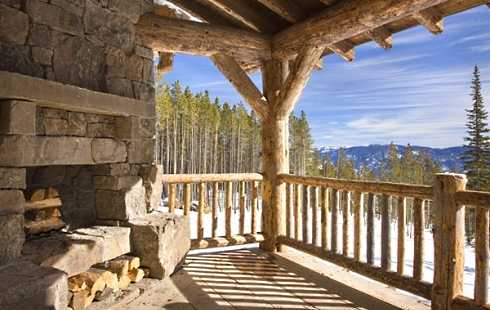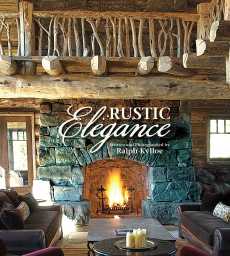 Pictured  at right is the latest collec-
tion  of  the  extraordinary  work  of Pearson Design Group and its  princi-
pal, Larry Pearson.  Written and pho-
tographed  by  Ralph  Kylloe,  it  fea-
tures  256  pages with lavish interior and exterior photographs of thirteen newly   handcrafted  log  and  stone homes from this outstanding firm.  A gorgeous, oversize coffee table book,  it will be a treasured source of inspir-
ation for years to come!
Please check back often or subscribe to our  RSS feed,  as  we  fre-
quently add new images of rustic stone hearths to our site.
YOU MAY ALSO LIKE:





More Rustic Stone Fireplaces -
Rock On with a Rustic Stone Fireplace!
Back to Stone Fireplace Designs Guide
Back to Stone Fireplace Designs Overview
Back to Standout Fireplace Designs Home Page
Didn't find what you were looking for?
Use this search feature to find it.
LIKE THIS PAGE?