Featured Fireplace Design...
Fireside Favorites!
Our featured fireplace design is a single mantel or surround we periodically select from our ever-growing list of favorites to showcase here.    Among the featured selections are outstanding works from lesser known -- albeit highly skilled -- designers and artisans.   Their unique creations will inspire and expand your "hearth horizons!"

 Above: Tile with Style by Motawi Tileworks
Each hearth design is chosen on the basis of one or more of the following attributes:
architectural integrity
exceptional craftsmanship
& attention to detailing

creative use of materials
creative use of color,
texture and finish
historical accuracy and/or
interpretation
creativity in overall design
innovation and uniqueness
We hope you enjoy our featured favorites as much as we enjoy bringing them to you!
Current Featured Favorite:
---
More than a century -- and millions of visitors later -- the fireplace pic-
tured below continues to astound us.   A masterpiece of late Victorian-
era design, it is as warm and welcoming as it is monumental . . . more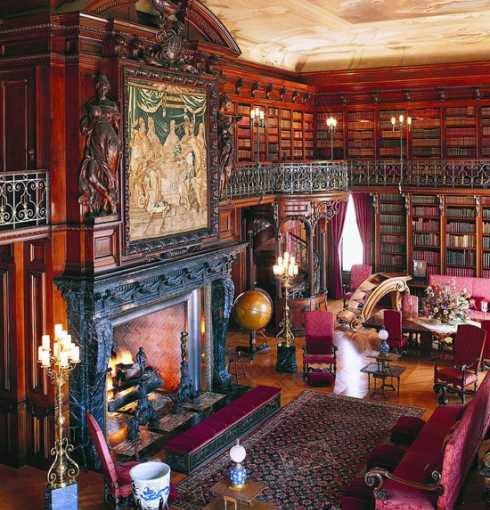 Featured Design -- Summer, 2012
---
The featured fireplace surround showcased below is meticulously crafted with seashells from the seashore . . . . . more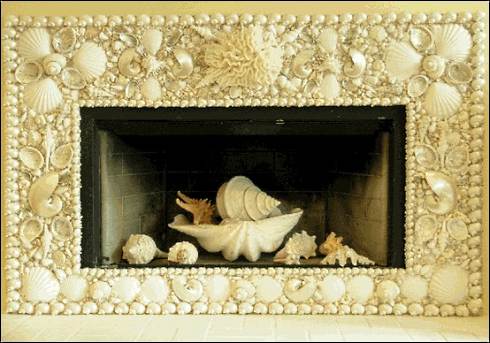 Featured Design -- April, 2012
---
This month's featured fireplace is a finely crafted modern-day interpreta-
tion of a style that captivated much of the world just over a century ago
. . . . . . . more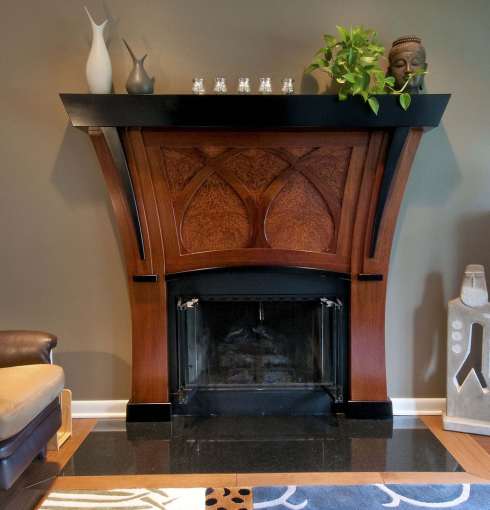 Featured Design -- March, 2012
---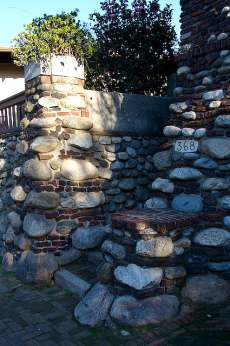 This  month's  featured hearth design
is a revival of the  American Arts and Crafts Movement,  or Craftsman Style --  a  style  that  began  in the latter years  of  the  19th  century  and  re-
mained popular into the 1930s.    It is currently  enjoying  an explosive resur-
gence in popularity.
The  most  renowned practitioners of the original American Craftsman Style were  brothers  Charles  (1868-1957) and Henry (1870-1954) Greene. Their architectural firm, Greene and Greene, based  in  Pasadena,   California,   de-
signed  the  legendary  Gamble House (1908), generally  considered  one  of the finest examples of Arts and Crafts residential  architecture  in the United States.
Organic in nature  and  created  to  look  as  "natural"  as  possible,  their  designs  incorporated a variety of natural building materials such as stone and brick. Pictured above, left, is just one of a multitude of fine examples of their work.     Wikipedia sums it up best:  "Their style wedded practical comfort and fine art into a  refined,  crafted masterpiece  in  which  every  detail contributed to the overall subtlety of the work, essentially a master-
piece of design."
It is in the spirit of the Greene brothers that the  fireplace  design  pic-
tured  below  was  created.    Beautifully crafted by North Carolina-based Vesta Masonry Stove, Inc., in collaboration with master stone mason, Bob Neild, it is an extraordinary present-day interpretation of the work of Hen-
ry and Charles Greene!
The  "center"  of  the overall composition is a 42 inch Isokern precast fac-
tory-built modular firebox made of pumice  --  or volcanic rock  --  that is lined with red firebrick on the interior. The exterior is comprised of natural stones of vastly varying sizes and shapes,  interspersed  with  undulating brickwork. To break up the floor-to-ceiling massing, a finely crafted wood mantel shelf and crown moulding echos the detailing of the paneled  wain-
scoting and crown moulding behind it.    All in all, a masterfully conceived
and executed Arts and Crafts design!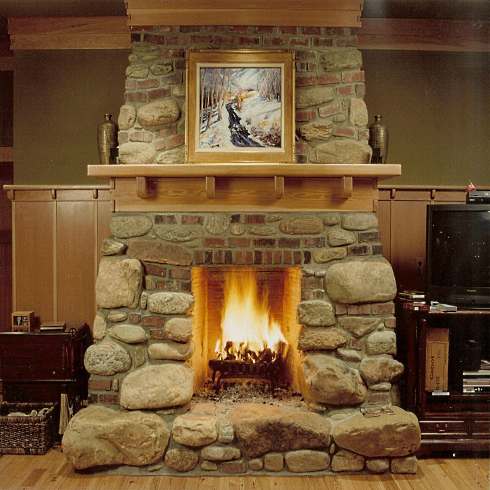 Featured Fireplace For March, 2012
See More Extraordinary Arts and Crafts Fireplaces!


Get more exciting hearth designs and design  ideas  by  subscribing
to our informative e-newsletter.    Simply enter your information in the form below and click on "Subscribe" so you won't miss out on a single future issue!     You'll have access to all back issues,  as well, when you subscribe!
For More Information about our e-Newsletter, please click here.
Also, please subscribe to our  RSS feed,  as we feature new hearth designs on a regular basis.
YOU MAY ALSO LIKE:





Fireplace Design Ideas -
Find Your Perfect Match!





More Fireplace Surround Design Ideas!




Stone Fireplace Hearth Ideas -
Outstanding Custom Designs


Back to Put Some Spark In Your Fireplace!
Back to Standout Fireplace Designs Home Page
Didn't find what you were looking for?
Use this search feature to find it.
LIKE THIS PAGE?