Fireplaces Mantles & Mansions...
A Return to Classic Grandeur!
The grand fireplaces mantles featured here showcase a collection of  ele-
gant hearth designs in two of the most opulent Classical Revival mansions built in America since the Gilded Age.   Inspired by classic Beaux-Arts sty-
ling -- a late form of Neoclassicism that combined Greek and Roman  mod-
els with Renaissance forms -- they are both monumental and grand!

                                                     Harrison Design Associates
PART I OF II
Popular for government buildings and other public  institutions  during  the late  19th  and  early 20th centuries,  Beaux-Arts architecture was also a favorite  among  the  wealthy  for  their own private residences.   Richard
Morris Hunt  (1827-1895),  the first American architect to attend the pres-
tigious Ecole des Beaux-Arts in Paris, France,  was  one of the most promi-
nent practitioners of the style in the United States.  His client list included a veritable "Who's Who?" of leading capitalists and industrialists of the day.
Among his elite clients were  the  very wealthy Vanderbilts - the most prolific mansion builders in America during that era.  The aptly named Marble House in Newport, Rhode Island, pictured on the left, was one of numerous commissions designed  by Richard Hunt for members of the Vanderbilt family.   Completed in 1892 for William Kissam Vanderbilt  and his wife, Alva,  it  reputedly  cost  $11 million -- $7 million of which was spent on marble, alone!
                Marble House


In addition to the marble exterior,  a view of the dining room (below) hints at  the extent to which this beautiful material was used throughout the in-
terior.  Clad in marble from floor to ceiling, the dining room features an ele-
gant French style marble fireplace mantle with elaborate ormolu mountings.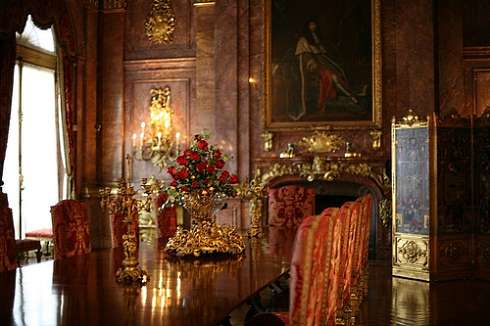 See More Stunning Images of Marble House
---
Who said "They just don't build them like they used to anymore?"
Most of us have heard the foregoing cliche on numerous occasions. And all too often, unfortunately, there is a significant element of truth to it.   The examples that follow,  however,  do not even remotely fall under that um-
brella!
---
The stunning Atlanta area residence pictured below (with close-up of entry at top of page)  echos the work of Richard Morris Hunt and one of his con-
temporaries -- the well-known and highly prolific architecural firm of McKim, Meade and White. Created by Harrison Design Associates of Atlanta, it is a present-day incarnation of those created for  the  Vanderbilts  in  the  late 19th century.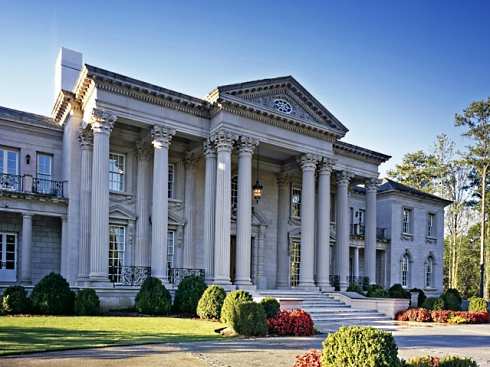 As in the mansion-building era of the Vanderbilts,  this Beaux-Arts master-
piece is crafted from the highest quality materials and flawlessly executed with meticulous attention to each and every detail.  And, as was custom-
ary during the Gilded Age, many of the home's furnishings and  interior  ar-
chitectural features were acquired during extensive travels abroad.
Pictured directly below are two of several fireplace mantel designs  in  the home. Below, left, is a relatively simple stone fireplace mantle.  Nestled in
a  soaring  wall  niche, it creates a cozy inglenook with built-in seating on either side of the firebox opening.
Conversely,  the  towering chimneypiece or fireplace surround pictured be-
low,  right,  features  intricate stone carving on both the mantel and over-
mantel. Flanking this elaborate mantelpiece are stone archways leading to an adjacent room.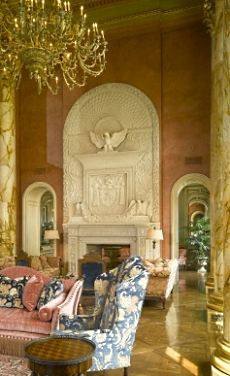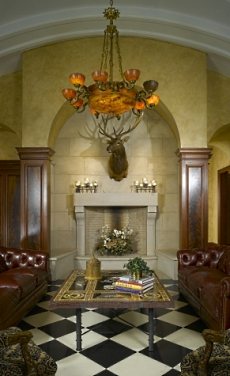 The striking marble fireplace surround that follows is flanked by  a  stately pair of fluted Corinthian columns with gilded capitals on either side.   Cen-
tered between the pairs of columns, which rest on paneled pedestals, is a soaring overmantel mirror with a beautifully paneled frame.     The  classic symmetry  and  detailing  of  this formal composition is echoed throughout
the room.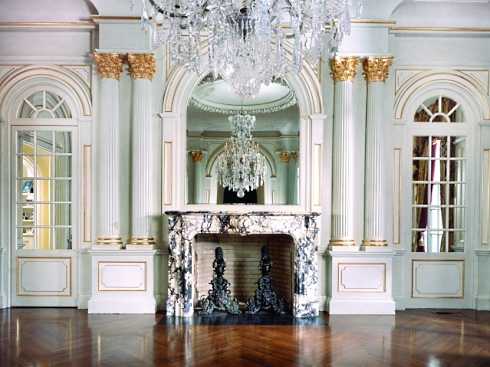 Pictured below are two images of the richly paneled library in this magnif-
icent home.   The beautiful spiral staircase shown below, left, is modeled after the stairway in the library at Biltmore House,  another  one  of  the legendary  homes  designed  by  Richard Morris Hunt for a member of the Vanderbilt family in the late 19th century.  Though not modeled after the chimneypiece  in  the  library  of  Biltmore House, the hand carved wood fireplace surround pictured below,  right,  is equally magnificent.   With a beautifully contrasting backdrop of Italian marble, the two story design is framed by fluted pilasters with Ionic capitals. Rising above the capitals is
a  splendid  arch  that  echos  the smaller arch in the richly carved wood overmantel beneath it.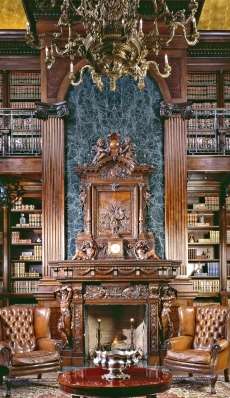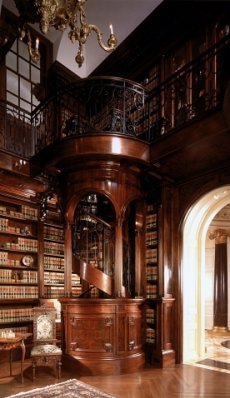 For More Photos of Biltmore House & its Stunning Fireplaces Mantles,
Please Click Here . . . . . And Here!

See More Wood Fireplaces Mantles by Harrison Design Associates
Not to be outdone,  the fireplaces mantles in the rear loggia,  or  outdoor room,  pictured  below,  are as stunning as the fireplaces mantles on the interior.  Renaissance-inspired, these massive carved stone fireplace sur-
rounds overlook a magnificent pool modeled, in part,  after  the  Neptune
Pool at Hearst Castle, designed by architect Julia Morgan (1872-1957) in San Simeon, California.
More Photos of the Loggia Fireplaces, as well as the Stunning Pool
More Grand Fireplaces Mantles
Classic Fireplace Mantle Surrounds...
The Grandeur Continues!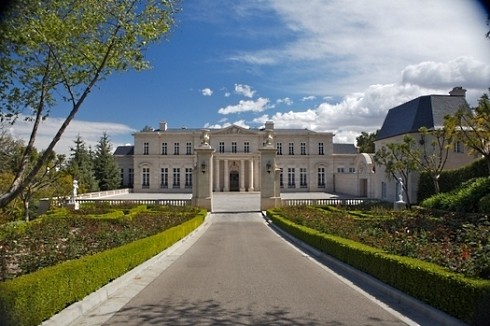 Please check back often or subscribe to our  RSS feed,  as  we  fre- quently add new images of classic fireplaces mantles to our site.
YOU MAY ALSO LIKE:





The Stone Fireplace Surround -
A Timeless Classic!







Gilded Age Fireplaces Mantles -
Monumental, Majestic...and Rustic?







Regal Fireplace Mantel Designs -
Fit For A King...OR A Queen!








The Custom Stone Fireplace Mantle -
A Masterpiece In Stone!







Formal & Semiformal Stone
Fireplace Designs Guide
Back to Stone Fireplace Designs Guide

Back to Standout Fireplace Designs Home Page
Didn't find what you were looking for?
Use this search feature to find it.
LIKE THIS PAGE?