Cowboy Country Stone Fireplaces...
A Roundup of Exceptional Designs!
Welcome to cowboy country stone fireplaces! We've rounded up some of the finest stone hearth designs available anywhere under the Big Sky. Rugged and rustic, they are as majestic as the mountains from which their stones are gathered!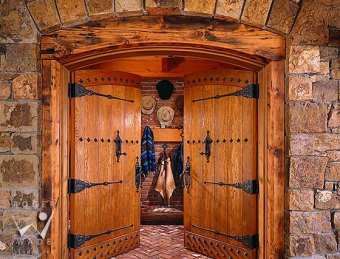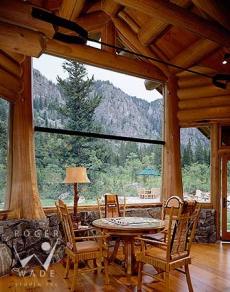 Set  against  the  backdrop  of  log  or timber-framed  walls  and  soaring  ca-
thedral  ceilings  with beautifully hand-
crafted trusswork,  these  monumental stone   hearths  have  a   commanding presence  and provide a stunning focal point that is hard to top.
The Great American West was never so luxurious!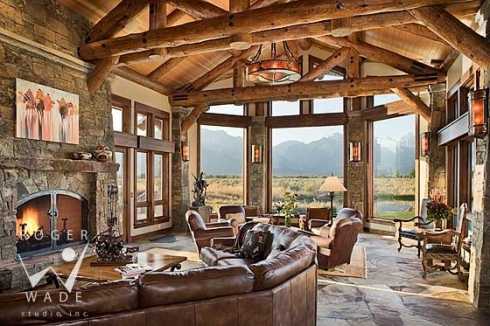 Fireplace Design Pictured Above By Locati Architects

A product of Mother Nature,  the  natural stones  used to craft these veri- table works of art are uniquely individual.  No two stones are exactly alike. Hand-selected for their unique characteristics, they  are  carefully  assem- bled like the pieces of an intricate puzzle to bring out their best qualities.
Achieving a cowboy country look in a stone fireplace can be achieved in a variety of ways.  Ideally ensconced in a room with plenty of wooden posts and beams in a warm stained finish,  the  stone  used for the fireplace sur-
round can range from large,  irregular  pieces  of flagstone that have been fitted together in a random mosaic pattern,  as  shown  in the example be-
low,  left . . . . . to fairly large blocks of cut stone in square and rectangu-
lar shapes, as depicted in the example below, right.
The  mantel shelf,  as  well,  can  be made from a variety of materials in a number of configurations and finishes to achieve the desired effect.  Below left, the mantel shelf is made of a solid piece of stone with chiseled facing, and supported from below by a series of carefully arranged log corbels,  or brackets.  Below right, the stone mantel shelf is inset with a richly stained wood facing.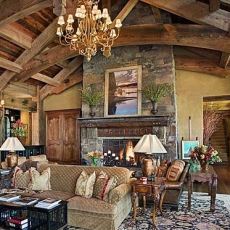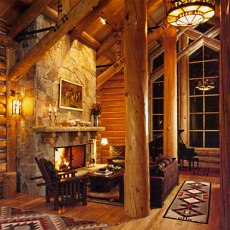 More Country Stone Fireplaces
The cowboy country stone fireplace design pictured below,  left,  is made from  stacked  ledge  stone  and  accented with a rustic mantel shelf and brackets recycled from salvaged timber.    Below right,  elaborate wooden ceiling  trusswork frames this beautiful stone surround with a tiered stone mantel shelf.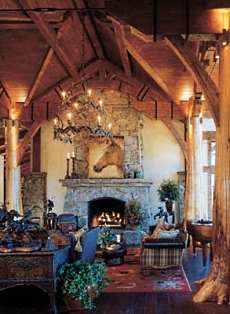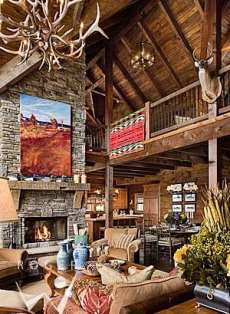 The rugged stone fireplace surround made of cut granite and inset with a massive natural log mantel shelf, below left, presents a dramatic counter-point to the more refined composition on the right.    Made  of  fieldstone arranged in a random mosaic pattern,  the  country stone fireplace below, right,  is  graced  with  a finely crafted and richly finished wooden mantel shelf.     Hanging from the two story ceiling,  a  crystal chandelier adds a
touch of whimsey to the overall design scheme!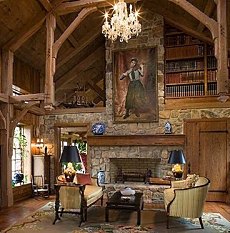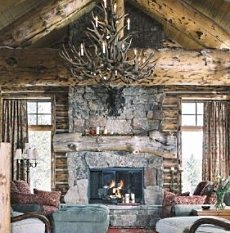 More Wood Fireplace Mantel Shelves
Following are two fairly large country stone fireplaces.  As wide as they are tall, the overall massing is solid and substantial. Adding to the monumental-
ity of the design in the example at right,  below,  are  the large square and rectangular cut granite stones used to surround the firebox,  as well as the hefty wooden beam serving as a mantel shelf.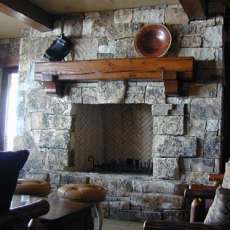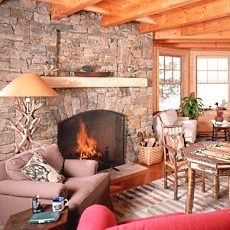 More Monumental Stone Fireplace Designs!
The precisely cut and assembled square and rectangular stones in the fol-
lowing  example  present  a  striking contrast to the irregular mantel shelf. Crafted from a single piece of stone,  the  facing of the undulating mantel shelf has a rough, hand-chiseled finish.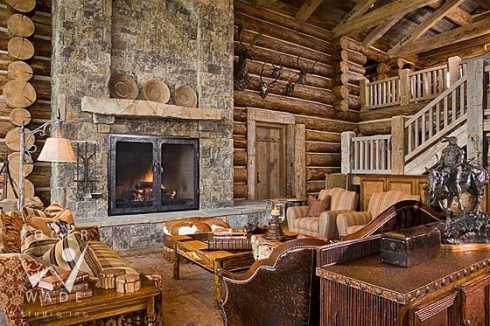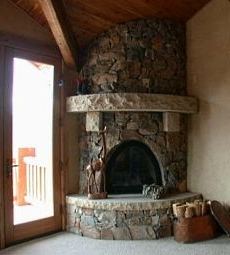 If  the flavor of the American desert southwest is more to your liking, the following  designs  may  be closer to what you have in mind. Though gen-
erally  made  of  adobe,  plaster   or stucco,  the  unusual  kiva  fireplace pictured  at  right  is  crafted   from
stone.    A beehive-shaped fireplace,
the   kiva   echoes   the  ceremonial chambers of the Southwest's Native Americans. Smooth and gently round-
ed  with  a distinctive arched firebox opening,  kivas are built with shallow, angled  walls  that radiate heat out-
ward.     Corner placement enhances
the kiva's curves as it bows gently in-
to the room.
The fieldstone and river rock fireplace pictured below, left, was inspired by the Mission Revival Style.     A popular style of architecture in the western and southwestern regions of the United States, it is derived from the early Spanish missions that originally dotted the western landscape.
The Native American-inspired design pictured below, right, uses a light col-
ored stone arranged in a random mosaic pattern.      Flanked  by  naturally finished cabinetry of popular southwestern design, it contrasts sharply with the  darker,  "heavier"  look and feel of the other two designs and provides an  alternate method of creating an appropriate look and feel for a cowboy country stone fireplace design!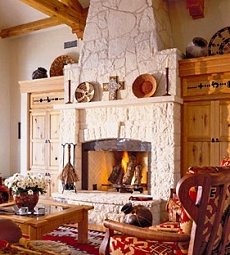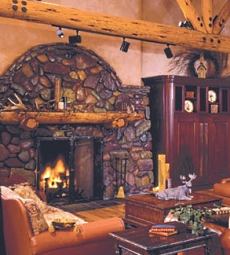 More Fieldstone Fireplace Designs

More Southwest Style Fireplace Designs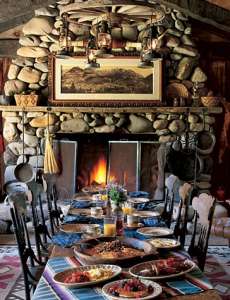 And finally, the massive -- albeit cozy --  river stone fireplaces at right  and below  are  picture-perfect  examples
of  the  ideal  cowboy  country  stone hearth.   Few settings ooze the ambi-
ance,  warmth and nostalgic charm of the two designs shown here!

More River Stone Fireplace Designs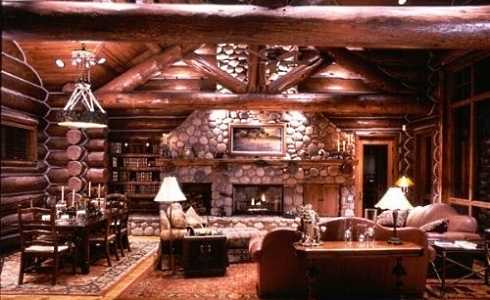 Please check back often or subscribe to our RSS feed,  as  we  fre- add new images of country stone fireplaces to our site.
YOU MAY ALSO LIKE:





The Country Stone Corner Fireplace -
Cozy, Casual & COLOSSAL!





Rustic Rock Fireplace Designs -
The Spirit Of The Old West Lives On!






MORE Country Stone Fireplaces -
Country Rock Meets Rolling Stones!
Back to Stone Fireplace Designs
Back to Stone Hearth Categories
Back to Standout Fireplace Designs Home Page
Didn't find what you were looking for?
Use this search feature to find it.
LIKE THIS PAGE?