The Carved Fireplace Mantle Shelf
A Cut Above The Rest!
The carved fireplace mantle shelf designs featured here showcase the ex-
traordinary work of Ron Ramsey . . . . .
. . . A true master craftsman and keen observer of his subject matter,  his hand carved flora and fauna are so realistic it appears as if they will spring to life at any moment!
Ron  has  been  a professional wood carver and sculptor for nearly four de-
cades.  After apprenticing at a professional wood carving studio and devel-
oping his craft in the United States for several years,  he moved to Europe, where  he  worked in Switzerland and Italy to further hone his skills before returning to the U.S. His current studio, Carved by Ramsey, is based in the Sierra Nevada Mountains near Lake Tahoe.
The carved fireplace mantle shelf pictured directly below,  with a close-up view beneath it, as well as above, right, clearly demonstrates his skill as a master artisan. You can almost feel the life-like fur on the bear cubs!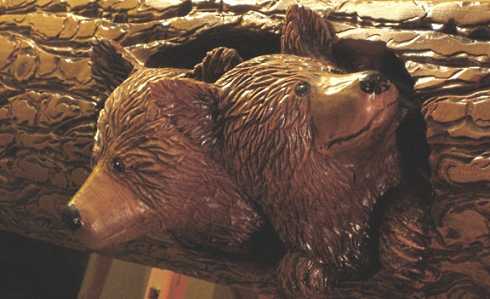 The stunning design that follows features an elaborate wildlife scene of  a mama raccoon plying the rocks of a boulder-strewn stream as she tries to catch a large fish to feed her babies. The carving is absolutely flawless!.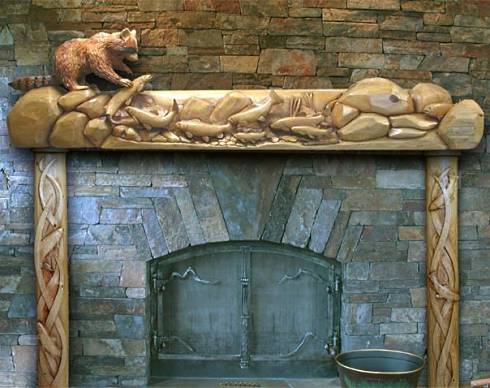 In the close-up that follows, note the realistic appearance of the raccoon and the fish.  Also note the beautiful wood grain pattern and finish on the rocks and fish included in the scene.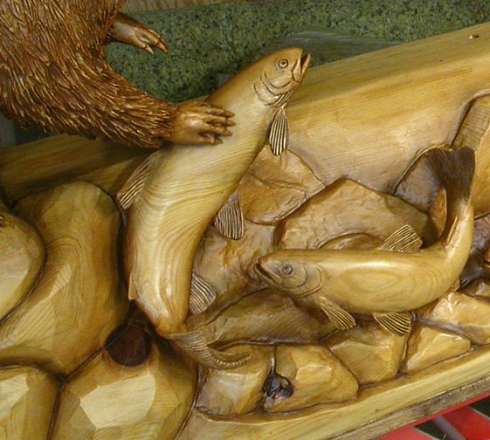 The  two  images  that  follow  show  how  the  elaborate carving extends around  the corners of the fireplace mantle shelf and includes a surprise or two . . . a pair of baby raccoons cleverly concealed behind a large boulder!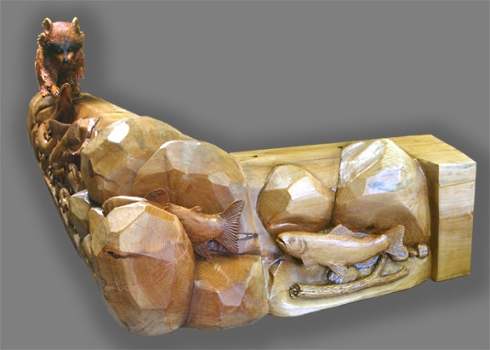 The following three images feature a finely carved and exquisitely detailed wood fireplace mantel shelf with quail in a woodland setting.
The close-up that follows shows more of the detailing,  including  a  little squirrel at lower right.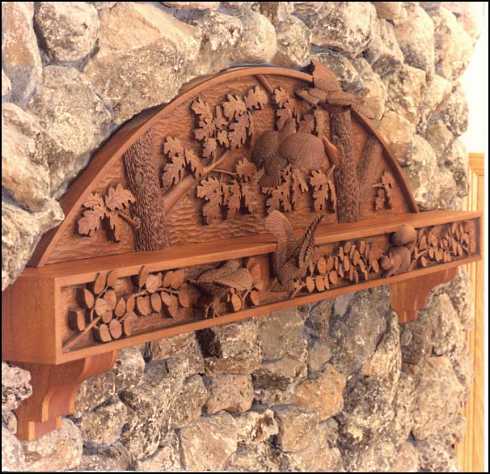 An even closer close-up highlights some of the incredible attention to de-
tail in this scene.   You can almost feel the softness of the quail feathers and hear the rustle of the oak leaves from this perspective!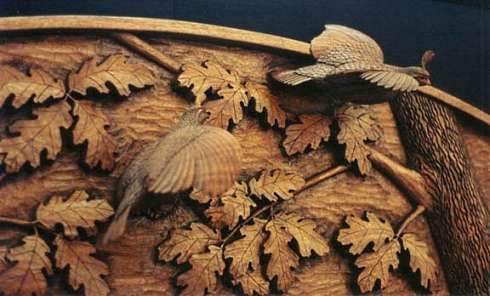 The equestrian scene that follows is also beautifully crafted.   Its balance and symmetry give it a more formal appearance.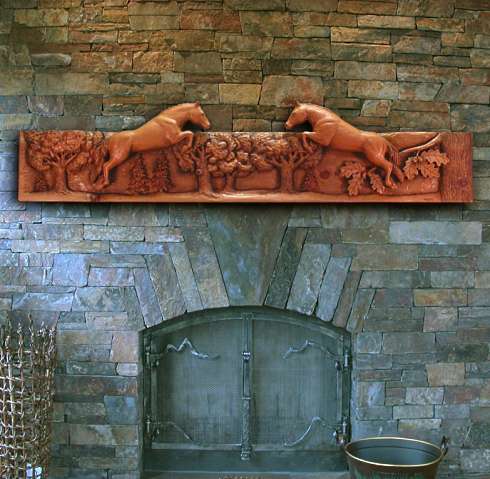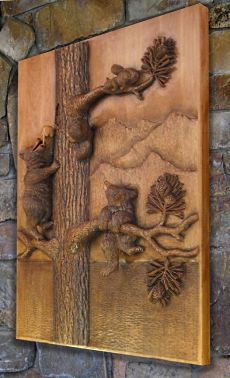 The panel carved in three  dimensional high relief shown at right was designed for use as an overmantel.   It features three bear cubs attempting to get into some newly discovered honey . . . . .
. . . However, in the close-ups that follow, it appears it may not have been such a good idea, after all!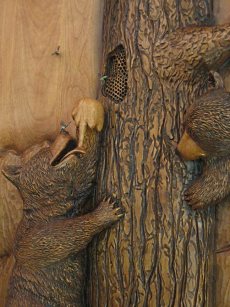 And finally,  the image that follows gives us a straight-on view of this de-
lightful wildlife scene!
Each fireplace mantle shelf is custom made and specifically tailored to the needs and budget of the individual client.     In addition to wood fireplace mantel shelves, Ron Ramsey creates a host of other products that reflect his outstanding craftsmanship, including hand carved doors, wildlife sculp-
ture and architectural wood carving.    Please be sure to visit his website, Carved by Ramsey, to see more of his extraordinary work!
---
Please check back often or subscribe to our  RSS feed,  as  we  fre- quently add new fireplace mantle shelf designs to our site.
YOU MAY ALSO LIKE:

More Custom Fireplace Mantle Shelf Designs -
Standout Wood Fireplace Mantel Shelves!
Back to Fireplace Mantel Shelves
Back to Standout Fireplace Designs Home Page
Didn't find what you were looking for?
Use this search feature to find it.

LIKE THIS PAGE?