Log In to Log Home Fireplaces!
The log home fireplaces featured here are built with skill and craftsmanship not seen since since the era of the Adirondack Great Camps (1870-1930) . . . . . . .

Present-day interpretations of the Adirondack Style are being artfully crafted in log and stone by a new generation of designers and builders.  Like their predecessors, they are skillfully blending the rustic with the refined to create luxury while simultaneously maintaining a patina of rusticity! 

True to the spirit of the Adirondack Style, a massive stone fireplace anchors and dominates the vast open space of the great room.  Both the focal point and, rightly so, the most important furnishing in the room, it beckons all to gather around it!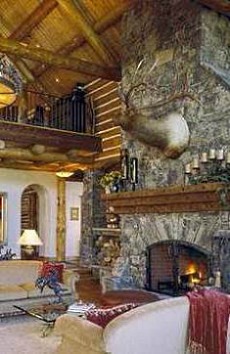 Frequently crafted from native stone collected near the site - typically riv-
er rock, granite, fieldstone, limestone, or slate - the stones are assembled to look as natural as possible. Often, the varying size stones fit tightly to-
gether with little, if any, visible mortar.     The  individual  stones  are  not placed in any particular pattern but,  rather, are randomly positioned for a more natural appearance.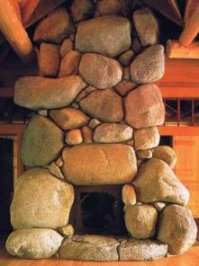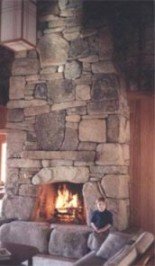 More Log Home Fireplaces
No longer confined to the mountainous region of upstate New York from which it takes its name,  the  Adirondack Style  has migrated westward, leaving its imprint on the landscape all the way to California. It links the present with the past and provides an opportunity for innovative design-
ers and builders to take simple and natural materials to new heights!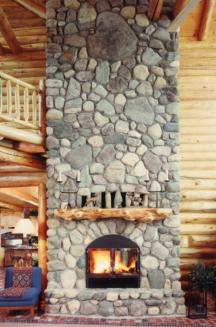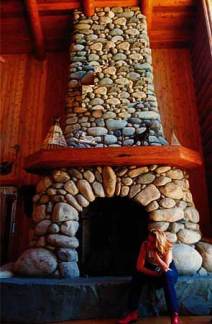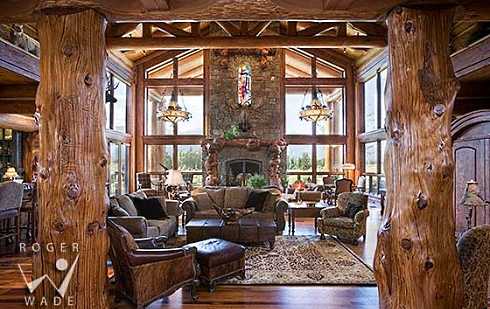 What this gives you, the homeowner, is a superb, hand crafted hearth of the highest quality available today.  One tailored to your lifestyle, location, budget, and personal style.
Please check back often or subscribe to our  RSS feed,  as  we  fre- quently add new log home fireplace designs to our site.
YOU MAY ALSO LIKE:

Rustic Rock Fireplace Designs -
The Spirit of the Old West Lives On!

Craftsman Style Rock Fireplaces
Back to Stone Fireplace Designs
Back to Standout Fireplace Designs Home Page
Didn't find what you were looking for?
Use this search feature to find it.

LIKE THIS PAGE?