Brick Patio Designs for Fireplaces
Brackets & Built-Ins!
The brick patio designs for fireplaces featured here are not only beautiful . . . . . but practical, as well, such as the striking brick fireplace pictured below by Baker Masonry!
They feature an array of brackets,  or corbels  to  support shelving, including the mantel shelves.    They also incor-
porate  built-in seating and storage ar-
eas  for  firewood  and  outdoor grilling utensils. Some even boast built-in bar-
becues and pizza ovens!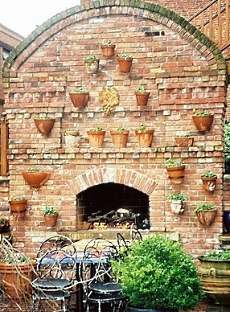 The brick patio fireplace design pic-
tured  at  right may hold the record
for  the most corbelled shelves on a single fireplace!  Effectively used to display  and  grow  a  large  potted
plant collection,  the shelves -- and vegetation  --  break up and soften
the  large  expanse  of brick used in
this design.
Though  elegant  in  its  simplicity,  the  brick fireplace pictured below, left, features a lovely corbelled mantel shelf and raised hearth. Below, right, is a more  elaborate  design  with  a  "broken" corbelled mantel shelf, as well as corbelling near the chimney top.  For added architectural and visual appeal, large stones have been incorporated in the raised brick hearth.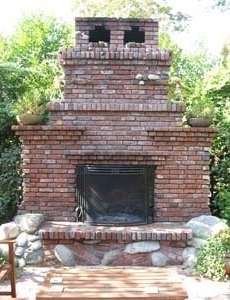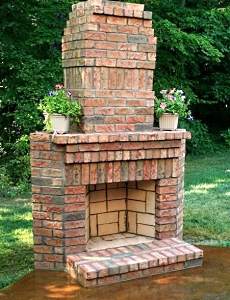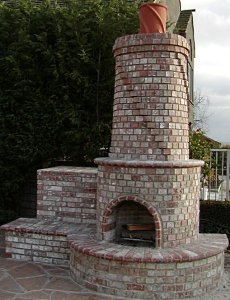 Pictured  at  right  is a unique kiva fireplace design crafted from bricks. This stunning  design  comes  com-
plete with built-in seating.




More Kiva Fireplace Designs
The larger brick fireplace design pictured  below  features  enough  built-in seating for several people. Its beautiful neo-classic lines render it timeless!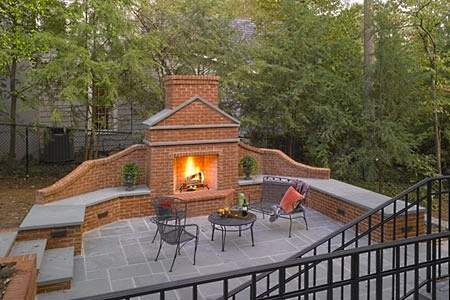 The  striking  curved  design that follows features both built-in seating and two storage areas for firewood. A large bracketed or corbelled mantel shelf spans the top of the firebox opening.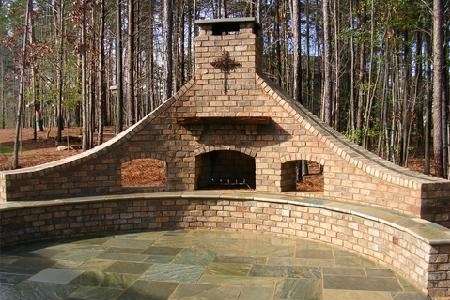 More Brick Patio Designs for Fireplaces
The  beautiful  outdoor  brick  design pictured  at  left and below is by Su-
perior Clay Corporation in Uhrichsville, Ohio. It comes complete with a Rum-
ford style fireplace and a built-in bar-
becue and pizza oven. Accenting the brickwork  is  a  series of contrasting glazed tiles.
And finally, the brick patio design that follows is by Darrin Gray Corporation in Mesa, Arizona. It features another Rumford fireplace, as well as a built-in barbecue and pizza oven.   The strategic placement of a series of light col-
ored bricks adds contrast and visual interest to the overall composition.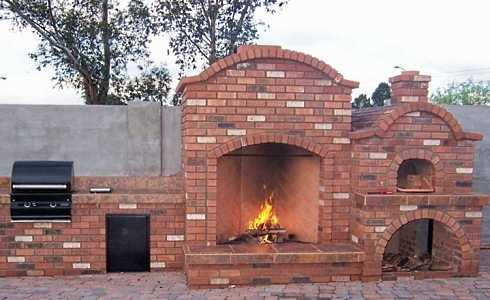 See More Rumford Fireplace Designs

Please check back often or subscribe to our  RSS feed,  as  we  fre- quently add new images of patio designs for outdoor fireplaces to our site.

YOU MAY ALSO LIKE:




More Brick Patio Designs for Fireplaces -
Delectable Decorative Detailing!





The Brick Outdoor Fireplace -
So Much MORE than Bricks & Mortar!


Return to All Outdoor Fireplace Designs
Return to Standout Fireplace Designs Home Page
Didn't find what you were looking for?
Use this search feature to find it.
LIKE THIS PAGE?