Standout River Rock Fireplaces...
Cottage Cuties!
The river rock fireplaces featured here are great for cottages of all sorts . . . . . from light and airy beach cottages, to Craftsman cottages with richly stained wood accents!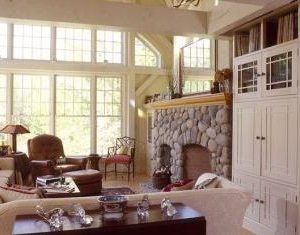 The veritable masterpiece pictured at left  is  by  master stone artisan, Lew French.    Framed with driftwood, the area  above the mantel shelf features an  intricate arrangement of branches, twigs and stones.
See More Stunning Fireplace Designs
By Lew French!


A romantic cottage garden with a stone arch bridge by Gallegos Corp. is a great precursor to the picturesque cottage hearths that follow!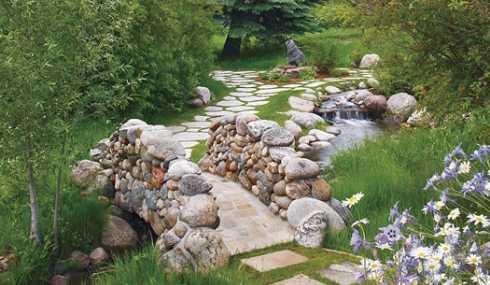 The two designs pictured below feature arched firebox openings surround-
ed  by  small stones that have been carefully positioned and symmetrically arranged . . . . .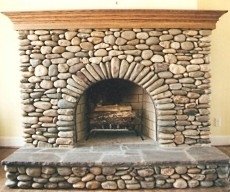 . . . . . while  the  following design is notable for its random placement of medium size stones -- both river stones and fieldstones -- in a variety of shapes and colors.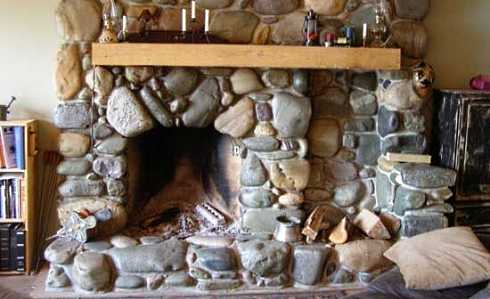 The river stone hearths that follow present a study in contrasts.   Below, left,  is a rustic floor-to-ceiling design with randomly positioned stones in varying sizes and shapes. Conversely, the design pictured below, right, is crafted from uniformly sized stones that have been carefully positioned in horizontal rows, then capped with an elegant painted wood mantel shelf.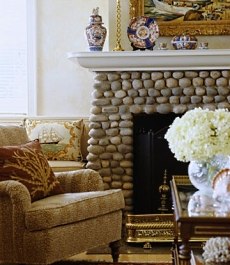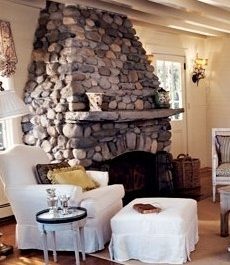 More Wood Fireplace Mantel Shelves
More Fieldstone & River Rock Fireplaces
Following are two fireplace designs in light and airy cottages. Once again, the design pictured below right, from Timberpeg, is crafted from a combi-
nation of river rock and fieldstone.
The designs that follow feature river rock and fieldstone surrounds in lovely shades of blue and blue-grey.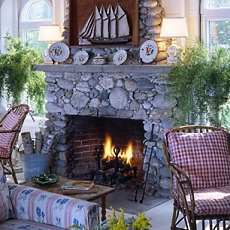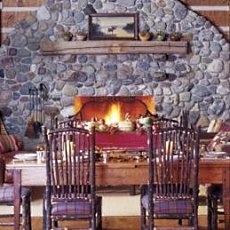 True to form, the Craftsman inspired designs that follow feature attached and/or surrounding architectural elements of richly stained wood.   A cozy inglenook enhances the inviting look and feel of the design pictured below, left.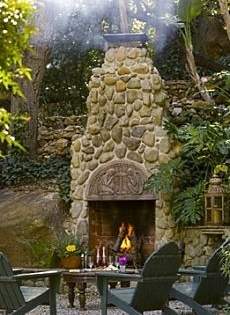 And  finally,  the fieldstone and river rock surrounds pictured at right and below  expand the living area to the out-of-doors,   while  continuing  to maintain a cottage look and feel!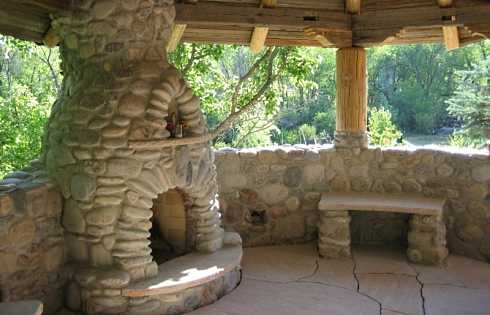 Please check back often or subscribe to our RSS feed,  as  we  fre- quently add new stone hearth designs to our site.
YOU MAY ALSO LIKE:





More River Rock Fireplaces -
All Time Favorites!




Standout River Stone Fireplace Designs -
A River Stone Fireplace Rocks!





Standout River Rock Fireplace Pictures -
Real Rock Stars!





The River Stone Fireplace Surround -
Soaring Skyward!





Standout Riverstone Fireplaces -
Cozy Cabin Hearths!
Back to All Stone Fireplace Designs Guide
Back to Stone Fireplace Designs Overview
Back to Standout Fireplace Designs Home Page
Didn't find what you were looking for?
Use this search feature to find it.
LIKE THIS PAGE?