The Outdoor Patio Fireplace...
Homeside to Poolside!
The outdoor patio fireplace designs featured here range from rugged and soaring house-hugging hearths attached to the outside wall of a home . . . to elegant poolside models designed to take away the chill after a romantic late night swim!
The two outdoor patio fireplace designs that follow feature traditional styling and dramatic, oversize chimneys that extend up the side and above the roof of each home.  Crafted from natural stone,  they make an impressive design statement!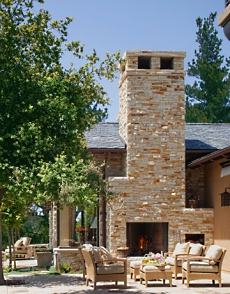 Equally impressive  --  but in a much more rustic style  --  is the striking fireplace design pictured below. Beautifully captured through the camera lens of one of the talented individuals at Roger Wade Studio, this rugged design is crafted from fieldstone.
See More Outdoor Fieldstone Fireplace Designs
More Outdoor Patio Fireplaces
Moving away from the sidewall of the home . . . to just beyond . . . are the outdoor hearths in the covered patio designs that follow  --  each of which features an arched firebox opening.  Below, left, is a handsome stucco fireplace that has been mellowed with a soft, pale tint.  Below, right, a bluestone fireplace contrasts beautifully with the pristine white Tuscan columns that "frame" it, as well as the ceiling overhead.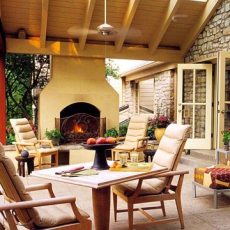 See More Covered Patio Designs for Outdoor Fireplaces
The striking outdoor patio fireplace that follows is by Landscape Aesthetics in Bernardsville,  New Jersey.     It rests on a beautiful stone terrace with a lovely pergola in the foreground.
A  pergola  is  also  included on one side of the unique stone hearth design pictured below  from  Seasons  Landscaping  in  Laguna  Beach, California. However, what makes this unusual outdoor fireplace design truly innovative is the "living wall" that features an assortment of live, growing vegetation!
See More Patio Pergola Designs for Outdoor Fireplaces
Pictured  below  is  another  handsome stone patio fireplace design from Landscape Aesthetics in New Jersey. A low curved wall extends from the raised hearth on either side to form the perimeter of a circular patio with smooth stone flooring.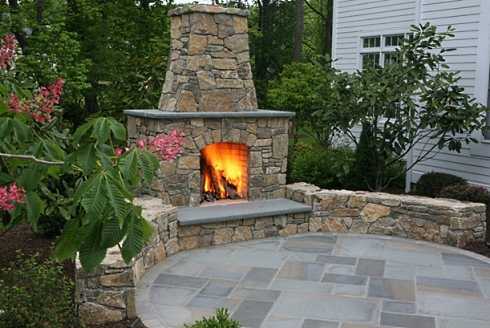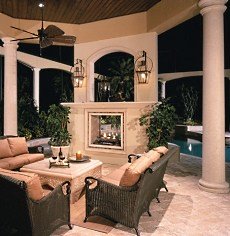 Each  of the covered patio designs that follow features a poolside setting and an outdoor fireplace that is more formal in appearance than those shown up to this point.  To enhance the view of the pool area, the see-through fireplace design pictured at right also includes an overmantel with a large "window" framed by elaborate mouldings.  Classical columns support the patio roof.
The poolside patio pavilion that follows features a hipped roof design and open ceiling supported by large classical columns.     An elegant fireplace mantel  is  centered on the brick wall at the rear, with an equally elegant mirror resting on the mantel shelf.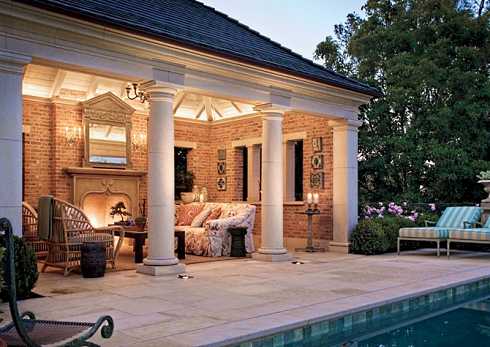 See More Patio Roof Designs for Outdoor Fireplaces

Please check back often or subscribe to our  RSS feed,  as  we  frequently add new images of outdoor fireplace designs to our site.
YOU MAY ALSO LIKE:


More Outdoor Patio Fireplace Designs -
Great Styles & Materi'ALS!



Hot Patio Ideas for Fab Fireplace Designs!
Back to Outdoor Fireplace Designs
Back to Standout Fireplace Designs Home Page
Didn't find what you were looking for?
Use this search feature to find it.

LIKE THIS PAGE?