Outdoor Gas Fireplace Options...
Custom Looks without the Costs!
The immense popularity of the outdoor gas fireplace in recent years has fueled the demand for a host of new product options . . . . . products that offer convenience, style and affordability!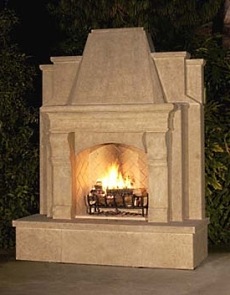 To meet the demand, a number of manufacturers now produce gas fireplace models that can be cus-
tomized by the homeowner, in ad-
dition to standardized models that
are "ready to go."  Some manufac-
turers also offer a variety of style
and color options to give home-
owners an opportunity to coordi-
nate their outdoor fireplaces with
the architectural style and exteri-
or color scheme of their homes.
The fireplace pictured at right is a
fine example of the range of prod-
ucts being developed to meet the demands of today's homeowner.
Made from  glass fiber reinforced concrete, or GFRC, with a refractory cement firebox, it is one of several models available from the same manufacturer and comes in nine color choices.
The three photos directly below show another model from the same manufacturer, as well as some of the available color options.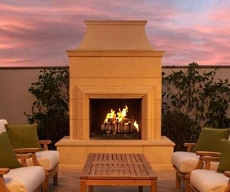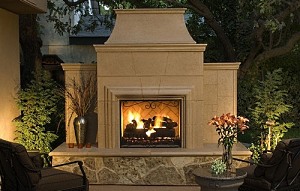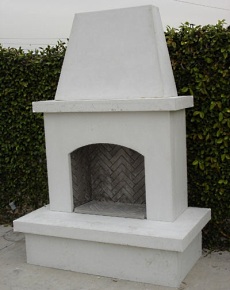 For homeowners that want more of
a custom look, or that want to finish their fireplace with the same stone, brick, etc., that's on their home, the above-referenced manufacturer also offers a stripped down model, shown   at right.   The four images that follow demonstrate some of the ways in which it can be finished -- from faux painted stone to real stone.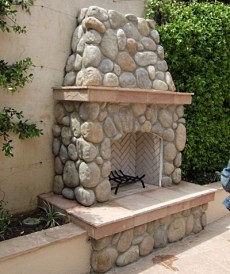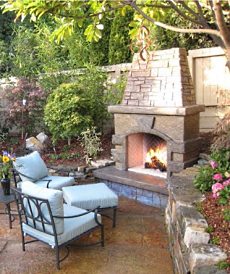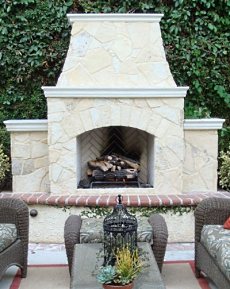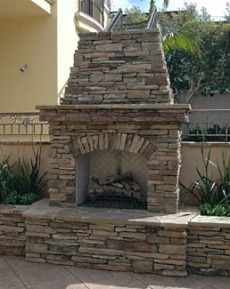 The next four images depict an outdoor gas fireplace model from another manufacturer. This particular model, available in five colors, can be left
"as is," or can be finished with another material, such as the stone facing shown in the two lower photos.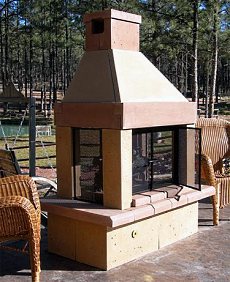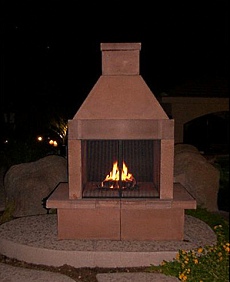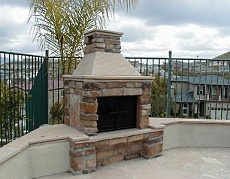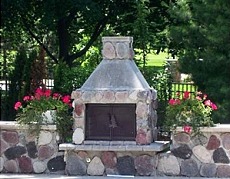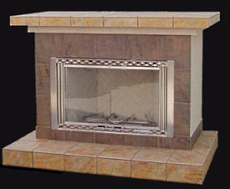 The photo at right, as well as the
four images that follow, show an-
other fireplace model from yet an-
other manufacturer. Though the stainless steel fireplaces shown in   each photo are identical, the man-
tels and/or surrounds are very dif-
ferent. In this instance, the manu-
facturer offers optional fireplace surrounds, such as the tile and stuc-
co mantel at right.     Alternatively, homeowners may opt for something
completely different, as shown below.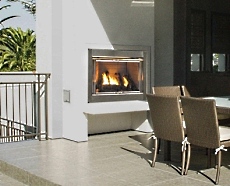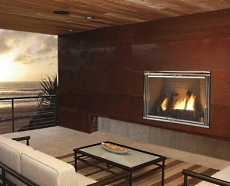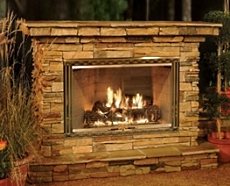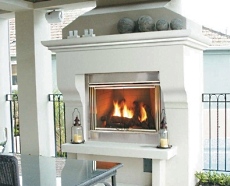 Clearly, manufacturers are attempting to meet the demands of today's consumer by offering a wide and varied range of options.   No longer con-
tent with "one size fits all," homeowners are now able to pick and choose from among a multitude of options to get the outdoor gas fireplace that's just right for them. One that gives them a custom tailored look without the cost!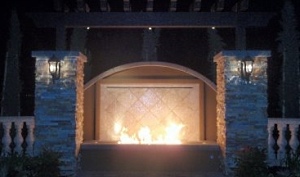 Please check back often or subscribe to our  RSS feed,  as  we  fre- quently add new outdoor fireplace designs.
More Outdoor Gas Fireplace Options
Back to Outdoor Fireplace Designs

Back to Standout Fireplace Designs Home Page
Didn't find what you were looking for?
Use this search feature to find it.

LIKE THIS PAGE?