Outdoor Masonry Fireplace Designs
Real Long-Term Value!
Outdoor masonry fireplace designs, like their indoor counterparts,  encom-
pass a wide and diverse range of styles and finishing materials to give the homeowner a veritable smorgasbord of design possibilities.   Solid and sub-
stantial,  they  are  built  to last a very long time and offer real long-term value!
Striking Outdoor Fireplace Design
Above by Locati Architects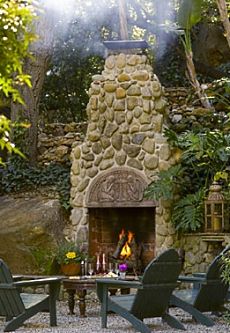 Utilizing  a  combination  of  concrete, brick  and  firebrick  to  construct the foundation  and firebox,  along with a clay-lined  chimney  flue,  a  masonry fireplace is extremely durable. As with indoor  designs,  the  outside  of  the fireplace and chimney can be finished with  any  material  or combination of materials   the   homeowner   desires,
such  as  the  enchanting   river rock
design pictured at right.
The   two   striking  outdoor masonry fireplace designs pictured below, with tall  fireboxes containing slanted side-
walls, are Rumford fireplaces . . . one  of  a  handful  of  masonry firebox de-
signs  that  are  built  entirely on site. Each  example  is  beautifully finished with cut stone.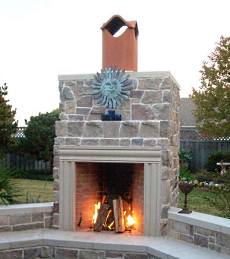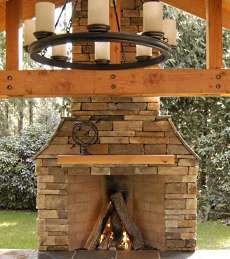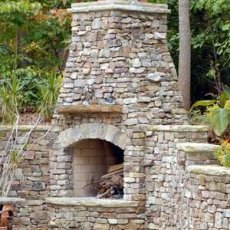 In  addition  to  Rumford and other
site-build designs, a relatively new technology   has  been  developed
that makes it possible to construct
a  masonry  fireplace  and chimney  with  precast factory-built modular units made of pumice -- or volcan-
ic  rock.    The  firebox is lined with standard  firebrick,  as  pictured  in
the example at right.
The  precast modular units offer the look of a traditional site-built mason-
ry  fireplace,  but  with  less weight  and  expense.    As  with  the  entirely  site-built  masonry fireplace,  the outside of the fireplace and chimney can be  finished  with your choice of materials for a completely custom tailored look.
Material Options for Outdoor Masonry Fireplaces
The images below provide a study in contrasts. The fieldstone fireplace on the  left,  with  its  naturally irregular stone shapes and sizes,  looks  right at home in a woodsy outdoor setting. On the other hand, the carefully laid cut  stones  with brick accents on the fireplace at right are ideal in a more formal setting of manicured lawns.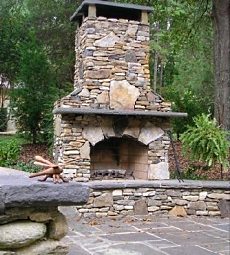 Another  popular material choice for outdoor hearths is brick,  as pictured below.    The herringbone pattern in the center of the chimney at left, as well as the neo-classic detailing and combined use of finishing materials in the  bottom  example,  add  interest and individuality to these striking de-
signs.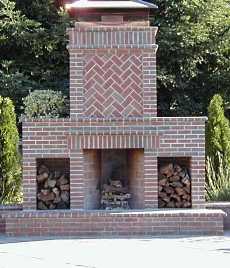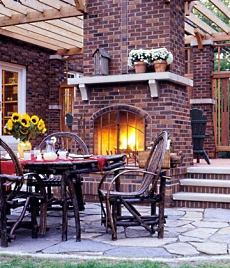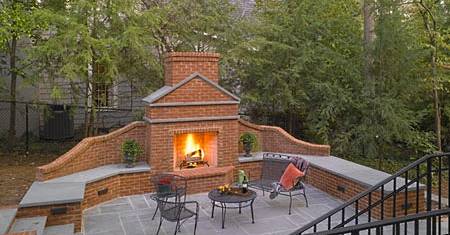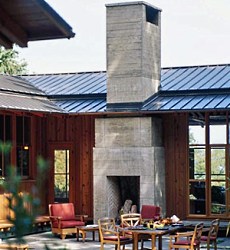 Concrete is also becoming increasing-
ly  popular  as  a finishing material for outdoor fireplaces,  as  shown  in the example at right.
The  three  designs that follow impart the flavor of the American southwest, albeit  with individual material choices, including stone,  concrete and stucco. The  elaborate  stepped design of the
Kiva fireplace (bottom) lends visual in-
terest and distinction to this tradition-
ally inspired hearth.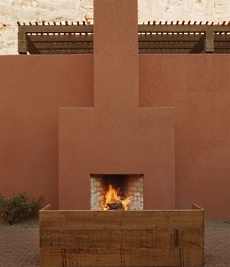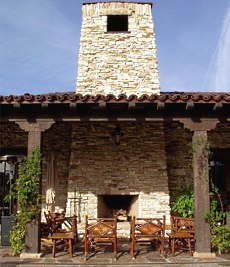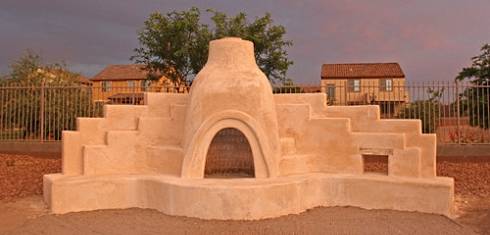 Going  beyond  the  Spanish influence found in American southwestern de-
sign, if a Spanish Revival style or other Spanish inspired fireplace design is what you have in mind, the following examples may be a good fit.  Though most  are  finished  primarily with stucco,  the addition of another material such  as stone and the strategic placement of colorful tiles in some of the examples  add  visual  delight and elements of personal style to these fine outdoor masonry fireplace designs.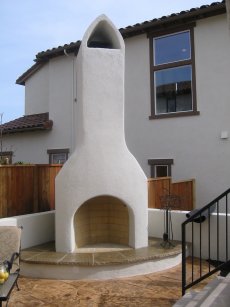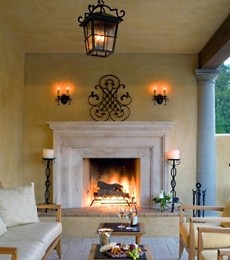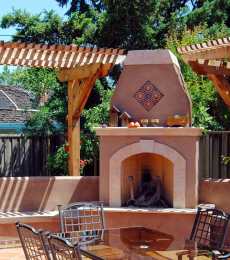 More About Spanish Revival Style


Regardless of the style or material type(s) you choose, your outdoor masonry fireplace will add real long-term value to your home.  More importantly, it will provide an ideal setting for a lifetime of cherished memories with family and friends!
Please check back often or subscribe to our RSS feed,  as  we  fre- quently add new designs for outdoor masonry fireplaces to our site.
YOU MAY ALSO LIKE:





More Outdoor Masonry Fireplace Designs





Indoor Masonry Designs - A World Of Style!





Masonry Fireplaces - Material Matters





Stone Masonry Fireplace Designs - Solid As A Rock!
Back to Outdoor Fireplace Designs

Back to The Masonry Fireplace - Made to Last!
Back to Standout Fireplace Designs Home Page
Didn't find what you were looking for?
Use this search feature to find it.
LIKE THIS PAGE?