Outdoor Brick Fireplaces...
Delectable Decorative Detailing!
The striking outdoor brick fireplaces shown here feature meticulous atten-
tion to detail.    Carefully handcrafted one brick at a time,  the designs showcase the skill and craftsmanship of the brick artisans that created them!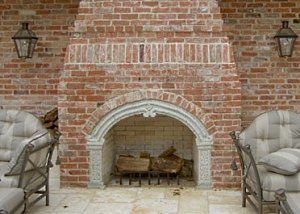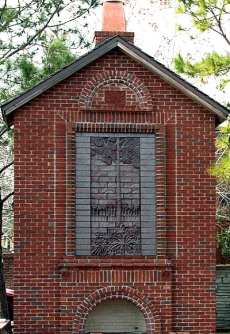 A  host  of  creative  methods  were employed  to make each of the brick fireplaces featured here truly unique. From layering the  brickwork . . . . to introducing  contrasting  materials as accents . . . . . to  creating intricate decorative panels such as  that  pic-
tured  at  left, each of the designs is distinctive and unlike any other!
The traditionally styled design  pictured  below,  left,  features  an  arched firebox opening framed by a raised layer of rounded brick tiles.  The layered raised hearth features a band of vertically oriented bricks to tie in with the risers of the stairs adjacent to the fireplace.    Tying it together further is the material used for the stair treads,  which is replicated in the fireplace mantel shelf and brackets that support it.
Pictured  below,  right,  is an outdoor corner fireplace in a more contempo-
rary style. It steps upward and inward on the upper left side.     For added visual  interest,  vertically  oriented  bricks span the top and bottom of the firebox opening.    Beneath that, a square panel of diagonal brickwork lends further visual interest.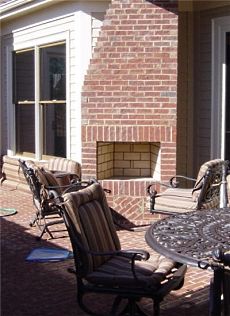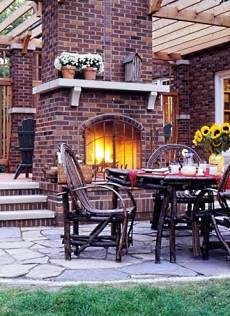 The covered outdoor brick fireplace pictured below, left, is neatly tucked in a niche at the end of a stone-floored terrace.    A series of bricks project from the face and break up the massing above the firebox opening.
Pictured  below,  right, is a beautiful outdoor design by master artisan Clay Chapman.    Note the intricate detailing around the large arched firebox.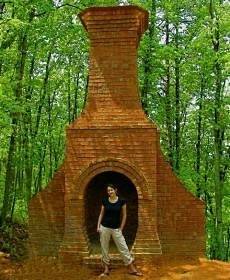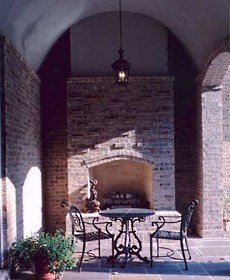 See More of the Extraordinary Work of Clay Chapman


The handsome design that follows features three arched openings -- all of which  are  framed  at the top by contrasting vertically oriented brickwork. The built-in openings flanking the central firebox  are  used  to  store  fire-
wood.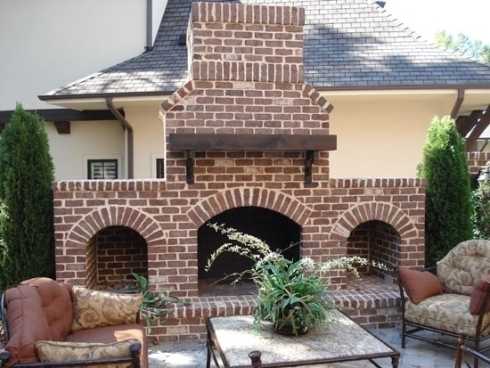 See More Outdoor Brick Fireplace Designs with Built-Ins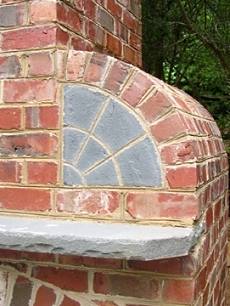 More Decorative Outdoor Brick Fireplaces
The  unusual  brick design  pictured below,   with  a  close-up  at  right, features elegant bluestone accents. Built-in seating  can  accommodate several guests when entertaining.
The striking design that follows incorporates a large curved, raised hearth, as well as flanking brick pedestals.    A prominent panel above the firebox opening features brickwork in a basket weave pattern.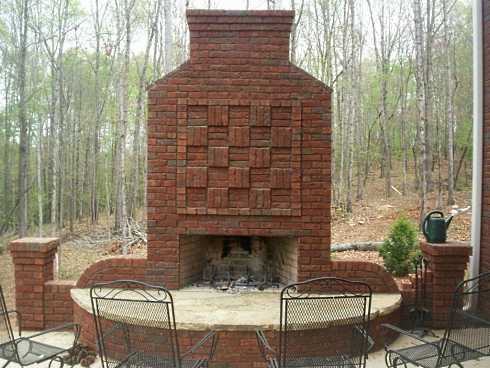 The stunning brick outdoor fireplace pictured below  features  rather  elab-
orate decorative detailing.    A Rumford style fireplace opening,  flanked by built-in storage areas for firewood,  is  topped  by vertically oriented brick-
work that is capped with lovely rounded brick tiling -- as is the raised brick hearth below.      The brick tiling also extends upward in horizontal rows to break up the massing.      A large rectangular panel just above the primary mantel shelf features  brickwork  in  a  beautifully  contrasting  herringbone pattern. Above that is another band of vertically oriented brickwork framed at top and bottom with more horizontal rows of rounded brick tiles.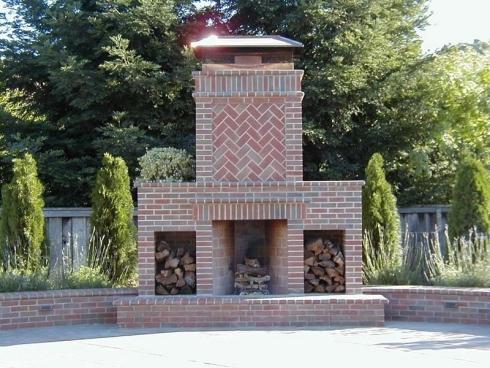 See More Rumford Fireplace Designs


And finally,  the outdoor brick fireplace in the covered patio design that follows features an arched firebox opening with unusually wide framing around it. The framing that flanks the sides of the opening is clad with brickwork in a contrasting herringbone pattern.   A raised hearth hand- crafted from stone eases the transition from the stone flooring to the
brick wall and projecting brick fireplace design above.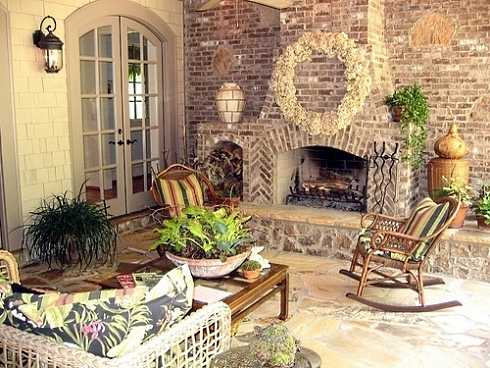 See More Covered Patio Designs for Fireplaces

Please check back often or subscribe to our  RSS feed,  as  we  fre- quently add new images of outdoor brick fireplaces to our site.
YOU MAY ALSO LIKE:


More Standout Outdoor Brick Fireplaces -
Brackets and Built-Ins!




The Brick Outdoor Fireplace -
So Much More than Bricks & Mortar!
Back to Outdoor Fireplace Designs
Back to Standout Fireplace Designs Home Page
Didn't find what you were looking for?
Use this search feature to find it.

LIKE THIS PAGE?