Outdoor Fireplace & Patio Pictures
Great Styles & Materi'ALS!
The fireplace and patio pictures featured here include a variety of styles, as well as a wide range of materials -- both singularly and in combination -- to create some very exciting and unique outdoor fireplace designs!
Pictured at left and at top of page is a handsome natural stone patio and fire-
place design by Landscape Aesthetics, based in Bernardsville, New Jersey.   It features  a  slightly arched firebox with a  prominent  keystone  centered  over the top of the opening.
The striking Craftsman Style outdoor patio fireplace that follows features a lovely fieldstone surround of varying size stones positioned randomly -- al-
beit deliberately -- for great effect!   Huge boulders form the hearth, while the mantel shelf is capped by small bricks with curved  or  rounded  edges. For  added  contrast,  the  chimney that extends above the mantel shelf is clad with stucco and given a textured finish. A few strategically positioned stones  are  partially embedded in the stucco to break up the massing and provide even more visual interest.
The two patio pictures that follow feature outdoor fireplace designs which combine brick and stone for dramatic effect.     The design pictured below, left, consists of a stone surround and mantel shelf with a brick overmantel and chimney. Note the decorative brickwork and panel just above the man-
tel shelf.
Pictured below, right, is a striking Rumford fireplace from Superior Clay Cor-
poration in Ohio.  While the surround consists of stone, the firebox, itelf, is framed  with  brickwork.    Extending above the brick mantel shelf is a brick chimney  combined  with  beautifully contrasting stone work at the corners --  reminiscent  of  that  used  on  English  period revival homes during the 1920s and '30s in North America.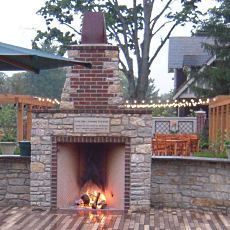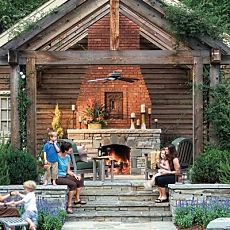 The  handsome design that follows was created by Cornerstone Masonry in Boise, Idaho.   Though essentially crafted from bricks, it features stone ac-
cents  around  the  firebox  opening, as well as a stone-capped hearth and mantel shelf.
See More Patio Designs for Outdoor Brick Fireplaces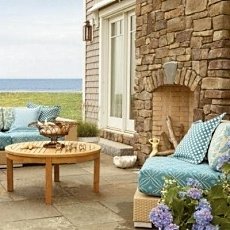 The outdoor fireplace designs pic-
tured at right and below are made
of cultured stone.  The top of the arched firebox opening at right  is framed  by  wedge shaped stones,
or voussoirs, and a large keystone
in the center.


More Cultured Stone Patio Fireplaces

Conversely,  the  striking cultured stone design that follows does not have an actual arched firebox opening.     However,  the stone work around the firebox  is  designed  to  simulate  or  give  the illusion of an arched firebox opening.  Other features of this design include a raised hearth with built-in seating, as well as decorative built-in storage areas for firewood.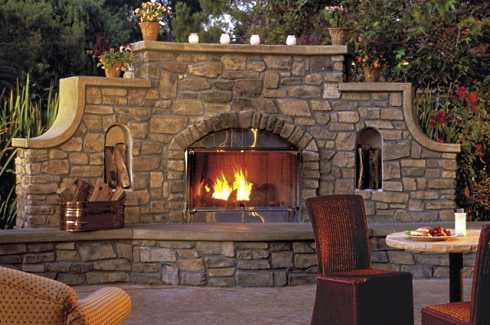 See More Patio Designs for Outdoor Fireplaces with Built-Ins
More Fireplace Patio Pictures
The  focal  point of the covered patio design that follows is a fireplace de-
sign from AAA Cast Stone in Palmetto, Florida.    Made of cast stone,  it features built-in seating on either side of the hearth, as well as a recess above the mantel shelf for a flat screen TV.
See More Covered Patio Designs for Outdoor Fireplaces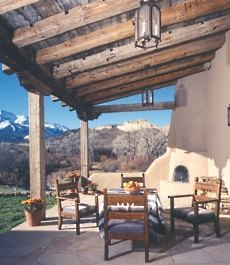 The covered patio design at right features a soaring Kiva style fire-
place. Its lightly colored adobe or stucco exterior  contrasts  nicely
with  the  weather-worn wooden
posts  and  ceiling  timbers over-
head.
And finally, the lovely Spanish Style fireplace that follows features a stucco exterior with colorful tiled accents around the firebox opening, as  well as along the mantel shelves and the elaborate raised hearth design.  The fire bricks lining the firebox interior are laid in an attractive herring- bone pattern.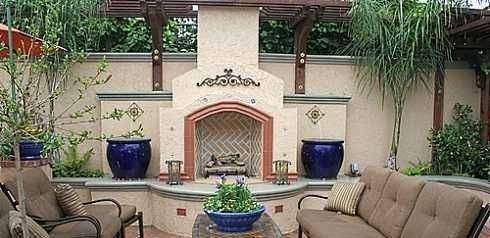 See More Spanish Style Fireplace Designs

Please check back often or subscribe to our RSS feed,  as  we  fre- quently add new outdoor fireplace and patio pictures to our site.
YOU MAY ALSO LIKE:

More Outdoor Fireplace & Patio Pictures -
Hot Patio Ideas for Fab Fireplace Designs!



The Outdoor Patio Fireplace -
Homeside to Poolside!
Back to Outdoor Fireplace Designs
Back to Standout Fireplace Designs Home Page
Didn't find what you were looking for?
Use this search feature to find it.

LIKE THIS PAGE?