Contemporary Patio Fireplace Designs
"Steel"-ing the Spotlight!
Contemporary patio fireplace designs are "steel"-ing the spotlight, so to speak.  Made from numerous forms of steel such as Corten, galvanized and stainless  . . . . and sporting a variety of striking finishes including polished, brushed, painted, acid etched and oxidized . . . the modern outdoor hearth is quite unlike anything we've seen before!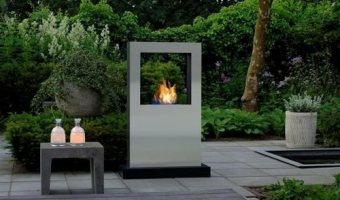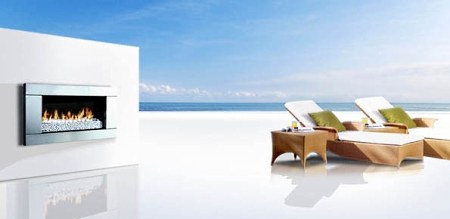 From built-in . . . . . . . to free standing . . .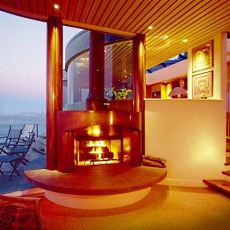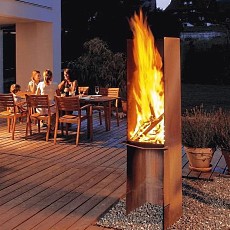 wall hanging . . . . . . . to ground hugging . . .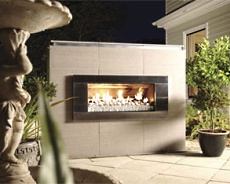 the patio fireplace made from steel, in all its many forms, is definitely "in!" Curved,  cast, rolled and stacked, hammered, cut and curled . . . steel is formed into a multitude of shapes and sizes to create unique and exciting outdoor hearths.
The steel can be painted, as shown in the following examples . . .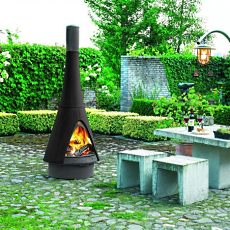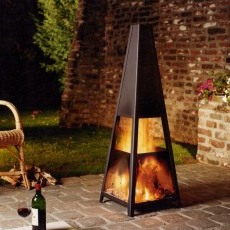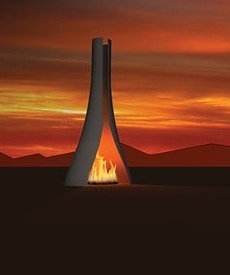 or it can be left to oxidize, as is commonly done with Corten steel,  a spe-
cial steel designed to weather or age to a rich, velvety dark brown or cop-
per patina that will improve with time. (See images below)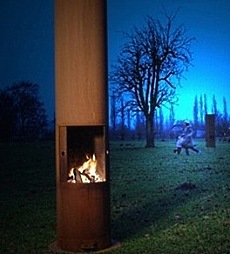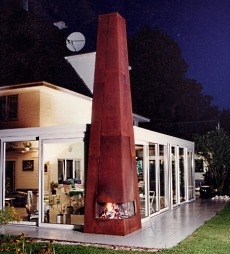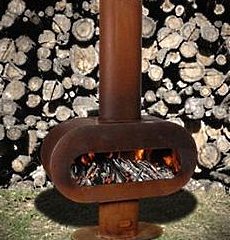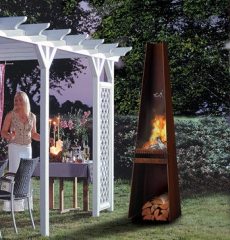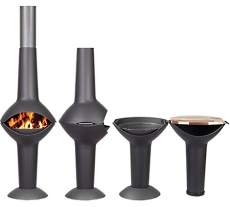 Some of the backyard fireplaces pictured above also double as bar-
becue grills  and are excellent for outdoor cooking.  One such model, shown again in the image at right, demonstrates  its versatility  as a fireplace hood and chimney, as well
as a fold down tabletop for use in backyard grilling.
The following two fireplaces, though very different from one another in ap-
pearance, are both made of stainless steel . . . stainless steel rods on the left and a polished stainless steel surround on the right.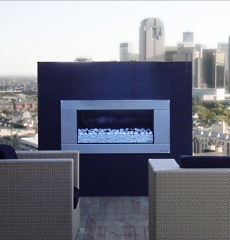 And finally,  the striking wall hung torches pictured below come with stain-
less steel fronts and decorative glass embers, and make a great addition to an outdoor room!
Please check back often or subscribe to our RSS feed,  as  we  fre-
quently add new outdoor fireplace designs to our site.

Back to Outdoor Fireplace Designs
Back to Standout Fireplace Designs Home Page
Didn't find what you were looking for?
Use this search feature to find it.

LIKE THIS PAGE?