Outdoor Fireplace Design
Patios, Porches, Pools & Pergolas!
The striking outdoor fireplace design images shown here feature unique outside hearth designs in a variety of beautiful settings . . . . .

         . . . and provide inspiration and a host of
         creative ideas to help you plan your own
         exciting outdoor fire space!
The soaring outdoor fireplaces that follow were  created  by  Peter  Divine Masonry in Ontario, Canada.    Each of the designs extends up the home's outer wall. Pictured below, left, is a monumental stone fireplace. The brick fireplace design on the right features decorative detailing around the  fire-
box  opening,  as well as recessed panels with decorative brickwork above the firebox and on the face of the chimney.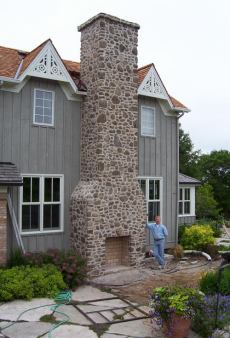 See More Outdoor Fireplaces Attached to an Exterior Wall of the Home


Unlike  the  designs  pictured  above, the patio designs that follow feature outdoor fireplaces that are detached from the home.     In  addition,  they include built-in storage areas for firewood.
The ledge stone fireplace with contrasting stone accents  pictured  below, left,  was  crafted by the creative and skilled hands of the artisans at Jef-
frey Yoder Masonry in Hartville, Ohio.   The design pictured below, right, is by Merk Construction in Clarkston, Michigan  and  features  a  random  mo-
saic stone pattern.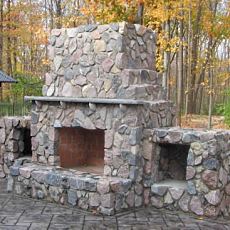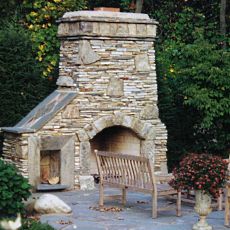 See More Patio Designs for Outdoor Fireplaces with Built-Ins

See More Creative Outdoor Fireplaces by Jeffrey Yoder Masonry


The  porch or patio roof design of the stunning Adirondack Style boathouse that follows provides cover for a massive stone fireplace crafted from huge stone blocks.  Part of the fabulous Camp Topridge compound in the Adiron-
dack Mountains of Upstate New York,  the  porch area in front of the great stone hearth provides plenty of space for entertaining family and friends!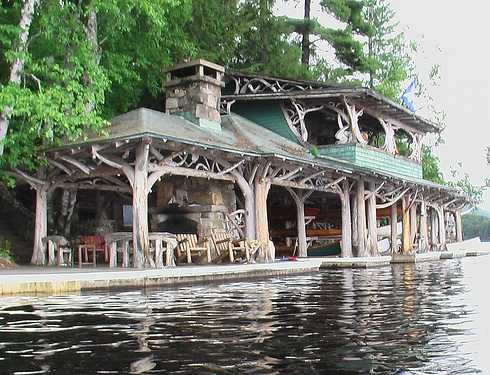 See More Patio Roof Designs for Outdoor Fireplaces


The covered patio designs in the two images that follow also feature stone outdoor fireplaces with built-in storage areas for firewood.     The fireplace pictured  directly  below  was created by Heritage Hearths Masonry in Kali-
spell, Montana.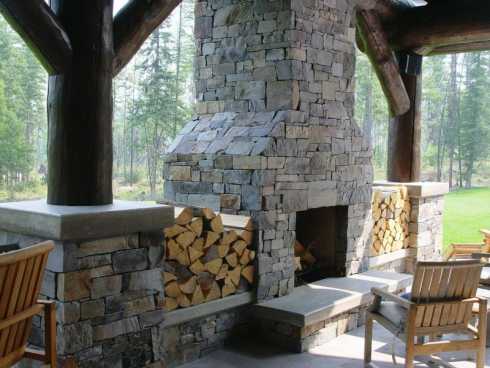 The following Rumford Style fireplace was crafted by Solid Rock Masonry in Duluth,  Minnesota.    It features an arched pizza or bake oven that echos the design and detailing of the Rumford firebox opening.
See More Covered Patio Designs for Outdoor Fireplaces

More Outdoor Fireplace Designs
Moving  poolside,  the  lovely outdoor fireplace design pictured at right  and below   was   created   by  StoneAge Stonescaping in Cumming, Georgia. In addition  to  built-in storage areas for firewood  that flank the firebox open-
ing,  the stone work extends outward on  each side to include striking built-
in planters that are circular in shape.
See More Poolside Designs for Outdoor Fireplaces


Each of the two patio and outdoor fireplace designs that follow includes a charming pergola in the overall composition. The fireplace pictured directly below was crafted by Action Masonry, based in Smithtown, New York.   It features a random mosaic stone pattern and built-in storage areas for fire-
wood.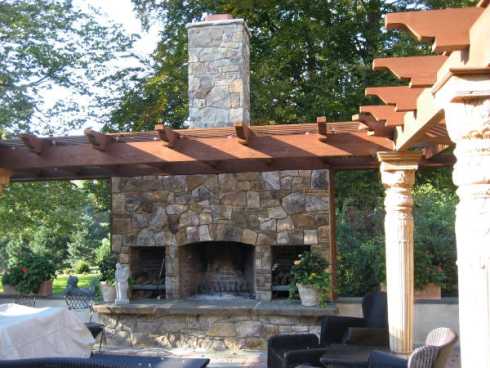 The  stunning  Rumford fireplace design that follows is another outstanding creation from Jeffrey Yoder Masonry in Ohio!     Featuring beautifully con-
trasting stone work,  it  is  crafted from full-range Pennsylvania blue stone, Ohio blue vein limestone, and tumbled Pennsylvania bluestone with a raised limestone hearth.
See More Patio Pergola Designs for Outdoor Fireplaces


And finally, the design pictured below features ALL of the architectural ele-
ments included in the title at the top of the page: a patio, porch, pool and pergola! Created by StoneAge Stonescaping, the outdoor fireplace includes an arched firebox opening, horizontal bands of contrasting stone  to  break up  the  massing and lend visual interest, and a niche framed by decorative stone work near the top of the chimney facing.
Please check back often or subscribe to our RSS feed,  as  we  fre- quently add new outdoor fireplace designs to our site.
YOU MAY ALSO LIKE:




Stone Outdoor Fireplace
Design Ideas & Tips!




Patio Designs For Fireplaces -
Bricks & Stones!




Ideal Spaces for Outdoor
Stone Fireplaces!
Back to Outdoor Fireplace Designs
Back to Standout Fireplace Designs Home Page
Didn't find what you were looking for?
Use this search feature to find it.
LIKE THIS PAGE?